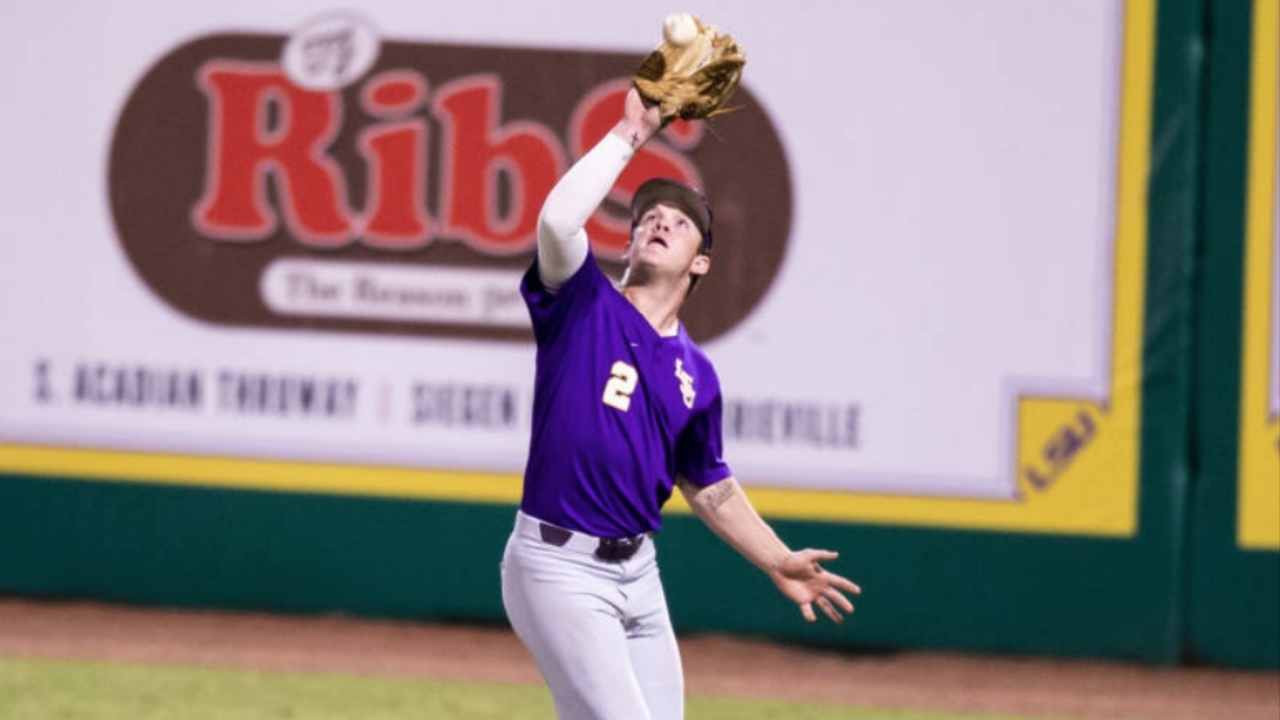 Photo by LSU Athletics Creative Services
LSU Baseball
LSU baseball preview: position players
---
$1-dollar gets you TigerBait.com Premium for 30 Days. CLICK HERE to subscribe
Preseason practice has been somewhat of an odd situation for LSU leftfielder Daniel Cabrera.
Cabrera rebounded from a slow start to earn Freshman All-America honors. Cabrera finished the season with a .315 batting average to go along with eight home runs and 54 run batted in. The last Tigers freshman to put together such numbers was Mike Fontenot in 2000.
When teammate Antoine Duplantis suffered a shoulder injury at the beginning of practice for Team USA last summer, Cabrera was selected by coach Paul Mainieri to be the replacement. Cabrera was the cleanup batter in Team USA's lineup.
However, most of the attention before Friday's season opener against Louisiana-Monroe has been focused in other directions. People are talking about the three players who opted to return to school – Duplantis, outfielder Zach Watson and pitcher Zack Hess.
Other LSU fans have conversations about the two players returning from injuries – shortstop Josh Smith and pitcher Eric Walker. There is a third group of individuals who are excited about a handful of freshman pitchers – led by Landon Marceaux.
Cabrera does not mind that he is not in the spotlight heading into the 2019 campaign.
"I'm doing good," Cabrera said. "I am just working on my game. I am a middle-of-the-order hitter, who is going to do everything to help the team."
Only Duplantis had a higher batting average than Cabrera last season. He shared the team lead in home runs with Beau Jordan and Jake Slaughter. Cabrera was the team-leader in RBIs, slugging percentage (.525) and on-base percentage (.405). Cabrera feels that he is a better player than he was last year.
"I tried to do too much last year," Cabrers said. "I was not overwhelmed at the start. I just had to settle down. I had to take some deep breaths. I'm better in every aspect. I am better in the outfield. My arm is good and I am running better. I know what to expect in SEC games."
Mainieri wants Cabrera to be a big factor batting fourth in the order – a spot he held last summer. On Team USA, Cabrera hit between Oregon State catcher Adley Rutschman, the College World Series Most Valuable Player, and California first baseman Andrew Vaughn, the Golden Spikes Award winner.
"We need Daniel to go from hitting .310 to .350 or .360 with a ton of RBIs," Mainieri said. "Then, if he can hit between 12 and 15 home runs, he can be a real force in our lineup. If Daniel does that, this offense will be good."
Cabrera admitted that the Team USA experience really helped him last summer.
"I picked the brains of guys like Adley Rutschman and Andrew Vaughn," Cabrera said. "I saw what they did when they hit. It was pretty cool batting between guys who could be the No. 1 and the No. 2 picks in the draft this year. I was able to stay confident."
Few questions must be answered as regards the Tigers' everyday lineup. Watson and Duplantis will again be the centerfielder and the rightfielder, respectively. Watson and Duplantis were in the lineup when the Tigers reached Omaha in 2017. Freshman Giovanni DiGiacomo is the fourth outfielder.
Smith, who played just six games last season because of a back injury, is 100 percent healthy. He will be the starting shortstop, his normal position. Brandt Broussard returns for a second season at second base. Hal Hughes, who replaced Smith at shortstop in 2018, is the starting third baseman.
Drew Bianco and Gavin Dugas are the backup infielders. Bianco is best suited for the left side of the infield, while Dugas is being groomed as Broussard's replacement at second base. Bianco is in a three-way competition with freshmen CJ Willis and Cade Beloso for the first base job.
Mainieri's biggest concern entering practice last fall was the catcher's position. Hunter Feduccia was a disappointment last year when he batted only .233. He was also charged with seven passed balls.
Two junior college catchers, both of whom are sophomores, are now on the roster – Saul Garza and Brock Mathis. Garza was expected to be the starter, but he suffered a knee injury during the fall. Garza, who had surgery, will not be able to catch until March. He will be the designated hitter to start the year.
"My knee feels great," Garza said. "I am pain-free. The only thing I can't do right now is catch. I am just trying to focus in on my hitting now."
So, all of the catching duties will fall on Mathis until Garza returns early in the Southeastern Conference schedule.
"I am absolutely ready," Mathis said. "The biggest thing for me is to stay healthy. I am keeping my body in shape. On the field, I want to keep the pitchers locked in. I need to be the field general. As a catcher, you have to be tough and not let the little things bother you."
Here are the position players on LSU's 2019 baseball roster.
INFIELDERS
No. Name B-T Ht. Wt. Class Hometown
3 Hal Hughes R-R 5-11 170 So. Norman (Okla.)
4 Josh Smith L-R 5-10 175 Jr. Greenwell Springs
5 Drew Bianco R-R 6-0 200 Fr. Oxford (Miss.)
6 Gavin Dugas R-R 5-10 195 Fr. Houma
16 Brandt Broussard R-R 5-10 165 Sr. Baton Rouge
17 Chris Reid L-R 5-9 180 Sr. Baton Rouge
23 CJ Willis L-R 6-2 190 Fr. Ruston
24 Cade Beloso L-L 6-0 220 Fr. River Ridge
OUTFIELDERS
No. Name B-T Ht. Wt. Class Hometown
2 Daniel Cabrera L-L 6-1 185 So. Baton Rouge
7 Giovanni DiGiacomo L-L 6-1 185 Fr. Naples (Fla.)
8 Antoine Duplantis L-L 5-11 180 Sr. Lafayette
9 Zach Watson R-R 6-0 165 Jr. Ruston
CATCHERS
No. Name B-T Ht. Wt. Class Hometown
13 Saul Garza R-R 6-3 225 So. Edinburg (Tex.)
22 Brock Mathis R-R 6-1 205 So. Fairfield (Oh.)
45 Braden Doughty R-R 6-1 175 So. Denham Springs

LSU Tigers Antigua Desert Dry Engage Polo – Purple/White
from:
Fanatics
Never miss the latest news from TigerBait.com!
Join our free email list