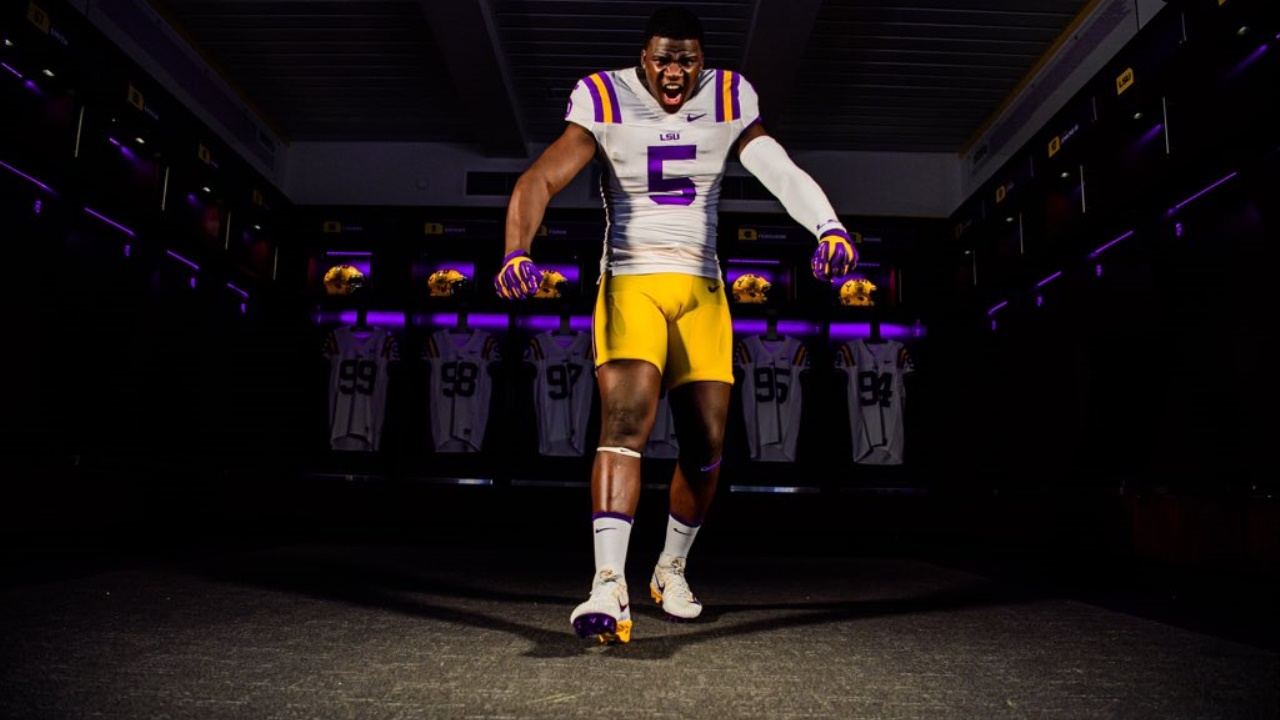 LSU Football Recruiting
Defensive end Ali Gaye commits to LSU
---
The LSU recruiting train continues to roll at great speed as the Tigers recruiting class for 2020 now has it's 18th commitment.
Defensive end Ali Gaye‍ of Garden City CC. gave LSU head football coach Ed Orgeron his verbal commitment Sunday morning.
What made him decide LSU would be his destination following graduation form Garden City?
"Just being around the coaches, hearing what they were talking about and being around the players," Gaye said. "Being able to see how they work and do things down there.
"It exceeded expectations, it was a good trip. My family and I had fun."
The 6-foot-6, 280-pound prospect chose LSU over offers from Nebraska Mississippi State, Iowa State, Oklahoma, West Virginia, Wisconsin and others.
Gaye prepped at Woodway High School in Edmonds, WA.
Former LSU defensive lineman Christian LaCouture who is now an assistant defensive line coach and graduate assistant on the Tigers coaching staff has been a big part of luring him to Baton Rouge.
"He's pretty excited as me and him have been talking since day one," Gaye said.
Coming down from Washington State was surely a bit of culture shock but Gaye and his family did immediately enjoy the Louisiana cuisine.
"Definitely the oysters and some of the crawfish to," he said. "It was good food and good people."
Saturday afternoon, Gaye and the other official visitors were able to get a sampling of Tiger fans. They were taken to Alex Box Stadium to witness game one of the Tigers baseball teams super regional game with Florida State.
"It was a great game, good fan base and a lot of fans showed up," Gaye said. "It really shows how much the people there care about the athletes. They show up there for games, 100 thousand for games."
Gaye was told during his visit how he could expect to be utilized in the Tigers defensive front.
"They would like to have me in multiple positions but mainly a five tech, a loose five tech," Gaye said. "Sometimes depending on the front have me have me as s three tech inside. Also use me at six and nine."
Ed Orgeron was ecstatic when Gaye gave his commitment.
"Oh man, the whole room was shaking," Gaye said. "He was excited and it was crazy because he was more excited than i was, but I was excited to."
Gaye will graduate at midterm from Garden City C.C. and he will have three years to play two.
Never miss the latest news from TigerBait.com!
Join our free email list