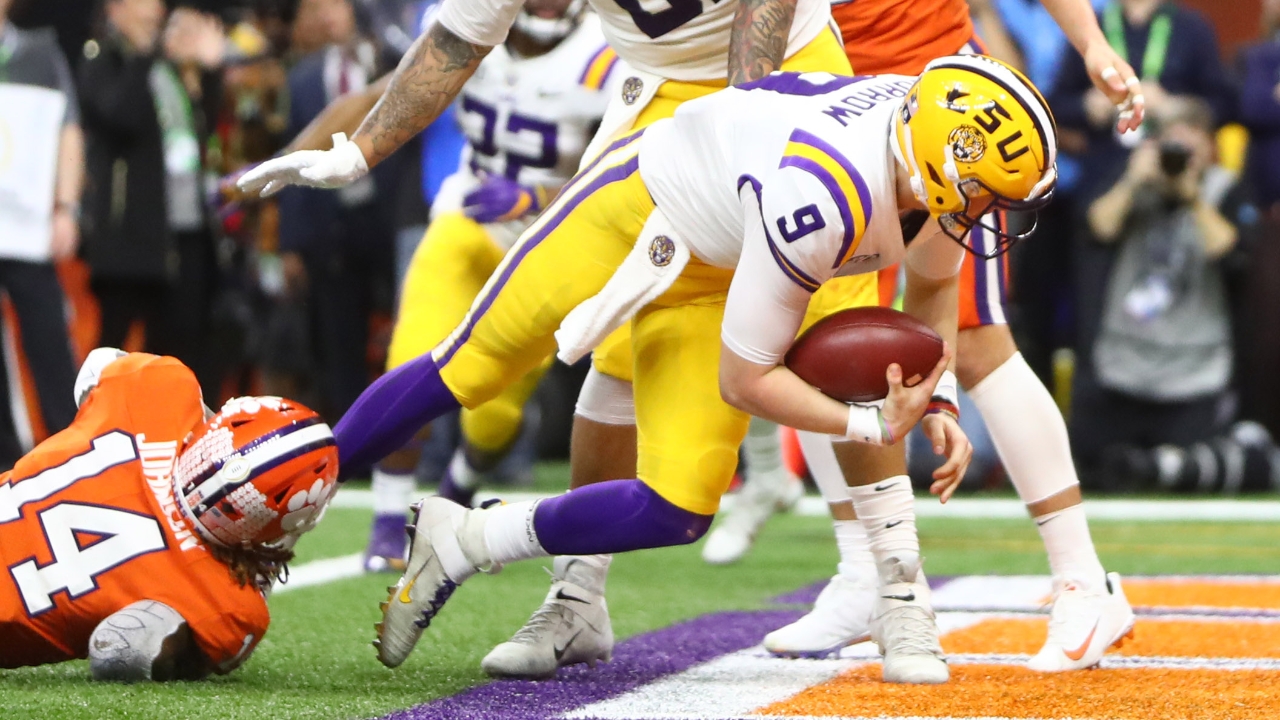 Photo by Mark J. Rebilas-USA TODAY Sports
LSU Football
LSU wins National Championship 42-25
---
LSU (15-0, 9-0) claimed its fourth national championship in school history defeating Clemson 42-25 in the College Football National Championship Monday night at the Mercedes-Benz Super Dome in New Orleans.
This win notched a number of notable records for LSU. This marks LSU's first 15-0 season and first undefeated season since 1958. This is LSU's first national championship since 2007.
*****
Recruits React: LSU 15-0 National Champions (premium)
*****
LSU star quarterback, Joe Burrow, broke the NCAA single-season record for touchdown passes and total touchdowns with 60 and 65 respectively. LSU also scored the most points in NCAA single-season history this season with 726 points.
"I think what we did tonight can't be taken away from us," Burrow said. "I don't know about the whole hero thing, but I know this National Championship will be remembered for a long time in Louisiana."
LSU also broke Clemson's (14-1, 9-0) 29-game win streak.
"I think that this team is going to be mentioned as one of the greatest teams in college football history," LSU coach Ed Orgeron said. "We're national champs. We're 15-0. Whether we're mentioned as one of the greatest teams or not, that doesn't matter to me."
Burrow added one last accolade to his "Greatest of All Time" resume after the game - a national championship offensive MVP.
The LSU Tigers (15-0, 9-0) trailed 17-7 in the first half after some uncharacteristic offensive struggles. Burrow started the game completing just four of nine passes for 25 yards.
Burrow outdueled his counterpart in a matchup of coveted NFL prospects getting the win and completing 31 of his 49 attempts for 463 yards and five touchdowns with no turnovers. He added 60 yards and a touchdown on the ground for 523 totals yards and six total touchdowns.
Meanwhile, LSU's stingy defense limited Clemson quarterback Trevor Lawrence to completing just 18 of his 37 pass attempts for 234 yards with no touchdowns or interceptions.
LSU outscored Clemson 35-8 during that stretch.
Outside of Burrow, LSU's biggest star of the night was Ja'Mar Chase with nine grabs for 221 yards and a pair of scores.
"The first couple series I didn't think there was any way they were just going to play man with Ja'Marr," Orgeron said. "I wasn't really looking his way and then I got back to the sideline after the second drive. I was like 'they really are playing man-to-man with Ja'Marr.' So we started going to him heavy and he plays so well, and that's just the kind of guy he is. He's worked so hard for that, all of our guys."
LSU outgained Clemson 628-394.
Clemson coach Dabo Swinney was quite candid about how the night went.
"Tonight, was all about LSU," Swinney said. "What an unbelievable game. We had an opportunity there in the third quarter. I loved how we responded and got the ball back with a three-point lead, and we just couldn't quite put enough plays together."
Patrick Queen was named the Defensive MVP with eight tackles including 2.5 for a loss.
"Coach Aranda had a great gameplan since day one when we started studying them," Queen said. "We trusted him and went to work on it, and together, to be able to make those kinds of plays"

LSU Tigers Nike College Football Playoff 2019 National Champions Locker Room T-Shirt - Black
from: Fanatics
Never miss the latest news from TigerBait.com!
Join our free email list