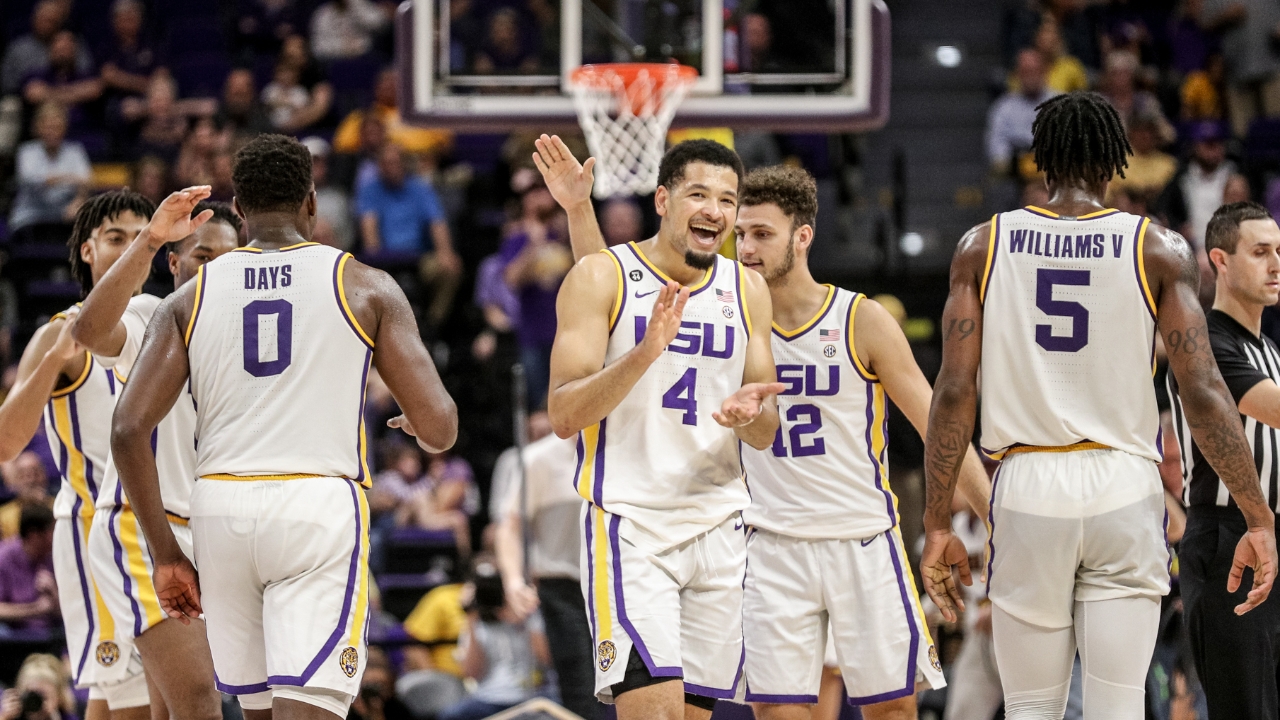 Photo by Stephen Lew-USA TODAY Sports
LSU Basketball
LSU bounces back with win over Missouri, 82-78
---
BATON ROUGE – No. 25 LSU trailed for nearly 33 minutes before the Tigers rallied in the last six minutes to score an 82-78 win over Missouri Tuesday night at the Pete Maravich Assembly Center.
LSU is now 18-6 on the year and 9-2 in the SEC, tied with Kentucky after the Wildcats won at Vanderbilt earlier on Tuesday. Auburn is a half-a-game behind entering a Wednesday night home game with Alabama.
Missouri drops to 11-13 and 3-8 in the league.
LSU found itself down four times in the first half by 12 points before a late spurt cut the margin in half to six, 43-37. Missouri in the first half shot 51.6 percent on 16-of-31 shooting and made 7-of-13 from the arc. LSU was 10-of-23 in the first half (43.5%) and 0-of-9 from the arc. Helping LSU was 17-of-20 from the free throw line.
The home standing Tigers got the margin down to one at 47-46 when Skylar Mays hit a jumper with 16:49 to play and tied the game at 49-49 with 14:51 left on a Darius Days layup but Mizzou sprinted clear again to an eight-point advantage at 62-54 and 64-56 with 9:57 to play.
LSU was able to gradually whittle down that margin behind the play of Javonte Smart who scored nine-of-11 points in a stretch that took LSU from that eight-point deficit to two-points down at 69-67 with 6:41 to play.
Mays would tie it at 69-69 on a jumper at the 5:24 mark and LSU took the lead for good at the 4:44 mark when Days drilled a three-pointer to push LSU to a 72-69 advantage. It was LSU's first lead since 2-1 in the opening two minutes of the game.
LSU would lead by as much as five in the final minutes to wrap up the contest.
For the second straight game, all five starters were in double figures topped by Mays with 23 points on 7-of-11 shooting, one three-pointer and 8-of-9 at the free throw line. Days had another double double with a 20 point-10 rebound performances hitting 5-of-9 from the field, with one trey and a perfect 9-of-9 at the free throw line. Smart had 15 points and Trendon Watford and Emmitt Williams each scored 11.
Both teams shot 50 percent in the second half with LSU shooting 15-of-30 and Missouri 15-of-29. But the visiting Tigers were just 2-of-8 from three-point range in the second half while LSU was 3-of-3. LSU was also 12-of-14 at the free throw line.
For the game, Missouri was 31-of-60 with 9 treys and 7-of-13 at the free throw line while LSU finished at 25-of-53 (47.2 percent) with the three second half treys and 29-of-34 at the stripe (85.3%).
LSU was out rebounded 32-31 but had an 18-7 advantage in points off turnovers.
Dru Smith led Missouri with 20 points while Reed Nikko had 13 points and a team high eight boards. Javon Pickett and Mitchell Smith had 10 points each.
LSU has now won seven straight home games.
The Tigers will go on the road Saturday to Tuscaloosa to face Alabama at 3 p.m. LSU will return home next Tuesday to host Kentucky at 8 p.m. Tickets are available at LSUTix.net.
---
LSU Head Coach Will Wade
Opening statement…
"Good win. We just needed to find a way to win at the end of the day. Missouri is always a tough matchup for us as physical as they are. They make you play a lot of one-on-one. We just needed to find a way to win, and at the end of the day that's what we did. I thought we did a better job guarding in the second half. We did a better job on the glass. We only had three offensive rebounds in the first half. We did a better job driving the ball. We were 10-of-14 in the first half from two and 0-of-9 from three. We did a great job of winning the free-throw line which is what we do. The game kind of went to our formula and got the stops and got done what we needed to get done. At the end of the day, we just need to win. Rough week and we needed to find a way to win. I understand we need to play better than we did today, but the goal was to win and we won. Now we've got to get better to go back on the road and play better on the road."
On the team's energy level in the first half…
"I just thought our defensive energy was low. I thought they played harder than we did in the first half. I thought we were able to turn it on in the second half which is not easy to do, but yeah, I thought our energy was a little bit low."
On if Javonte Smart's nine-point stretch in the second half was the turning point…
"I thought he did a really good job in the second half. I thought (Darius) Days did a great job on the glass in the second half. When Javonte's aggressive and getting downhill and making those floaters, he's very, very good."
On Darius Days' 20-point and 10-rebound performance…
"When he's not in foul trouble, that's what he can do every game. But he puts himself in tough spots and then he gets tough calls a lot of the time. When he's not in foul trouble, he's capable of doing that every game for us. I'm really proud of him. That's back-to-back really good games for him. It's kind of been up and down for him. The balance of our team showed again tonight. We had five guys in double figures. We've got to get more from our bench. Hopefully we'll have Charles (Manning Jr.) back on Saturday. We'll need him back bad because we need some help on our bench. I though Marshall Graves played really good minutes for us tonight. I thought he was probably our best guy off the bench tonight because he was solid, but we need some help. It's going to be hard to keep winning with just five guys. Our bench guys need to step up and help us."

LSU Tigers College Football Playoff 2019 National Champions Team Color Mug Set
from: Fanatics
Never miss the latest news from TigerBait.com!
Join our free email list