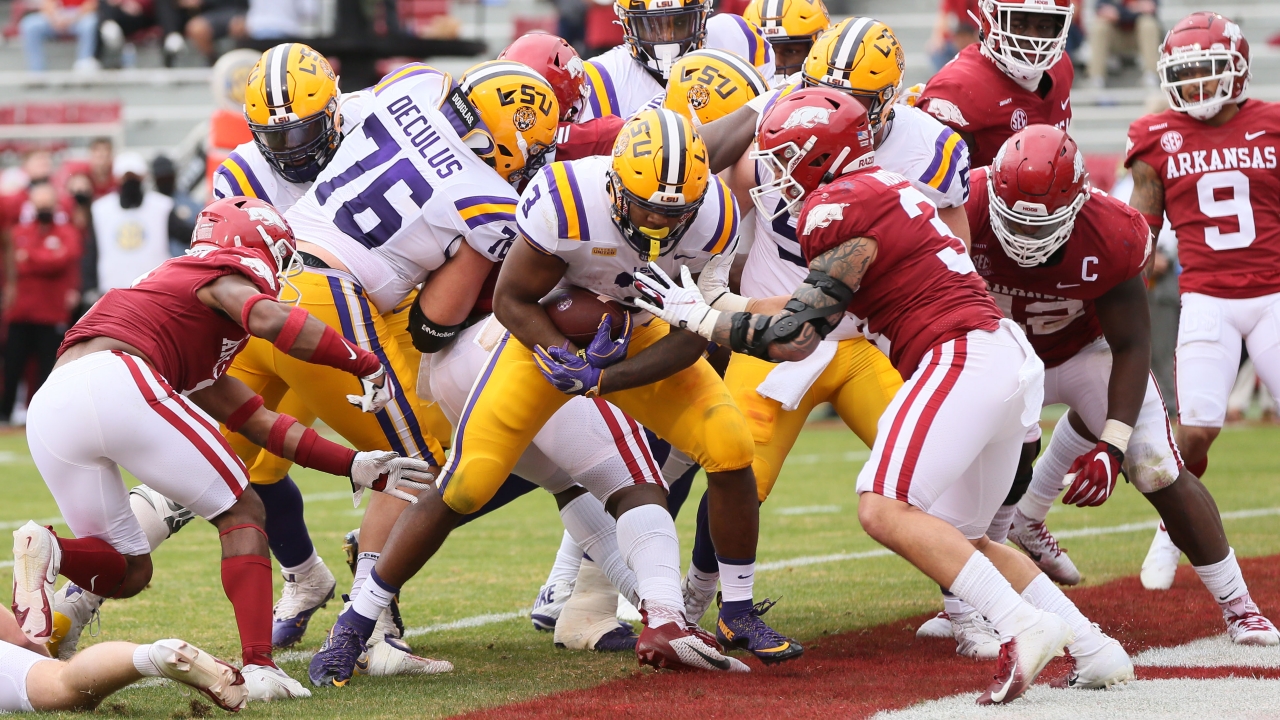 Photo by Nelson Chenault-USA TODAY Sports
LSU Football
LSU fends off Arkansas 27-24
---
In poetic fashion, it came down to the fingertips of backup defensive back Jay Ward.
After the defense struggled for much of this game and season, Ward blocked Arkansas' would-be game-tying field goal attempt with 1:24 left to play preserving a 27-24 win for LSU (3-3).
"I'm happy for that young man," LSU coach Ed Orgeron said or Ward. "It's next man up, and he did it."
After a bye week and last week's game with Alabama postponed, LSU hadn't taken the field in 21 days when it got shellacked by Auburn 48-11.
*****
ANALYSIS: Meaningful victory for LSU over Hogs (premium)
*****
Time of possession is what will jump out at you immediately off the box score. LSU led the category 41:43 to 18:17.
"The biggest thing is time of possession. We had it 41 minutes," Orgeron said. "That allowed our defense to stay fresh."
"Arkansas is a different team under (new first-year coach) Sam Pittman."
LSU jumped out to an early lead 17-7 in the second quarter with the defense play relatively well. However, with a combination of cornerbacks Derek Stingley Jr. suffering an undisclosed and Elias Ricks being ejected on a targeting call, the defense became susceptible to big plays keeping Arkansas alive.
Arkansas (3-5) quarterback and former LSU commitment Felipe Franks torched LSU for 216 yards and a touchdown on his four throws of 50 or more yards.
If you take those four coverage blunders away, Franks had a very pedestrian day. 13-22 for 123 yards and an interception. None of those four big throws came against Stingley or Ricks.
The one interception came by way of LSU grad transfer quarterback Jabril Cox who was more than ready for the shuffling of players needed for the win.
"It's next man up Mentality," Cox said. "This is something we've prepared for."
It's a mindset this team has had to embrace all too often. LSU freshman quarterback TJ Finley made his third start of the season in place of an injured Myles Brennan. His first start was tremendous against South Carolina and his second start went about as badly as possible against Auburn.
Against Arkansas, he had some ups and downs but ended up going 27-42 for 272 yards and a pair of scores with no turnovers. His brightest moment was leading his team down the field for its final score with just 3:59 left to play on a 13-yard toss to receiver Jaray Jenkins.
He overcame adversity on that same drive after what appeared to be a touchdown pass to running back Tyrion Davis Price was questionably ruled incomplete.
"I thought it was a touchdown," Davis-Price said. "But, we came out with the W and that's all that matters."
Davis-Price was arguably LSU's MVP of the game running for 104 yards on 24 carries.
LSU now prepares for the toughest stretch of its schedule that includes three teams in the top-6 and almost certainly more alterations of the schedule to come.
LSU Tigers Nike Sideline Long Sleeve Hoodie Performance Top - Purple
Never miss the latest news from TigerBait.com!
Join our free email list