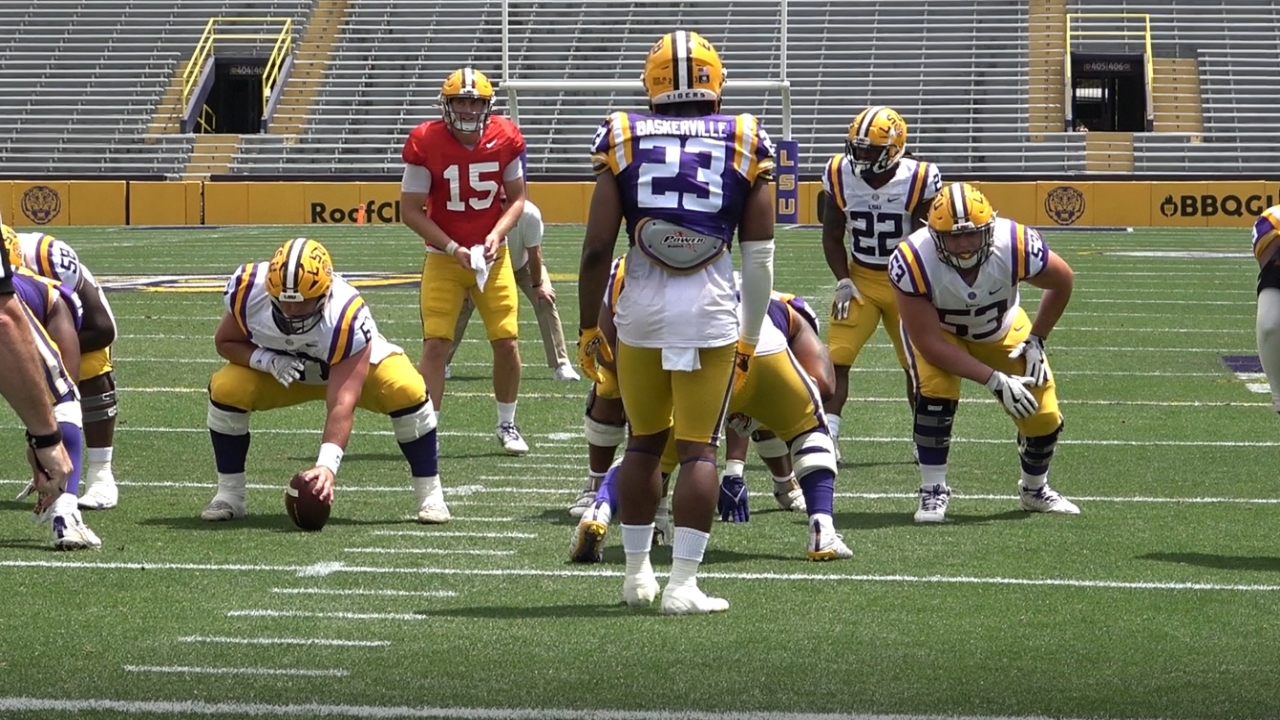 LSU Football
Offense wins new look LSU Spring Game 59-31
---
There were plenty of new faces to go around in LSU's National L Club Spring Game.
The game featured a special scoring system where the defense scored points for making plays such as a turnover or three-and-out.
In this special format game, the offense walked away with the win 59-31.
All eyes were on LSU's quarterback competition with Myles Brennan, Garrett Nussmeier and Jayden Daniels receiving the lion's share of snaps. All of the quarterbacks had their moments, but we'll likely have to wait until after Fall camp for coach Brian Kelly to announce his decision. Notably, no interceptions were thrown on all 49 combined attempts.
"We didn't clear up anything with the QBs," Kelly said of the competition. "We probably made it even more difficult."
Brennan and Nussmeier were the best passers on the day, however, Daniels brought showed off he was the most dynamic playmaker adding 34 yards and a touchdown on 7 carries, which would have likely been more had the quarterbacks not been in no-contact jerseys. He also took two sacks, which are included in the seven attempts.
Jayden Daniels completed just three of his nine passes for 68 yards including a 39-yard bomb on a fade route to Brian Thomas and a 20-yard touchdown to a wide-open Jack Bech.
Myles Brennan completed 11 of his 17 attempts for 99 yards with an 11-yard juggling touchdown catch from Malik Nabers in the back of the endzone after Sage Ryan tipped the pass. Nabers had two grabs for 41 yards.
Nussmeier was the leading passer completing nine of his 16 passes for 136 yards and a touchdown. The touchdown came on a rolling out dart to Jack Bech right in between the numbers.
The highly-rated true freshman, Walker Howard, only saw limited reps in the game, but he did connect with walk-on running back Corren Norman on a wide-open wheel route for a 55-yard touchdown. Howard went 3-7 for 59 yards with the aforementioned touchdown.
"Brennan was good today, right? He does really good things with the football," Kelly said. "He knows the offense. He's smart. He takes care of it. Nussmeier's athletic ability, his arm strength. Daniels is really, really fast, and Walker's got one of the strongest arms on the team. So, I don't know if we cleared up anything there."
The leading receiver of the day was receiver Jack Bech who hauled in all six targets for 56 yards and a pair of scores. Transfer receiver Kyren Lacy was targeted nine times but only managed to haul in one grab for 19 yards. Brian Thomas didn't fare much better with one grab on six targets however, his one grab was an impressive jump ball on tight coverage for 39 yards.
Running back Tre Bradford was the leading rusher with 86 yards on nine runs followed by Armoni Goodwin with 71 yards on nine runs. Running back John Emery Jr. was limited to four carries due to a minor ankle injury.
Defensively, LSU's pass rush stole the show with six sacks in the first half. Defensive tackle Maason Smith had the most sacks with two.
Safety Jay Ward was the leading tackler with 10 tackles followed by fellow safety Matthew Langlois with seven.
"It's going to be a competitive football team," Kelly said. "We'll continue to work on some things that continue to be in my eye some weaknesses. But, they bring some traits across the board that I think are highly competitive."
Complete box score and special rules
Never miss the latest news from TigerBait.com!
Join our free email list