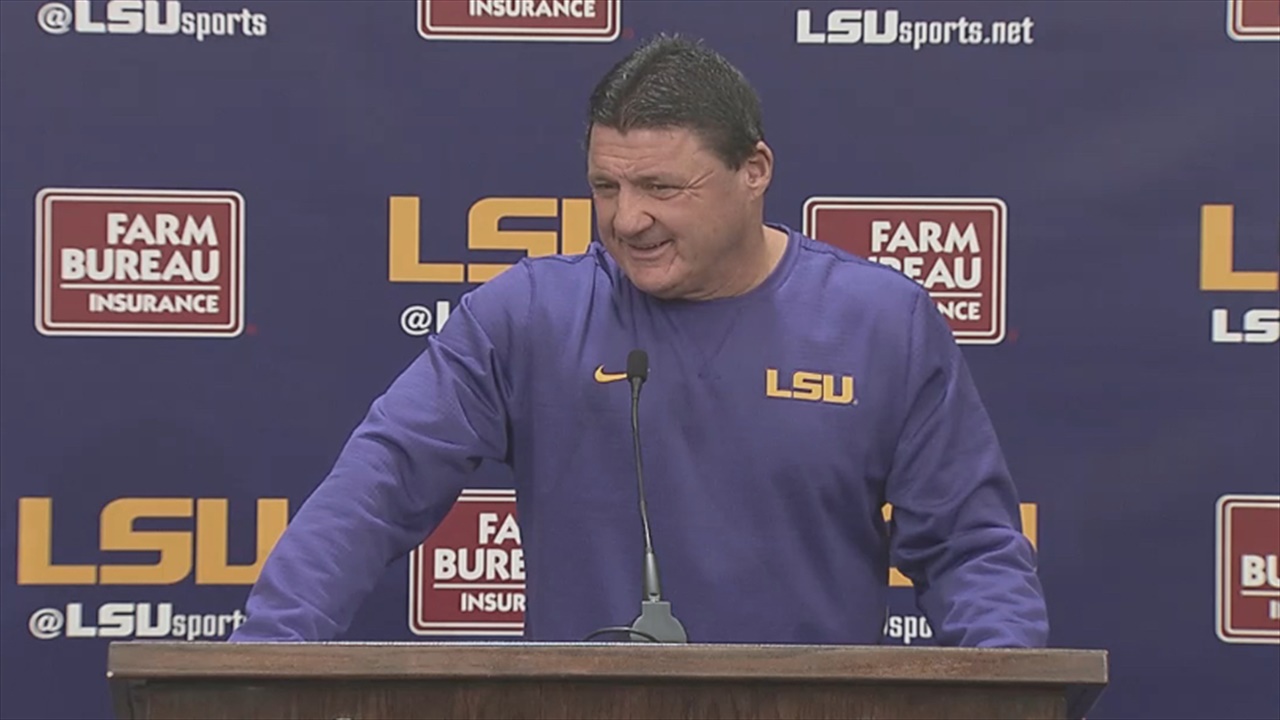 LSU Football
Video: Ed Orgeron Texas A&M media luncheon
---
Full video and transcript of Ed Orgeron's Monday media luncheon where he talks about the Tigers upcoming game with Texas A&M.
ED ORGERON: Welcome, everybody. Good to see everybody today. Good game versus Rice. 9-2. Proud of our team. Give our team the credit, they worked very hard. Leadership of our football team, the character of our football team, our assistant coaches has done a tremendous job to get us to the point that we're at right now. Everybody needs to be congratulated to get to this point. Offense 552 yards, 372 yards passing with a great night. Minus one in the turnover ratio, plus 12 for the season we lead the SEC in turnover ratio and in interceptions. On defense we held them to 198 yards, we had four sacks, eight tackles for a loss, we had a really good night. Special teams a lot of good things on special teams. Solid night. A lot of players got to play. It was good to see most of the seniors. I think every senior that was available to play got to play. It was good to see. On to Texas A&M. Obviously a very big game for our program. We're going on the road to a good football team, hostile crowd, got to have a great week of practice, a great week of preparation and continue to work on the fundamentals, continue to get better as a football team. On offense, they're very good on offense, they're averaging 31 points per game. Just under 500 yards per game. Kellen Mond is a good quarterback, dual threat. Trayveon Williams is probably the best back we have seen all year. I think he's leading the SEC in rushing, 1,300 yards. And their tight end, Jace Sternberger number 81 is a very, very talented player catching the ball well. Defense, they're very impressive on defense, they lead the SEC in rushing, I think they're second in the country in 80 yards. Their third down conversions is 23 percent, first in the SEC, high in the country. This is a very, very good defense. And what makes their defense is their scheme, they play very well. On special teams, they're very solid. Very similar to us. Coach McMahon is friends with their special teams coach and they're very similar, solid, going to work them very well, got the best players on special teams. This is a very good football team. This week is obviously Thanksgiving week, happy Thanksgiving to everybody. Our team is going to have a Thanksgiving meal on Wednesday night. It's going to be good. I let them choose the menu, so you know it's going to be good. Then Thursday morning we're going to meet at 7, our team's going to be off the field at 10:30 so they can have Thanksgiving with their family. And I'll bring some players that don't have their family over, they can come over to my house and eat good oyster dressing. Okay? Any questions?

Q. Texas A&M obviously made a push for Dave Aranda and you had a nice battle over Marshall. Since Jimbo has come in the conference what have you seen from a competition standpoint?
ED ORGERON: He's a great coach, has a great plan, a great competitor, great recruiter, he's done a tremendous job.

Q. I saw they're number one in the SEC in stopping the run. Do you feel like you've done a better job passing the ball over the last couple weeks, the Arkansas game, the Rice game and have more confidence in your passing game?
ED ORGERON: Yeah, you know, we're going to have to be balanced. We have to find a way to run the football. We just can't drop back and throw it. That's not what we do. But obviously the play action pass, the protection is going to have to be excellent. They have some great rushers. We have to have an overall great game plan and just be balanced. We can't be one or the other, we have to pick and choose our time where we go deep. Obviously we're going to have to hit some deep balls and use the tight end like we have been using the tight end, spread the ball around, I know we're going to have a great plan.

Q. Couple of things, they haven't defeated LSU since they have been in the league, everyone knows that. Is that extra motivation for a team in this game? Does that ratchet up the intensity a little bit? And two, you're a Top-10 team, yet they're favored. Were you aware of that and do you care, will you mention that to your players?
ED ORGERON: You know, number one, whether we beat them for many years they beat us has nothing to do with this game and we all know that. But I think it's extra motivation on both sides, obviously. They're going to use that as motivation and we will too, obviously. I don't know nothing about favored or not favored. I'm glad that they're favored. We do well as underdogs. I hope that puts a chip on our team's shoulder. I won't mention it, I guess they will. Us being a Top-10 team we got to play like it. And that has nothing to do with the game, I think this is a rivalry game, you can throw out all the rankings, you can throw out all the point spreads, it's going to be about us taking care of the football. We're plus 12. I think they're minus eight in the turnover ratio. We're going to have to win the game in the trenches, do a great job, play in front of a hostile crowd. We have done it on the road and we haven't done it on the road, so this is a big challenge for us. They only lost one game on the road, I mean one game at home and that's to Clemson. So they play very well on the road. They have three losses in the SEC, they played away from their home. So I know this is going to be a hostile crowd, but you know we're invited we're going to be ready to go.

Q. When Texas A&M came into the league there was experts over the years that would say that Texas A&M especially in physical games was a little bit soft and when Jimbo took the job he said they needed to be tougher. What have you seen in terms of addressing that this year as the season's gone on?
ED ORGERON: Yeah, he's done it. They play physical. They come to hit you. On defense they're very solid. Their front four is very good. They run around and hit you on defense. To lead the league in rushing is means you're tough. And they run the football. They're tough running the football. Think about it they lead the league in rushing and they have one of the leading rushers on offense. So they're tough, their physical. He's changed the mindset. This is going to be a battle. This is not an old Texas A&M team that we played, this is a physical tough team.

Q. Do you think there's any chance that Fehoko could practice or play this week and what have you seen from those young guys that have gotten more opportunity with him out?
ED ORGERON: Fehoko will not be with us the rest of the season. He's out. The young guys were fired up to get in there to play. It was fun to see their eyes before they went in. There was some big eyes going on that field. But I thought they played well. I was proud of all our guys. I thought Brennan played well, it was good to see him get in there. First couple of passes he was a little rusty, like I said, but after that he was on the money. I think he's going to be a good quarterback for us. It was good to see Lanard Fournette play and get a touchdown. He's a good running back, it's good to see all the rest of the guys get some action.

Q. After the game you said you didn't want to make the game too big this week but a lot of people would say this is the difference between the Outback Bowl or the Sugar or Fiesta or one of those. How will you address that with your team?
ED ORGERON: We won't talk about that. We'll talk about this is the final game, they worked very hard to get where they're at, we got to finish strong. To me this is a one-game season. Everybody knows what's on the line. I don't need to talk about that for motivation. They understand that. This is about playing Texas A&M. None of that stuff's going to matter. This is about playing in your gap, it's about being physical, taking care of the football, playing LSU ball.

Q. The health of your secondary, John Battle, Kelvin Joseph, Todd Harris, where are they at?
ED ORGERON: They're all going to be ready to play. They should be ready to play. Yes. All three of them.

Q. Trayveon Williams on Texas A&M leading the SEC right now in rushing. What do you want to see from your defense just to prepare for a powerful guy like him?
ED ORGERON: You got to play solid up front. They have some gap schemes, they use their angles, they use different formations to get you out of your gap. He is very, very elusive. When he gets away from the big men he's a good open field runner, it's hard for the first guy to tackle him on contact. We are going to need to play solid football, stay in our gap and win the game up front. I think that that's the difference in the ball game. I think if you give him a crack, you miss your gap, he may be going 60 yards. He's a very dangerous runner.

Q. In the games following the Georgia game you stated that the offense had kind of lost its identity. After this game do you feel like the offense's identity has kind of gotten back on track?
ED ORGERON: We'll see. We'll see Saturday. I mean we'll get tested. Nothing against Rice. But we did the things that we were supposed to do, but we wasn't challenged. We're going to get challenged this week, we have to block up front, their front's very good. Again we're going to have to run the football against a stout defense. Now on third down they will blitz, they will come after you and that hasn't been a strength of ours is picking up blitzes and protecting. So we're going to see. I totally expect us to have a great week, they're going to make some play, we got to take care of the football and this is going to be an about big challenge for our offense.

Q. You're going against Mike Elko's defense again. Going back to the Notre Dame game last year, he did a pretty good job against y'all, what did he do in that game and can you see him doing similar things?
ED ORGERON: Yeah, run stunts, movements, blitzes, we studied that game and he's doing the same thing that he did at Notre Dame at Texas A&M. We talked to a lot of guys that they played and they felt that their scheme was their biggest strength. Those guys are very well coached, again we struggled against them on the goal line last year, we studied that. So we have a lot of analysts that have been working on Texas A&M for awhile. We feel like we have a lot of information. We have to give it to our guys starting today and we have to have a great week of preparation.

Q. The defense as a whole?
ED ORGERON: Yeah, and here's the conversation. How to get a rush. What, who is the best guys out there to give us a rush. What personnel should we be using when we rush. Should it be a blitz, should it be a four-man rush, should it be a three-man rush. We have those conversations. What do we do on defense, who do we be? Head up should we be shaded, we made those judgments in Georgia. Should we stunt, should we not stunt. We did that all morning. I think we have -- I promise you, I'm so excited about our staff, we get there early in the morning, a lot of guys get there early and that hall's quiet, our guys have been working, you can see the intensity in our coaches' faces, this has been our best Monday so far.

Q. I don't know if you have an opinion on this, but it was kind of strange this weekend to see all these non-conference games right at the end of the schedule. I guess you could say maybe it helps you rest up and get ready for the last game the big games, but do you have an opinion about all these teams playing those games this late in the schedule?
ED ORGERON: Believe it or not, the Rice game for us, I'm only going to speak for us, was much needed. Much needed before a strong Texas A&M opponent, after a road game at Arkansas. I think that we needed to get back on track a little bit, so we used that as an advantage. I can't speak for anybody else. I know it's probably a boring weekend for most people watching TV but it was a good weekend for us, I promise you.

Q. Can you talk about the significance of winning 10 games, getting a New Year's Day bowl, as you move the needle here with the program how big a step do you think that is?
ED ORGERON: Yeah, I think it's a huge step. A huge step in building a championship program. Where LSU needs to be. A 10-win season going to a New Years Day bowl and having a chance to win 10 games, remind me of some of the teams that have been before. We were at USC, we were 6-6 the first year, 11-2 the second year, and then the next year we won the championship. So I think you have to take steps, I think this team has taken steps, and also I think that we learned lessons, that -- you go back and look at the Florida game, but I keep on mentioning that game, I think that's a game that we should have won. I learned a lesson I should have done a lot better job coaching. We let that thing slip away. Actually I think we should be 10-1 right now, myself personally, if I would have done a better job with this team. So those games are critical, every game is critical, this is a critical football game for us. We're going on the road and won and we have gone on the road and not played very well. I think it's going to be the attitude that we take this week of guys are looking forward to finishing the season strong, not looking forward to finishing the season. I think there's a difference there. I want our guys to be motivated to know that they can go 10-2, go to a big bowl, 11-2 and I want the guys, the seniors and the juniors that are leaving that their leadership provided this for the football team and it's a building block for things to come.

Q. You mentioned that this is a different Texas A&M team. A more physical game that you expect. Where do you, I mean you've talked about how that comes down to the front. What kind of conversations do you have with these linemen on both sides just to prepare them for a game, some of whom may have been a part of it before but may be different?
ED ORGERON: We show them the difference. I'm going to show them the stats, they're going to see. You hold opponents to 80 yards rushing in this conference and you're first? You're doing a lot of good things. And I'm telling you their scheme is fantastic. The way they use their guys, their front is big and they're physical, they're coaching them different, they're playing different, their offensive line is blocking fantastic, they have gap schemes, they take angles, so it's a completely different team. And I don't think our team will look at it like, hey, this is a team we have been beating. They're going to see the film, they're going to understand they're going to see this running back running for yards and yards and yards, and I think that when we tell them as a staff how physical this team is, they will believe it.

Q. How would you grade out your team's physicality this year? You've played in some big games against physical teams?
ED ORGERON: I think we made some improvement. I think there's some games we didn't play as physical as we want to but I do believe when we get a mindset like it's going to be this week we can play very physical. Played very physical against Georgia, played physical against Auburn at times, we played very physical against Arkansas. We're going to be physical this week. We have no choice and we have the talent to be physical, we have the mindset to do it, we're going to do it.

Q. I assume going to the Rice game you probably knew that you had little chance to have Breiden the rest of the year. So the guys you played who played in his place, what did you see of them, you talked about playing a lot of depth, what did you see of the guys who played in his spot and going forward what do you expect from them?
ED ORGERON: I was pleased. Tyler Shelvin has come along. He's making some improvement. He's becoming a nose tackle that we all thought he could. Dominic Livingston went behind him, did a good job. He's still losing weight, but I think that once he loses his weight he's going to be a really good player. I was really pleased with Nelson Jenkins, he made a big play, busted up a double team, was very physical. Davin Cotton was running around, Davin has a lot of energy, he's going to be a good football player for us. Jarell Cherry got in made a couple of plays, I wish I could have played him more. Jarell's gained like 30 pounds this off season. He's gained 65 pounds on his power clean. He's long and he's lean, I think he's going to be a really good rusher. I was impressed with Myles Brennan I thought he did a good job.

Q. Now that you had a chance to look at some things what did you see from Patrick Queen playing on the outside? Do you think he'll stay there?
ED ORGERON: I think so, yeah. He did some good things. He's getting used to it. It's different when you've been a stack linebacker. When you're on the line of scrimmage everything's a lot quicker. He needs to use his hands a little bit better, but I think he provided some rush, he did some good things, he made some mistakes but I think that you're going to see him there.

Q. Does Queen's kind of instincts as a middle linebacker when you're playing a quarterback like Kellen Mond and he has the ability to when things break down on a run, do you think that actually works out in Queen's favor at all?
ED ORGERON: No question. His instincts and be able to react in space, be able to know when to play the quarterback, when to play the pitch, these guys run the speed option, I think that is going to do him well. Again, the point of contact, he's a lot quicker and he needs to use his hands better, but once he gets that done I think he's going to be a good outside linebacker for us.

Q. You spent one year with the Saints, you're good friends with Sean Payton, curious if you watched them on Sunday and what you think of how they're playing?
ED ORGERON: I'm a big Saints fan. Who dat? I mean, I'm in. I'm in. I've been a Saints fan -- I remember the first game whoa, when they sank When the Saints Go Marching In, I believe it was 1967 we listened to it on the radio. So all the neighbors would gather around. So I been a big Saints fan, I'm a big Sean Payton fan, I think he's one of the best coaches I've been with. I know a lot of those coaches, the D-line coach and I coached in college, Ryan Nielsen, I'm good friends with DA, the defensive coordinator, fantastic job. I'm happy for them. I couldn't be happier for Drew Brees, what a great man to represent the state of Louisiana. He and his family.

Q. Last year with keeping Dave Aranda on the staff and getting his extension towards this team, I mean how big a deal was that and what has he meant to this season for you guys?
ED ORGERON: Huge. Huge. I mean Dave is a rock for us. I've got total trust in Dave, he's fantastic, one of our best defensive minds, hard working, humble, helps us recruiting, can't say enough about Dave. Whatever it took to take him, we wanted to do it to keep him here. I'm glad he's here. He's fantastic, I look forward to him being here for years to come. Dave's going to be a great head coach whenever he chooses to be a head coach, he's going to have a lot of success, but for right now we are happy to have him.

Q. How much of it at all do you know Jimbo, I'm sure you guys have coached and recruited against each other over the years?
ED ORGERON: Yeah, you know I don't know him very well but he's been very good to me every time I met him. Very respectful. I watched him from afar, but I don't know him well, I never worked with him, I know a lot of people that work with him. I don't think we're friends or nothing like that, but I don't know him that well. But as far as mutual respect I believe we have given each other mutual respect, been very professional every time I seen him.

Q. You said all year we asked you about the job and it's not about you, but this is a -- Jimbo is a guy whose name was mentioned for this job before you and he coached here, can you still say it's not about you in this game? How do you block that out? How do you not think about those things?
ED ORGERON: It doesn't matter. It doesn't matter. I got here, man, you know? I'm a defensive lineman. I wasn't always the first one to get the date, you know what I'm saying? I had to work at it, you know what I mean?

(Laughter.)

Just the way it was. You got to compete. I think things happen for a reason. I think they all happen for a reason. Two years ago we're going to play at Texas A&M, we don't know what's going to happen. Two years ago we got to Texas A&M Jimbo Fisher was getting the job. That was Wednesday night. Then Thursday night Tom Herman was getting the job. Then Saturday Ed Orgeron got it. So anything can happen, you just got to keep on competing. I'm glad I'm here, I thank God for this job, I think everything happens for a reason. I can see why they wanted Jimbo Fisher, he's an excellent coach. I can see why they wanted Tom Herman, he's an excellent coach. I understand that.

Q. Before we let you go are you happy that Coach Miles is back in coaching?
ED ORGERON: Very happy. I think Kansas made a great move. I can see the happiness on his face, the excitement, he's going to do a great job there. We wish him the best.

LSU Tigers Nike Logo and Mascot Name Training Quarter-Zip Performance Jacket - Anthracite
from: Fanatics
Never miss the latest news from TigerBait.com!
Join our free email list