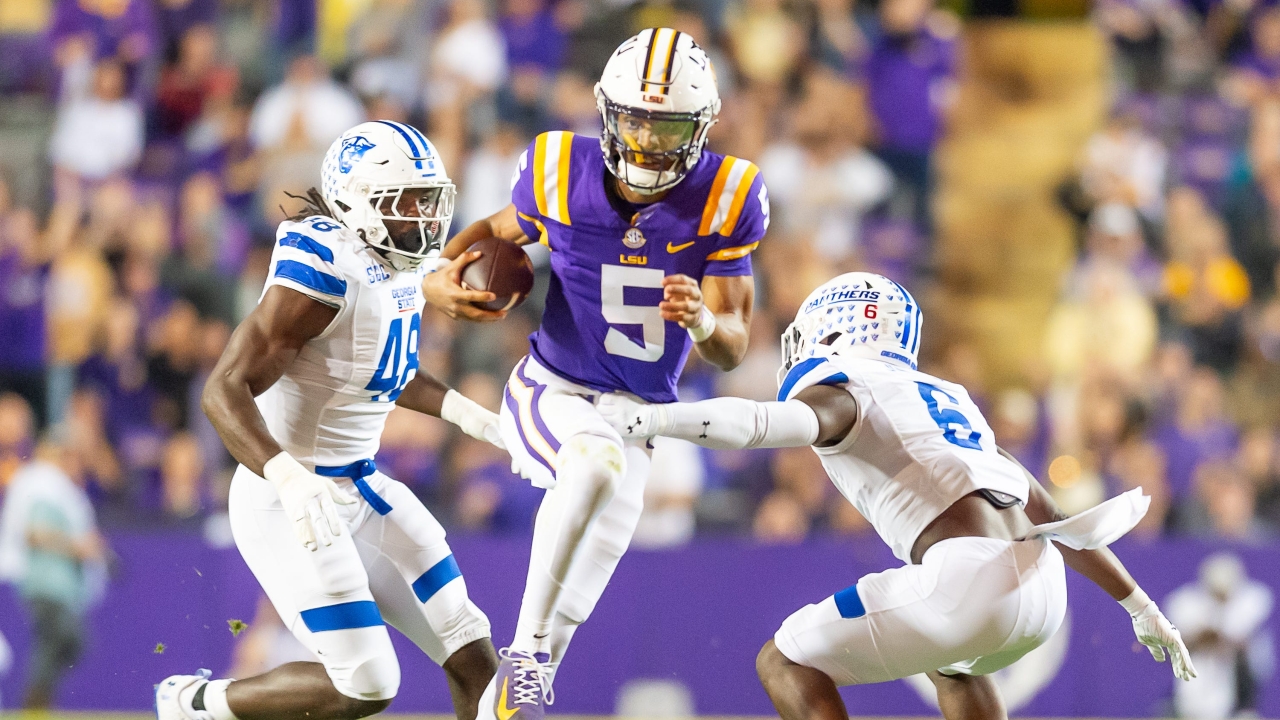 Photo by Scott Clause//USA TODAY Network
LSU Football
Daniels shines as LSU blasts Georgia State 56-14
---
LSU (8-3, 5-2) quarterback Jayden Daniels was nearly unstoppable once again as LSU crushed Georgia State 56-14 Saturday night in Tiger Stadium.
The Heisman hopefully padded his impressive resume with 509 total yards and eight touchdowns. He scored a touchdown on all eight of the drives he played.
"It's something that I'm chasing, - a chance to be great each and every week," Daniels said. "You can't take a game off because if you do, you might get beat. So you got to play to a standard that I set for myself."
He completed 25 of 30 passes for 413 yards, six touchdowns with no interceptions while adding 96 yards and two touchdowns on ten carries.
Daniels joins LSU's last Heisman winner, Joe Burrow, as the only players in program history to have eight touchdowns in a single game.
For the season, he leads the country in total yards and touchdowns with 4,591 yards and 46 touchdowns.
"I think right now, the way he's playing, the decisiveness and the way he's taking over games, he's the best player," LSU coach Brian Kelly said when asked if Daniels is the best player he's ever coached. "I think he's the best player in college football and every opportunity that I get. I'm going to make sure that people understand that."
His favorite targets were once again receivers Brian Thomas and Malk Nabers.
Nabers had eight catches for 140 yards and two touchdowns while Thomas managed to bring in four catches for 103 yards and a touchdown.
While the final score shows a blowout, LSU's defensive woes continued in this game, and actually allowed Georgia State (6-5, 3-4) to tie the game at 14-14 in the second quarter.
However, LSU's offense was just too overwhelming outgaining Georgia State, 582-365.
LSU's leading tackler was Omar Speights with ten tackles.

LSU Peter Millar Perth Stretch 1/4 Zip
from: Alumni Hall
Never miss the latest news from TigerBait.com!
Join our free email list