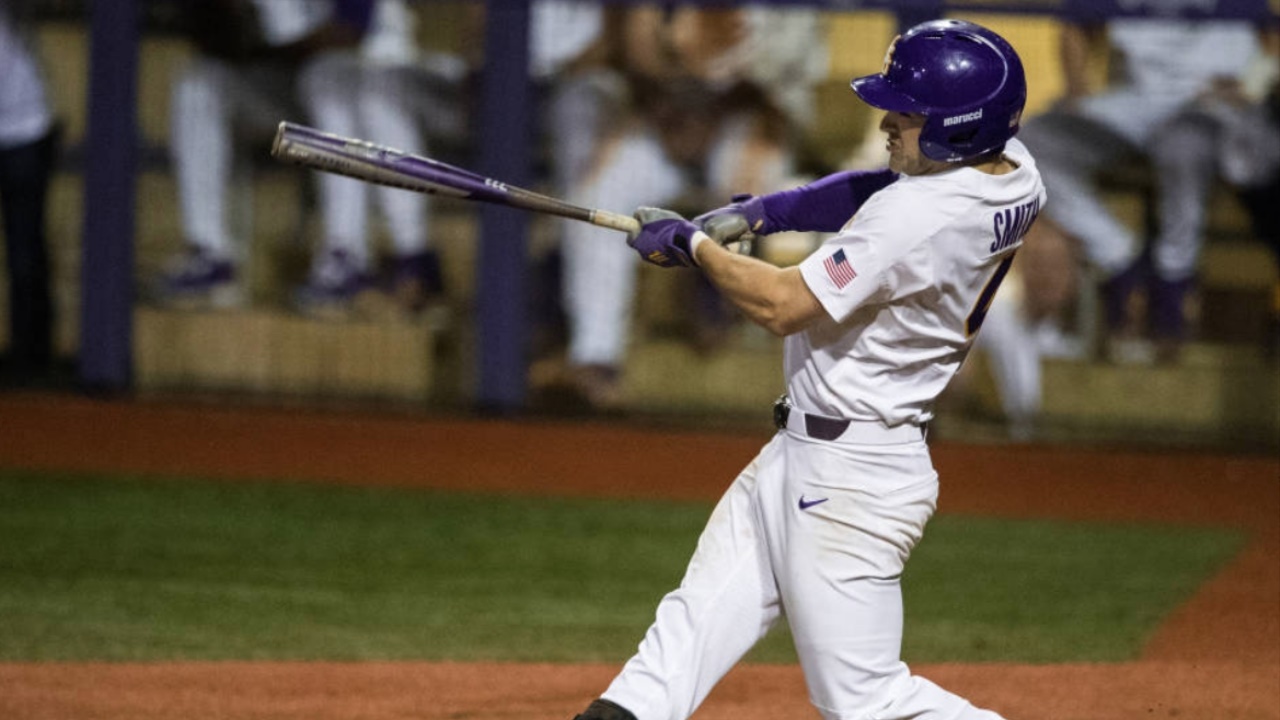 Photo by Brandon Gallego, LSU
LSU Baseball
Tigers did enough to be named regional host
---
LSU was not supposed to be in this position when the Southeastern Conference tournament began Tuesday.
Back in January, college baseball observers felt like the Tigers would have a national seed for the NCAA tournament wrapped up before playing a game in Hoover (Ala.).
Four SEC teams completed the regular season with one of the eight national seeds firmly in their pockets – Vanderbilt, Arkansas, Georgia and Mississippi State. Notice that LSU was not one of those four teams.
In fact, the Tigers opened play in the SEC tournament last Tuesday with work to do in order to simply be a regional host. It was believed that LSU needed to win three games and reach the tournament semifinals to assure itself a regional host spot.
Well, that's just what these gritty Tigers did.
It wasn't pretty at times. LSU wiped out a four-run deficit to defeat a bad South Carolina team 8-6 in the play-in game Tuesday. The Tigers scored two runs on a wild pitch to come away with a 4-3 walk-off victory against Auburn in an elimination game Thursday.
******
Marlon Martinez says Ed Orgeron ecstatic when he called to commit (premium)
******
Then, there were two eventful games against Mississippi State.
First, LSU battled the Bulldogs for 17 innings before losing 6-5 early Thursday morning. The Tigers had an opportunity to win the game, but second baseman Brandt Broussard made a two-out error in the 16th which allowed Mississippi State to tie the score. One inning later, the Bulldogs won the game.
Second, LSU crushed Mississippi State by the ten-run rule 12-2 on Friday night. The Tigers won three of five games from the Bulldogs this season – none played at The Box. If Mississippi State is a national seed, then LSU is certainly good enough to be one of the 16 regional host teams.
The Tigers' SEC tournament run came to an end Saturday evening when an exhausted pitching staff was pounded 13-4 by regular-season champion Vanderbilt. So, it will be the No. 1 seeded Commodores against the No. 7 seeded Ole Miss Rebels for the tournament title Sunday.
LSU's body of work is impressive enough to be playing at The Box beginning next Friday. The Tigers played 12 games against the four elite SEC teams this season – Vanderbilt, Arkansas, Georgia and Mississippi State. LSU's record was just 5-7, but none of those games were at home.
The Tigers did not have any individual deliver a sensational performance during their five SEC tournament games although catcher Saul Garza did have nine hits in 19 at-bats. But, Garza drove in only one run.
Shortstop Josh Smith was probably LSU's best offensive player as he batted .360 (9-for-25) with four RBIs and five runs scored. The only other players with more than five hits in the tournament were Antoine Duplantis (7-for-23) and Broussard (6-for-13).
No Tigers player drove in more than four runs or scored more than five runs. Different players had big games in the victories. Cade Beloso had three hits and three RBIs against South Carolina. Smith and Garza had two hits against Auburn. Chris Reid had two hits and two RBIs in the rout of Mississippi State.
As regards the pitching, the bullpen carried the staff until the loss to Vanderbilt. Tigers relief pitchers worked 27 innings in the first four games. They gave up just four runs with 11 walks and 29 strikeouts. Devin Fontenot was the best reliever in the come-from-behind victory against the Gamecocks.
Matthew Beck and Zack Hess threw four scoreless innings during the marathon loss to Mississippi State. Ma'Khail Hilliard gave up only one unearned run in 4.2 innings. In the victory against the Bulldogs, three seldom-used pitchers – Clay Moffitt, Aaron George and Chase Costello – gave up only two runs.
The most encouraging outing in the tournament came from Landon Marceaux, who allowed just two unearned runs in 6.2 innings against Auburn. A throwing error by Smith led to two Auburn runs in the seventh. Until that inning, Marceaux was successfully protecting a 1-0 lead.
Unreliable starting pitching is the reason the Tigers did not contend for a SEC championship. Hess was removed from rotation and sent to the bullpen. Eric Walker has experienced an up-and-down year coming off Tommy John surgery.
Marceaux seems to be rounding into shape after missing more than a month with an arm injury. Cole Henry was roughed up by South Carolina in his return, but coach Paul Mainieri saw enough good things to prepare him for a start in the regional.
LSU could definitely have played better through 56 regular-season five SEC tournament games. But, these Tigers are able to grind out victories as reflected in their 12-5 record in one-run games.
Now, LSU will find out Sunday night if it will be playing again at The Box. The Tigers deserve a regional host spot.

LSU Tigers Nike Franchise Performance Polo – Gray
from:
Fanatics
Never miss the latest news from TigerBait.com!
Join our free email list