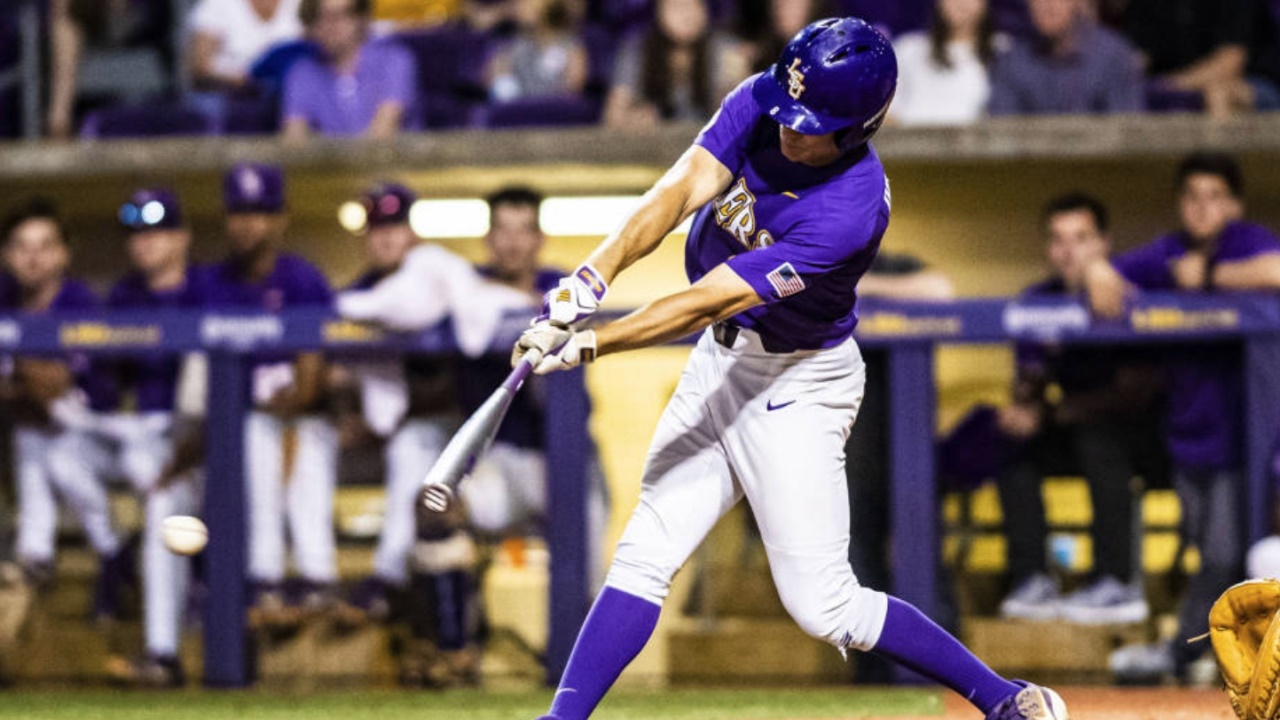 Photo by LSU Athletics Creative Services
LSU Baseball
Florida State ends LSU's season, 5-4
---
BATON ROUGE, La. -- Drew Mendoza's RBI single in the 12th inning spoiled a brilliant performance by LSU reliever Devin Fontenot, as Florida State advanced to the College World Series, 5-4, on Sunday night.
LSU (40-26) saw its 2019 campaign come to an end despite rallying from three runs down twice and force extra innings. Florida State (41-21) will face either Arkansas or Ole Miss in its opening game of the CWS later this week.
Fontenot (5-4), who entered with one out in the sixth, pitched six innings of no-hit baseball before allowing a one-out single in the 12th. A wild pitch put a the winning run in scoring position before Fontenot's 11th strikeout of the game. On a 2-2 count, Mendoza lined a single to right field that allowed Mike Salvatore to score from second.
Fontenot threw 6 1/3 innings, allowing one run on two hits with 11 strikeouts and two walks.
"I am so proud of our guys, they just gave it everything they had," said LSU coach Paul Mainieri. "That performance by Devin Fontenot tonight. If we had won the ballgame, we would be talking about it 15 years from now. He gave everything he had for our team. I am so proud of how far Devin has come. It makes you excited about his future as we go forward. The toughest thing about this business is not just the losing and seeing the season come to an end, it is having to say goodbye to people that are such a big part of your life."
Playing the final game of his career, LSU's all-time hits leader Antoine Duplantis led the Tigers at the plate. He went 4-for-6 with a solo homer and three RBI. He finished his career 359-for-1109, only five at bats shy of the NCAA record.
Shortstop Josh Smith and catcher Saul Garza had two hits each for the Tigers, who weren't able to scratch across a run against Seminoles reliever Antonio Velez (5-2) in his 4 2/3 innings of work. Velez allowed only four hits had had six strikeouts to earn the series-clinching victory.
"Antoine and Josh are two of several on this team that will not be back next year, and when they leave, you feel like a piece of you left with them," Mainieri said. "We have been out there on that field for three or four years together, sweating, working and going through the ups and downs that every season is. I told the boys I was very proud to be their coach. My life has been enriched by having them in it. When you have to say goodbye to youngsters like that, it is hard."
LSU freshman starter Landon Marceaux worked around a leadoff single in the first inning by getting a double play.
Florida State struck first in the bottom of the second with a walk, bunt single and a single to center field loaded the bases with no outs.
LSU looked to get its second double play in as many innings when first baseman Cade Beloso fielded a sharp ground ball and elected to take two steps and touch the bag before throwing to the plate. Garza applied the tag at home plate, but lost control of the ball in his follow through. Robby Martin scored on the error to give Florida State a 1-0 lead.
RBI singles by Nelson and Salvatore pushed the advantage to 3-0 before Marceaux struck out Reese Albert to end the threat with runners on first and second.
Duplantis wrapped a solo home run around the right field foul pole to cut into the Seminoles advantage, 3-1. His 12th home run of the season tied Daniel Cabrera for the team lead in 2019.
An RBI double down the left field line by Florida State's Tim Becker made the advantage 4-1. After getting the second out in the bottom of the fourth, Marceaux was lifted for Matthew Beck who struck out Albert to end the inning. Marceaux allowed two earned runs on eight hits with one walk and two strikeouts in 3 2/3 innings.
The Tigers rallied for another run in the top of the sixth off Van Eyk, as Josh Smith, Giovanni DiGiacomo and Duplantis each singled to open the frame with a run. A ground ball to first base by Cabrera moved runners into scoring position, however, DiGiacomo wandered too far off third and was picked off -Florida State's 12th of the season. Though Zach Watson walked to re-load the bases, Beloso popped up to end the inning.
Trailing 4-2 with one out in the bottom of the sixth, Beck was relieved by Fontenot who extended the LSU bullpen's hitless streak to 3 1/3 innings with a strikeout and a pop-out.
In the eighth, LSU mounted a game-tying rally in the eighth, but again suffered a base-running miscue that prevented the Tigers from having a chance to take the lead. Smith doubled into the left-field corner to open the inning and scored on another double to left by Duplatis, who collected his third RBI of the evening. The hit chased Van Eyk after 7 1/3 innings in which he allowed four runs on eight hits with two walks and five strikeouts.
Antonio Velez entered for Florida State and allowed an infield single to Cabrera that put runners on the corners for Watson. The LSU centerfielder singled through the left side to drive in Duplantis and tie the game, 4-4. However, as Cabrera took third, Watson was ruled out at second while attempting to take the extra base. A ground out by Beloso ended the inning.
Fontenot continued his magnificent performance in the bottom of the eighth and ninth, striking out four in two frames and working around two walks with a caught stealing and a strikeout of Albert.
In the top of the 10th, the top two in the LSU order went down quietly against Velez before Duplantis reached on his fourth hit of the night, a single up the middle. However, Velez ended the inning with a strikeout of Cabrera.
Fontenot brought his strikeout total to eight with two more in the 10th inning, bringing the LSU faithful to a fever pitch.
In the bottom of the 12th, Florida State's Mike Salvatore recorded a one-out single up the middle off Fontenot to end the LSU bullpen's hitless streak at 7 1/3 innings. The sophomore righty earned his 11th strikeout of the game on his 92nd pitch for the second out before Mendoza lined a 2-2 pitch into right field for the game-winning hit.
Attendance was announced as 11,713.
Never miss the latest news from TigerBait.com!
Join our free email list