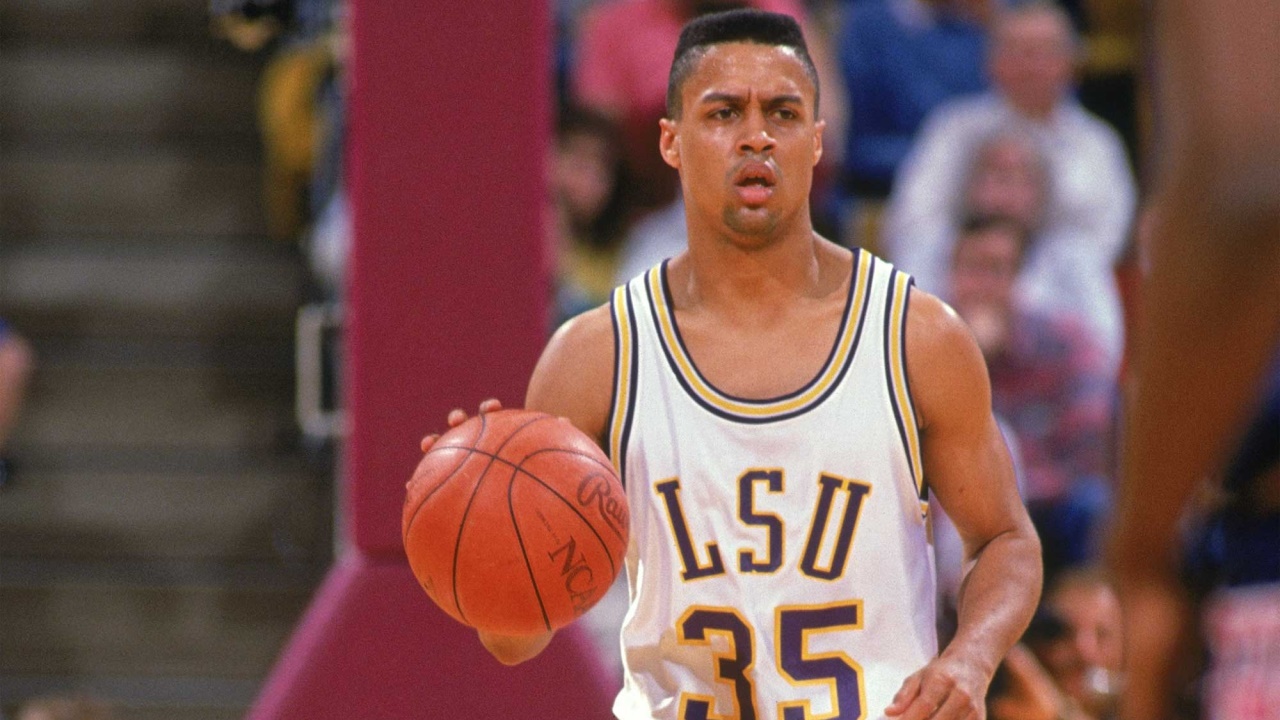 LSU Basketball
LSU to retire jersey of Mahmoud Abdul-Rauf
---
BATON ROUGE, La. – The LSU Athletic Hall of Fame Election Board has unanimously approved the jersey retirement of LSU men's basketball All-American Mahmoud Abdul-Rauf.
The jersey will be retired by LSU in a gameday ceremony during the 2019-20 basketball season in the Pete Maravich Assembly Center.
The No. 35 worn by Abdul-Rauf, who was known as Chris Jackson during his LSU playing career as the Tigers' point guard, will join the No. 50 worn by Bob Pettit, the No. 23 worn by Pete Maravich, the No. 40 worn by Rudy Macklin and the No. 33 worn by Shaquille O'Neal as retired jerseys in the LSU men's basketball program.
Abdul-Rauf, a native of Gulfport, Miss., will become the 14th LSU athlete or coach to have his/her jersey retired, joining Pettit, Maravich, Macklin and O'Neal; football players Billy Cannon, Tommy Casanova and Jerry Stovall; women's basketball players Seimone Augustus and Sylvia Fowles; baseball coach Skip Bertman and baseball players Ben McDonald, Eddy Furniss and Todd Walker.
"By a unanimous decision, Mahmoud now joins one of the most elite groups in college basketball - the five men's basketball players whose jerseys LSU has retired," said LSU Director of Athletics Scott Woodward. "He's one of the greatest of all time at LSU and incredibly deserving of this honor."
Abdul-Rauf was named a first-team All-American in 1989 and 1990, becoming in 1989 just the second freshman to receive first-team All-America recognition from the Associated Press. He averaged 30.2 points per game during the 1988-89 season, and he is still the only freshman in college basketball history to average over 30 points per game.
Abdul-Rauf was a two-time consensus SEC Player of the Year, and he scored in double figures in 63 of his 64 games at LSU, including over 20 points 52 times, over 30 points 28 times, over 40 points 11 times and over 50 points four times.
At the end of his collegiate career, he held the LSU all-time record for most three-point field goals made (172), and he still holds the school single-season mark for highest free-throw percentage (91 percent).
Abdul-Rauf was the third overall pick in the 1990 NBA Draft by the Denver Nuggets , and he played in the league for nine seasons with the Nuggets, the Sacramento Kings and the Vancouver Grizzlies. He twice led the NBA in free throw percentage, and he voted the league's Most Improved Player in 1993.
After his NBA career concluded in 2001, Abdul-Rauf continued to compete in multiple leagues around the world, and he currently plays in the BIG3 three-on-three professional basketball league that is headquartered in Los Angeles.
Reaction from the LSU Men's Basketball community on Mahmoud Abdul-Rauf's jersey retirement
Will Wade - LSU men's basketball coach
"I would like to congratulate Mahmoud Abdul-Rauf on the announcement that the LSU Athletic Hall of Fame committee has unanimously voted to honor him with the retirement of his LSU Basketball jersey. In Mahmoud's two years at LSU, his ability to shoot and score has only been matched by those whose jerseys are already hanging from the rafters of the Maravich Center. He is continuing to perform on the court at a high level almost 30 years later, and we look forward to having him back to celebrate this milestone this season."
Dale Brown - former LSU men's basketball coach (Abdul-Rauf's coach at LSU)
"Mahmoud is one of the greatest players in college basketball history, and he is one of the nicest young men I have coached in my 44-year career. He won accolades throughout the country while being inflicted with Tourette Syndrome, a truly remarkable accomplishment. He now becomes only the fifth LSU basketball player to have his jersey retired. Wow, what a group! Pettit, Maravich, Macklin, O'Neal and now Mahmoud Abdul-Rauf."
Shaquille O'Neal - LSU men's basketball All-American, NBA Legend and Abdul Rauf's teammate at LSU (O'Neal's jersey was retired by LSU in 2000)
"Mahmoud Abdul-Rauf was truly a phenomenal and extremely talented athlete who I enjoyed playing with. And because of his sacrifice and dedication to the game, it paid off. Congratulations to a great player."
Rudy Macklin - LSU men's basketball All-American (Macklin's jersey was retired by LSU in 2010)
"Players like Mahmoud Abdul-Rauf come around only once in a lifetime. His skill-sets were head-and-shoulders above the competition he faced, and the mental toughness he possessed launched him to superstardom with the letters 'LSU' written on his chest. We may never see anyone like him again."
Ricky Blanton - LSU men's basketball All-SEC player and Abdul Rauf's teammate at LSU
"Congratulations to Mahmoud on a well-deserved honor. He was a special player at LSU and brought a ton of excitement to the PMAC. I was fortunate to play with Mahmoud when he was a freshman at LSU. He took college basketball by storm, and I still have not seen a freshman player in college basketball average 30.2 points per game like Mahmoud did. Mahmoud was a great scorer with a lightning-quick cross over and could shoot from anywhere on the floor. He was a tremendous player in transition, and it was fun to watch him perform on the basketball court."

LSU Tigers Nike Air Zoom Pegasus 36 Sneakers - Purple/Gold
from:
Fanatics
Never miss the latest news from TigerBait.com!
Join our free email list