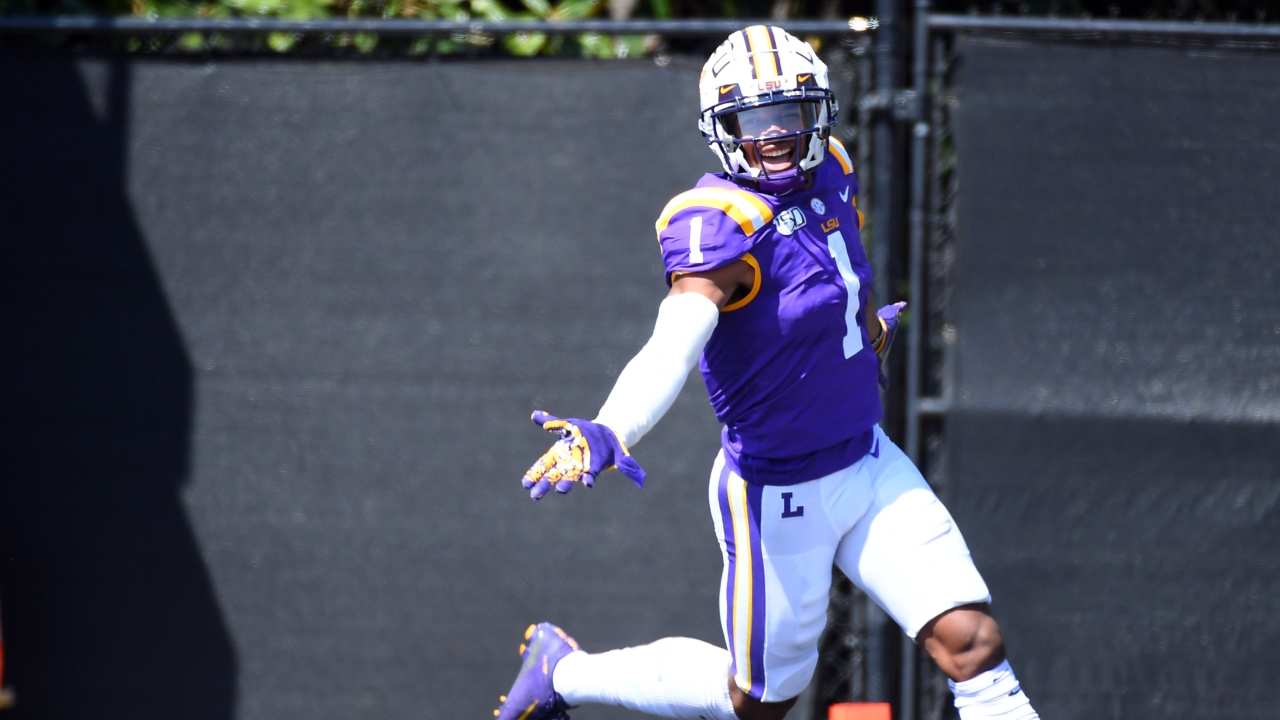 Photo by Christopher Hanewinckel-USA TODA
LSU Football
Behind a Passing Arsenal LSU defeats Vanderbilt 66-38
---
Behind LSU quarterback Joe Burrow's record-breaking performance, LSU defeated Vanderbilt 66-38 Saturday afternoon.
After limping off from a hard hit on a sack in the first half, Burrow went on to break the school record for passing touchdowns with six. He finished passing 25-35 for 398 yards and no interceptions.
******
Another record-setting day for LSU's offense (premium)
******
Burrow continues to build upon his Heisman resumé as he has now passed for 1,520 yards and 17 touchdowns with two interceptions. For comparison, he passed for 16 touchdowns in 13 games last year.
Burrow's go-to receiver for the day was Jamar Chase, who pulled in ten grabs for 229 yards and four touchdowns. That's good for the fourth-most receiving yards and second-most touchdowns in school history.
"That's called recruiting," LSU coach Ed Orgeron chuckled. "We knew Ja'Mar (Chase) was an excellent player."
Running back Clyde Edwards-Helaire bounced back from a costly fumble recovered for a Vanderbilt touchdown to the tune of 106 yards on 14 carries and a touchdown.
Overall LSU's offense accounted for 599 yards and scored 65 or more for the second consecutive game.
"We're starting to see that we can do this every game," Burrow said. "That's who we are as an offense. We're going to try to score every time. We're going to throw the ball around. And, we're going to throw it to open up the run.'
While LSU's offense deservingly continues to dominate the headlines, defensive struggles have left fans with a little concern for this team's playoff hopes.
Vanderbilt actually drew first blood in this game taking a 7-0 lead on an eight-play 75-yard drive.
Though, that blow is a bit more forgiving when LSU responds with four consecutive touchdown drives of five or fewer plays.
Although 14 of the 38 Vanderbilt points came from defensive scores, Vanderbilt's offense still accounted for 374 yards and 24 points of its own against LSU's banged-up defense.
Defensively, LSU linebacker Jacob Philips led the way for the Tigers with 10 tackles, three of which were for a loss.
Defensive backs Jacoby Stevens and Derek Stingley Jr. each came down with interceptions.
I think there's many more to come," Orgeron said of Derek Stingley's interception.
LSU linebacker Micah Bakersfield was the special teams standout player of the game recovering an onside kick and returning it 46 yards to the Vanderbilt 1. He followed that up by recovering a blocked punt for a touchdown.
Notably, freshman kicker Cade York continues his nearly perfect season kicking by making his seventh field goal of the season on as many attempts.
Never miss the latest news from TigerBait.com!
Join our free email list