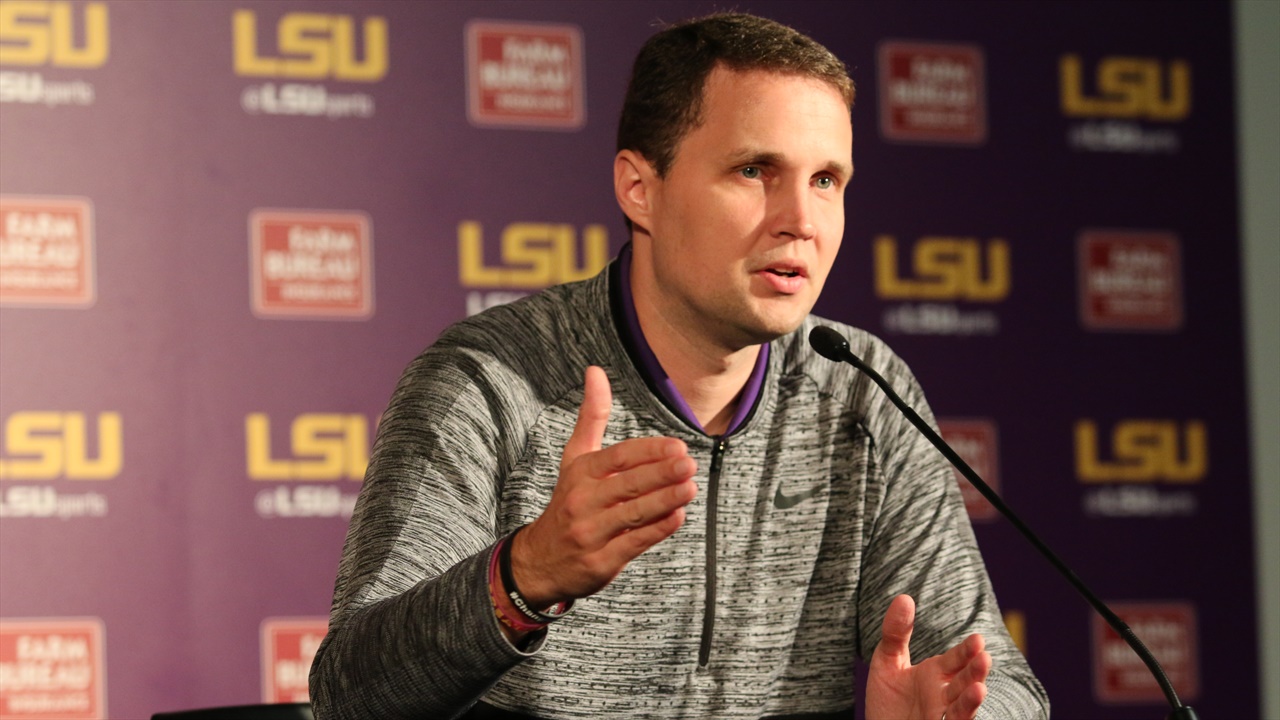 Photo by Mike Scarborough, TigerBait.com
LSU Basketball
Will Wade transcript following start of 2019-20 season
---
LSU head basketball coach Will Wade met with the media Monday afternoon. He discussed the Tigers start to the 2019-20 season and more.
Opening statement
"Friday we beat a good Bowling Green team. We were able to survive at the end. There's obviously quite a few things we need to clean up if we're going to take our show on the road and win at VCU. They're a very, very tough opponent. We've reviewed some stuff with our team and hopefully we'll get better in a couple areas. We can't turn the ball over the way we've been turning the ball over. We turned it over 16-18 times a game in the exhibition and in the game on Friday night. If we do that it will be a long night Wednesday night. I thought our team did a good job adjusting both halves. We had seven threes in the first half. We shot almost all shots in the paint and a lot of free-throws in the second half. To be able to be versatile and do both of those things should help us. Hopefully we prepare well the next couple of days so we can give ourselves an opportunity to win on Wednesday night in a tough environment and a very well coached and very, very good team."
On the issue of turning the ball over…
"We've got to clean up a lot of the turnovers. We've got to clean those up. Part of it was we got a little bit fatigued. I've got to do a better job subbing and making sure our guys aren't out there as tired as they are. We've got to clean that up."
On Skylar Mays' and Javonte Smart's rebounding efforts Friday night (8 each) …
"I thought they were great. Skylar had seven defensive rebounds, one offensive, and Javonte had eight defensive. That's the reason we won the rebounding battle. We forced them to miss a lot of shots and when your big guards can get in and rebound, that helps you out. We're certainly going to need to team rebound on Wednesday night. Marcus Santo-Silva, the big kid at VCU, is as good of offensive rebounder as we'll play all year. He's top five in the country in terms of offensive rebounding percentage. If we can't stick a body on him and our guards can't get in there and get physical to help us rebound down low, we're going to be in trouble. I think they did a good job. We've got to continue to see that. It's got to be a consistent effort and it's got to become a habit."
On how he develops a bench early in the season…
"It's tough. You put the guys out there that you trust the most. You develop trust through your practice and your practice habits and through your work habits. I've got to get (James) Bishop on the court more. I trust him. He's a good player. It's just tough when you've got Javonte and Skylar and you've got to take one of them out sometimes. Like I said, those guys got so tired. Javonte got so worn down in the second half. We've got to get them in a little bit better shape. I've got to trust Bishop. I've got to trust Marshall Graves – he's somebody who always does the right stuff. We just have to commit to putting those guys out there and continuing to develop (Aundre) Hyatt and get him minutes as well."
On returning back to VCU and the atmosphere there…
"Oh the atmosphere there is incredible on any night. It will be turned up even more, I'm sure, for us. It's a great place. VCU is a great place. As a coach you travel around a lot. That's the longest I've been in one place. I was there four years as an assistant. I was there two years as the head coach. They've got tremendous fans. They've got a tremendous administration who really, really supports the basketball program. Coach (Mike) Rhoades is an awesome, awesome coach. He's done a phenomenal job there and he'll continue to do a really, really good job. It will be as lively of an atmosphere as we've played in in a while when we go there. Every game is a sellout. They love their basketball and they've got a really good team. They've got a team picked to win the league. They've got good players. It will be rowdy, but it should be fun."
On facing his former team VCU…
"A couple of the guys were there when we were there and a couple of the guys I recruited. I coached someone who is one of their administrative folks now and I'm still very close with him. That's just part of it. You don't like playing familiar faces all of the time, but that's how it goes in college basketball. At the end of the day, it's two really good teams playing each other in a high-level environment, and I think it'll help both of us. It'll help us for our games and SEC play and I'm sure it'll help VCU as they get going in their schedule. They're going to a deal in Destin in a couple weeks where they'll play Tennessee and a couple other good teams. It's a good game for both of us and it should be an exciting, entertaining game."
On if Trenton Watford was comfortable his first game…
"Yeah, we talked about that yesterday. He just needs to calm down and be himself. I thought he was passive - a little bit jittery. Just be yourself. Don't be anything you're not. If he just let's his hair down and plays a little bit, he'll be fine. Play off your instincts, play fast, play physical, and do what got you here. You don't have to change anything. Sometimes it takes those younger guys a little bit of time to adjust, and I think he understands that, and he'll be much better as we move on. But let's also keep it in perspective. He didn't play great and he still had 10 points and seven rebounds. Pretty good day at the office for most players, but I know our expectations are higher and I know his expectations are higher. He's going to meet those as we continue to move through the season."
On how the offense and ball movement…
"It wasn't as good as it should've been. I know we still scored almost 90 points, but we weren't nearly as good offensively. If we cut, move, and screen like we did Friday night this Wednesday, we're going to get annihilated. We have to be crisper with our cuts, got to have better ball movement, cleaner catches, cleaner passes. We were way too stagnant for periods of time for my liking. I thought Javonte (Smart) and Skylar (Mays) played well. I'm not saying it was necessarily them, I think it was a combination of a lot of guys. We have a lot of ball-watchers, as opposed to ball-chasers, guys who will move and cut. So that's an area we have to continue to get better in."
On how close Marlon Taylor is on returning…
"We have a meeting this afternoon about it actually. He could play Wednesday or be out another two or three weeks. We have to make a call on it in the next hour or two. He was going to play Friday and tried to practice on Wednesday or Thursday but couldn't move well enough to practice. We're going to reevaluate it this afternoon then make a decision based off that."
On the challenge of losing players from last season…
"I don't look at it like that. I look at it from the perspective of you have to play the cards you are dealt. So, this is the team we got. We got a good team and so what can we do to maximize this team? There's an old saying, 'Comparison is the thief of joy.' We don't need to compare it to last year's team or certainly two years' ago team or three years' ago team. This is the team we got this year. It is my job as the coach and our job as the coaching staff to maximize the guys we got. We got plenty of talent. We have plenty of good enough players to win a lot of games. Now what is that going to look like at the end of the year? Is that going to look as good as last year? I don't know. It may not look as good. It may look better. I don't know how it is going to look. It is our job to maximize the guys we have and we have plenty of good enough guys if we put them in the right positions, if we coach them well and we stay healthy to win a lot of games and be a very good team. I look at is from the perspective of not worrying about what we don't have, but focusing on what we do have. What we do have is a really good group of guys. A hardworking, blue collar group of guys that listens and can take things from the film room and can get it on the court. It is our job to put them in the right positions so we can try to maximize the talent we have with this group."
On the two-point defense against Bowling Green…
"It was good. I thought we did a good job. We forced contested jump shots. We did a pretty good job shielding and squaring up around the rim. The flip side of that is our three-point defense was not very good. We gave up 25 points in the last six minutes of the game, which is horrendous. We have to certainly get better there. A couple of the threes we gave up, we blew some switches. We made some fundamental mistakes. We took some bad shots. We gave up one on a blown switch, we gave up one where we were there and the guy didn't feel us and we gave up two in transition defense off our own bad shots, so that's four threes. If you take those away, you had a pretty good night. We gave up one with 15 seconds left where we just had very little effort. If you take those five away, you have a much better night defending the three. Overall, I think our defense has been good enough. Our offense doesn't help our defense all the time, so we have to focus in on that and be better there."

LSU Tigers vs. Alabama Crimson TideBranded 2019 Football Score T-Shirt - Purple
from: Fanatics
Never miss the latest news from TigerBait.com!
Join our free email list