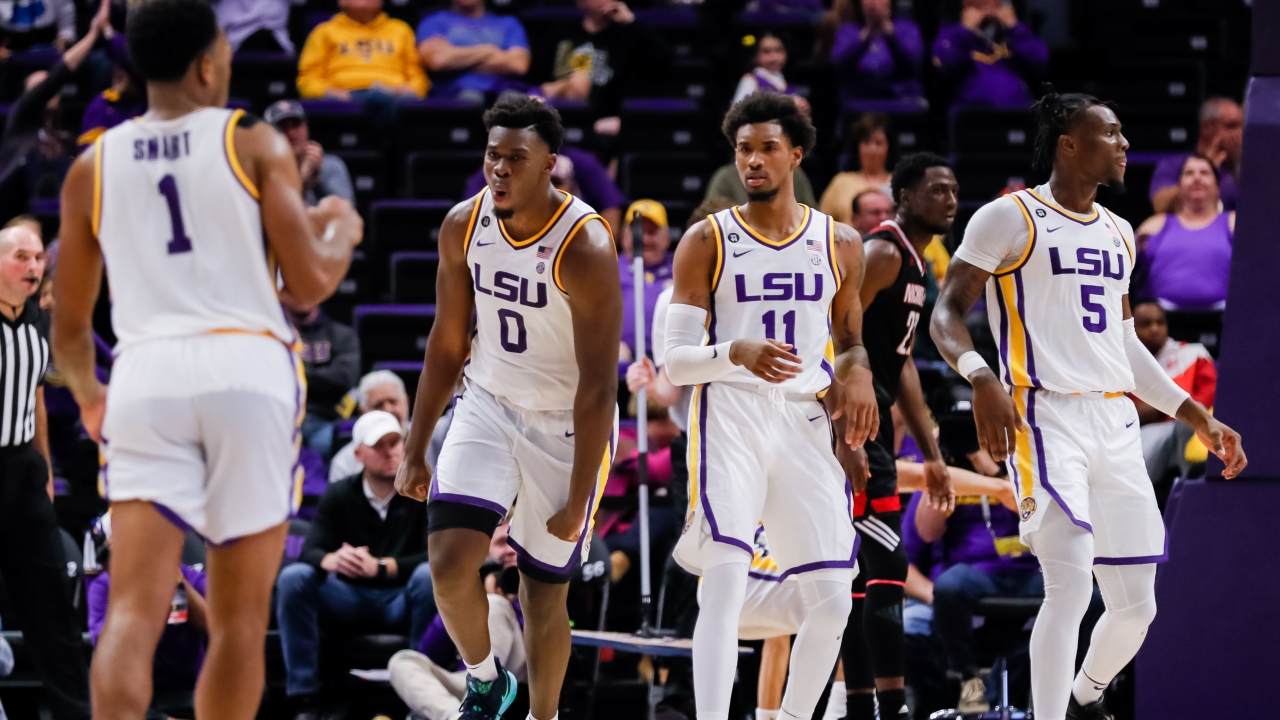 Photo by Stephen Lew-USA TODAY Sports
LSU Basketball
LSU basketball beats Nicholls St., 75-65
---
BATON ROUGE – The No. 23 LSU Tigers found the offensive spurt and the defensive plays in the second half to score a 75-65 win over Nicholls Saturday afternoon at the Pete Maravich Assembly Center.
The Tigers down as much as eight in the first half was down a point at halftime, but held the Colonels to just 9-of-30 (30 percent) in the second half while the Tigers were 14-of-27 from the field in the second half, outscoring Nicholls, 37-26, in the final 20 minutes.
LSU is now 2-1 going into a Tuesday night game with Maryland-Baltimore County at 6 p.m. (SECN, LSU Sports Radio Network). Nicholls fell to 2-2 on the young season.
Skylar Mays led LSU with 18 points with eight boards, three assists and four steals, while Darius Days had his first career double double with 17 points and 11 boards (six offensive). Trendon Watford had 17 points as well with Emmitt Williams getting his fifth career double double with 11 points and 12 rebounds.
Nicholls was led by Dexter McClanahan with 20 points, 18 of which came in the first half. D'Angelo Hunter had 15 points.
For the game, LSU shot an even 50 percent, 28-of-56, but only 3-of-18 from the arc (16.7%) and 16-23 from the charity stripe (16-23). Nicholls finished the game at 38.7 percent (24-62), making eight three-pointers and 9-of-11 at the stripe.
LSU had a 45-27 advantage on the boards, 46-26, in the paint and 18-7 on second chance points.
But for the third straight game turnovers haunted LSU, committing 25, evenly spread 13 in the first half and 12 in the second half. Unlike Wednesday when VCU got 37 points off 26 turnovers from LSU, Nicholls was only able to get 19 points off the 25 miscues.
LSU got up six in the first seven minutes in the game, but Nicholls which took Illinois to overtime and beat Pittsburgh on the road, took the lead on a nine-point run that would give them a 29-21 lead on a Lorenzo McGee dunk with 7:19 to go in the first half.
The Colonels would have that margin a couple of more times in the half before LSU went on a nine-point run of its own late in the half to take a 37-36 lead, before the teams went to the dressing rooms with Nicholls up, 39-38.
The Tigers took some control of the game with the game tied at 48-48 with 16:22 to play. Charles Manning Jr., hit a three and Days got a layup and a jumper to make it 55-48. Watford made two free throws and a Mays layup made it 58-48 with 12:10 to go.
Nicholls never got closer than six the rest of the game.
--
LSU vs. Nicholls Basketball Press Conference
November 16, 2019
LSU Head Coach Will Wade
Opening statement…
"Obviously turnovers were a major problem again. We have to figure that out. I was proud of our offensive rebounding. I thought (Darius) Days played extremely well. I thought Skylar (Mays) bounced back well with a positive turnover to assist ratio and eight rebounds. I thought Emmitt Williams played really well for us. There are some positives to take from it. I assume after today when you plug all the stats in, we are worst in the country in turnovers. We were second to worst coming in the game. If we don't get that under control, it is going to be a long year."
On the difference of play in the second half…
"I thought we mixed our defenses. The zone worked, the 2-2-1 press worked. I think that helped us out some."
On Darius Days' performance…
"It was awesome. How about him diving over there. We need a bunch of guys that will play that hard. That's what we need and Days does it. When he's not in foul trouble, you see what he can do. He fouled only three times today. When he's not in foul trouble we put him at 35 minutes. He did a really nice job."
On playing Nicholls…
"They play extremely hard. They took Illinois to overtime. They won at Pittsburgh. They are a good team. (Austin) Claunch is doing a heck of a job with his staff. They have good players and they played extremely hard. They play with great confidence and that's a credit to them. We got down eight and our guys and woke up and played harder."
LSU Forward Darius Days
On what he thought of his performance tonight…
"I thought I did fine but none of that is possible without my teammates looking for me. Javonte looked for me, Skylar looked for me, Trendon looked for me. I'm just happy we got the win."
On his hard fall in the second half…
"I dove in the stands to get the loose ball. We came up with it, so I did it for a reason. I came down on my elbow and my hip, but I'm fine. I'll get iced up, get some treatment. I'll be right back."
LSU Forward Trendon Watford
On LSU's problem with turnovers…
"Some of us get sped up and unfortunate stuff happens. A pass is a little too high for someone, fumbling the ball, stuff like that. We have a lot of people that can handle the ball and we just have to clean it up. That's one of the things were focusing on right now. 25 turnovers are almost as much as we had versus VCU, so we just have to clean that up."
On his offensive game tonight…
"I've just been working. Coach Wade told me let my hair down and play a little bit. He came to me today and said he felt like I would have a good game, so I guess he was right about that. I just have to keep working on my three's and free throws."
--
Never miss the latest news from TigerBait.com!
Join our free email list