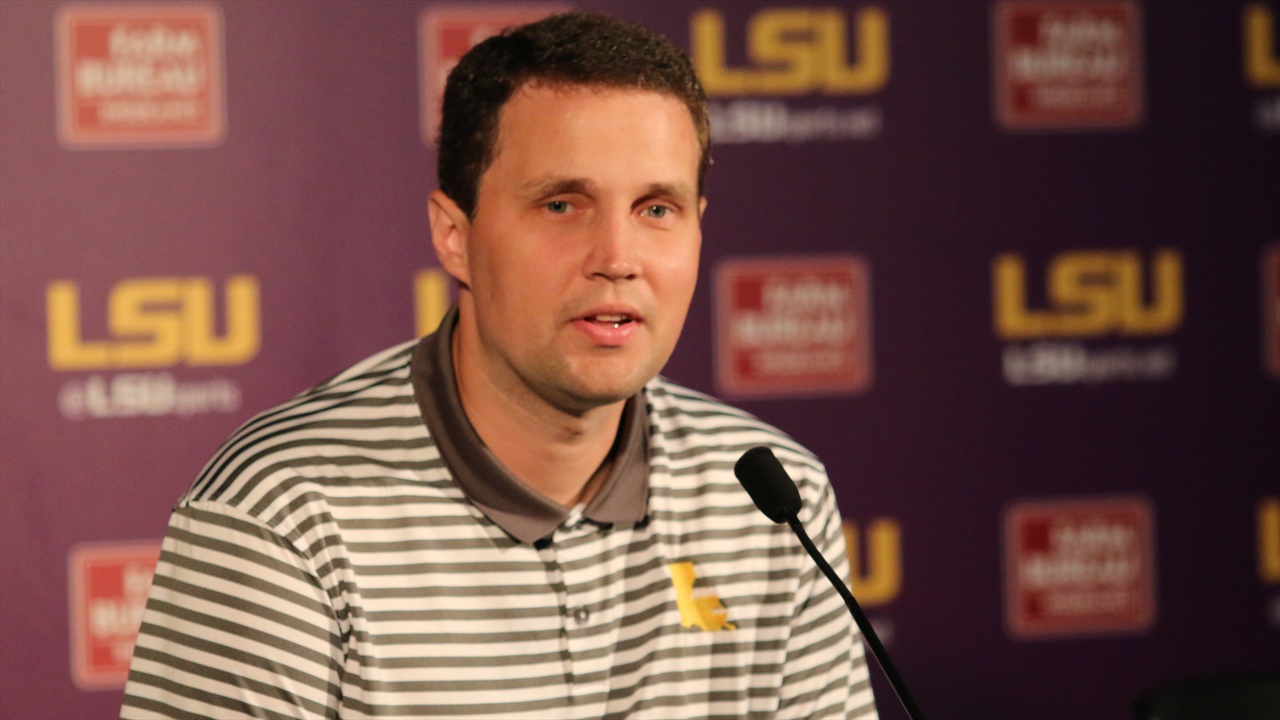 Photo by Mike Scarborough, TigerBait.com
LSU Basketball
Will Wade transcript
---
LSU Head Coach Will Wade
November 18, 2019
Opening statement…
"Obviously it's good to beat Nicholls. I thought Nicholls played extremely hard and well. They're going to have a very good season in the Southland. It's no secret we have to get our turnover issue under control. We have 32 assists on the year and opponents have 36 steals. We've thrown the ball to the other team four more times than we've thrown it to ourselves. That's not good. We have to get that under control, but we have good guards. Javonte (Smart) is a good guard, Skylar (Mays) is a good guard, (Charles) Manning is a good guard, (Trendon) Watford plays like a guard but he's at the 3 or the 4. We'll get this under control. I feel good about our guys' mentality. Some of it isn't the guys who have all of the turnovers fault. Some of it is our spacing, our cutting, our movement as we've adjusted to a little different of an offense. We get a little too stagnant when teams take away our first option. We just stand around and watch as opposed to moving and found other ways to get back into things. I have to coach that better and I think as long as we do that, we can cut down on some turnovers. If you go back and study the turnovers, they come in bunches. If we commit one, we end up committing four in five possessions. We have to do a better job of moving on and staying in the present play and not compounding our mistakes. If we do that, we can knock 10-12 turnovers off and if we do that we'll be around 12-14 turnovers which is manageable. We're still scoring 80 points a game and coughing the ball up as the worst in the country.
"We've got some work to do there, starts (Tuesday) night against UMBC. They're going to pressure us. They've got a guard, Rodgers, I've seen him play since he was on the AAU circuit for CP3. He's a very good player. His father was a hall of famer and a great player for George Washington. He does a really good job with their team. He's a prolific scorer. Coach Odom does a great job coaching. They're very sound defensively. They're top 20 in the nation when it comes to turnovers forced, so we have to handle the ball quite a bit better. They have a transfer from William & Mary and a transfer from East Carolina who help them out and it'll be a good test for us as we get ready for Jamaica."
On the difference on unforced and forced turnovers…
"Well, we say if you make a mistake of aggression, I'm fine with that as long as it's aggressive. Teams have been pressing us, but we haven't turned it over against the press nearly as much, the problem is the half court. We get bogged down in the half court, our spacing isn't great, we don't shorten the passes, we don't meet passes. We don't do fundamental things that we need to do and that's on me to get that corrected, that's not all on the players. I have to get that right."
On the commitment and signing of Cameron Thomas…
"It says we need someone to replace Skylar Mays and we need someone who can really score, and he can certainly do that. He's the best scorer I've seen some out of high school or AAU since I've been coaching. He's as prolific a scorer I've ever seen. Tremendous kid, tremendous family. His mother Leslie is a great lady, sister Shanice, really good people. They've done a great job of putting him in positions to be successful and locking in on his development. His mom works him out, she's like… his shooting coach. She's finding moves for him, she's rebounding for him. Rebounding for him isn't hard you just have to stand under the net because they all go through. We've very excited about Cam. We locked in on him because we needed a prolific scorer and he's that in spades."
On how they plan to limit turnovers…
"We're costing opportunities for our team. We're costing other opportunities for guys to score. When you do that, if it's a prolonged issue, it can seep down into other guys on the team. We have to attack it head on. We're not going to go from 25 to 5. But we need to from 25 to 16, then from 16 to 12 or 14, then from 12 to 14 down to 10, and we've shown we can do it. Last year I went and studied the A&M and Tennessee games from last year when Javonte and Skylar were our starting backcourt and we turned the ball over nine times and seven times, and the Tennessee game was an overtime game. We've shown we can do it, we've shown were capable of it, we just have to go out there and execute it … About a third of our turnovers are counters where we see somebody, and we spin or try to make a second move. Just go through him and go finish. Let's stop countering so much. Some of it is correctable things and our guys are in the gym right now working on it, working against traps and trying to correct it because if we can't correct it, we'll never reach our potential as a team. We shoot 71% when we get a shot on the basket. We're offensive rebounding 51% of our misses which is out of this world. 71% of the time we score when we get the ball on the basket. At this point we'd be better off getting past half court and just tossing it off the backboard. We'll get it corrected. Our guys want to get it corrected."
On Darnell Rogers, the pg. for UMBC…
"He's the point guard, he's Shawnta Rogers son. He's really good; he's cat like quick, can score by driving or shooting behind ball screens. Whenever you have a little guard you have to be able to shoot. He can shoot and fill it up. He's somebody I've seen play for four or five years. When you first see it, you don't know how it's going to work but when you watch him play, he plays with highest motors we will see anyone play with all year long. He's a really good player and a really good talent. In order for him distribute he's got to make shots so people will climb up on him so he can get into the paint and spray it out. He's a tremendous player; he played really well in the EYBL circuit and junior college. He's done it wherever he's been, and he has great genetics."
On facing UMBC…
"They are one top teams in the American East, every year its them and Vermont. Vermont has just been clubbing people. They just beat St. Johns the other day, they have been beating everybody. Every year it comes down to Vermont and UMBC, the year UMBC beat Virginia, they also beat Vermont in the conference championship. It's typically them, Vermont, and Albany in that league so they'll be very good again. The way they play defense and the way their system is built they will always be competing at the top of their league."
On the younger players playing a part in the turnover issues…
"The biggest adjustment is the speed, so people can close down a lot quicker. What looks open, isn't open so my point with the younger guys is that we have to play station to station basketball. We have to be a little more cautious than what we are doing. It's a team deal, we got it diagnosed and now we have to go about fixing it. I think we will get it fixed but if we don't it's going to be a long year. We will have to get you guys wearing helmets sitting at the baseline."
On Marlon Taylor's health…
"He's going to be out a while; it's going to be another few weeks. We are going to go back and look at something in the foot. He still has some issues in his foot that we need to get addressed so I think the earliest he will be back is in two to three weeks. I think our goal would be to have him back by the East Tennessee State game. I think that would be a realistic goal for him to come back in the middle of December but if not then right after Christmas. We are going to be without him for an extended period. We will shut him down and recalibrate on a few things.
On Trendon Watford's performance…
"Trendon (Watford) is off to a really good start. Every time you get a five-star kid, everyone says this and this. You look at how he stacks up against the other guys in the country and he is way out performing the other guys that are supposed to be in his class. I think he is playing extremely well, obviously we need to clean up some of the stuff at the free throw line and some of the turnovers. I think a lot of it is him playing in tighter spaces. He is playing like I said, with the adjustment of the speed, so it takes some time. (VCU) is as tough as environment as we have played in. You put a freshman out there at VCU, it is not easy, it is not high school. I think he has adjusted well and there are certainly some other ways we can help him get the ball closer to the basket a little easier without him having to dribble it eight times to get down there which increases the margin for error. It is part of the reason we started him at the three the other night. It puts our biggest lineup out there and Charles (Manning) is so smart he sees thing really well coming off the bench. It helps him get in the flow of the game, I thought he played better in that role. There's some mismatches we can take advantage of at the three that we sometimes can't take advantage of when he is playing at the post spot. I think he is off to a very good start. He is going to continue to get better and continue to move forward."
On the players in the recruiting class…
"Jalen (Cook) has such a good personality. He committed to us first. He's got a great pride about LSU, he's got a great pride about Louisiana and representing the state and representing the boot. He's been to the Under Armour camp, he was at NBA Top 100 camp. It is the same 150 players that go to all the same stuff together. Whether it's USA Basketball, the camps, the top 100, it's the same 100-125 guys that go to everything together so they develop relationships and get to know each other. (Jalen) Cook has a good personality, so people like to be around him. Certainly, having Bradley (Ezewiro) there at Oak Hill didn't hurt anything. Bradley is someone who is aggressive. He's aggressive on the court, he's aggressive how he goes and gets rebounds. That is really his nature.
"We have to sign a big class. We have three signed and we have to sign another three or four before it's all done. We have some work ahead of us and we need to add some big guys. We need to add a wing that can help us replace what Marlon (Taylor) brings us. We need to add another ball handler, but we have some good irons in the fire. All those guys certainly know each other and are very close. Any time you get a high-level player like Cameron (Thomas), (Jalen) Cook and Bradley (Ezewiro), other guys want to play with those guys.
On other teams focusing on playing LSU…
"We probably snuck around on some folks last year. I don't think people just circle LSU on their schedule for basketball. I think certainly there are other programs in our league that get that. I think if you ask the average SEC fan who won the regular season SEC title last year, they probably wouldn't know. That stuff moves on as time does. I think you develop a target more as you go through the season and you pile up wins. I think at the end of the year we had a target on our back when we were winning and we were a threat to win the SEC. It is our job to regain the target. You have to embrace it, if you have it, you have to embrace it. You can run from it or you can run to it and you better run to it. We have to get to the point where we have that."
Never miss the latest news from TigerBait.com!
Join our free email list