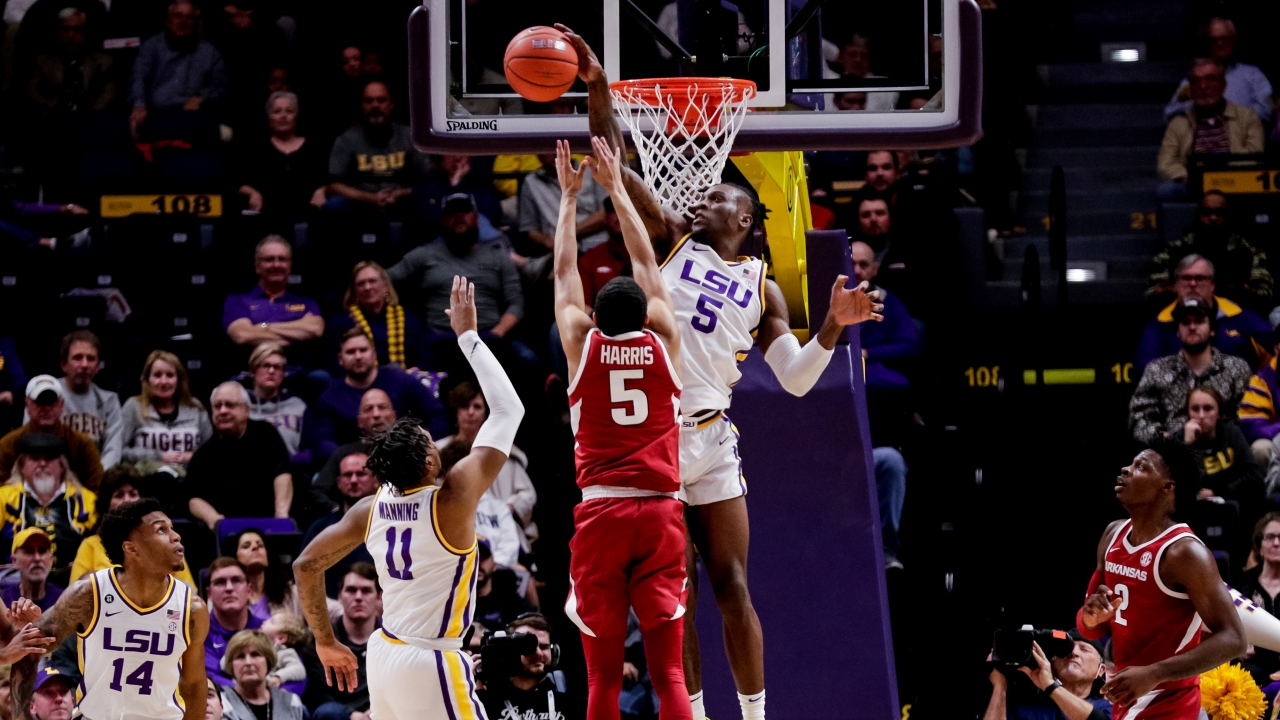 Photo by Stephen Lew-USA TODAY Sports
LSU Basketball
LSU gets win over Arkansas, 79-77
---
BATON ROUGE – This time the two-point game went the Tigers way as LSU got a three-point play from Trendon Watford in the final 10 seconds to score a 79-77 win over Arkansas Wednesday night at the Pete Maravich Assembly Center to remain undefeated in the league at 2-0.
Watford took an inbounds pass and drove to the goal. His shot rolled around and in and he was fouled on the play, giving LSU a 78-77 lead. Watford made the free throw to put LSU up 79-77. LSU called time out to set up its defense.
Isaiah Joe who had made two of their eight three-pointers, came down and tried to get off a three-pointer for the win with three seconds to play on the left wing, but it was blocked by Charles Manning Jr. The ball bounced up and toward the Arkansas bench where Desi Sills got the rebound with a second to play. His scramble three-pointer at the buzzer was also blocked by Manning to give the Tigers the game.
It was LSU's first win in four two-point games this season.
LSU is now 10-4 on the season, while Arkansas lost for only the second time in 14 games. The Razorbacks are 1-1 in the league.
There were 19 leads changes and 13 ties in the game with 11 lead changes and seven ties in the second half alone.
This drama-filled finish followed up last year when LSU won in Fayetteville in overtime and Arkansas won in Baton Rouge by one point.
Arkansas took a one-point, 74-73 lead with 38 seconds on a Jimmy Whitt jumper. LSU brought the ball down and after a timeout, Watford made a layup to give the Tigers the lead back at 75-74 with 32 seconds left. The freshman was fouled and made the free throw to put LSU up, 76-74.
The game was far from over as Joe drove for a layup and was fouled and his ensuing free throw gave Arkansas the lead at 77-76, setting the stage for the final winning plays by LSU.
Watford led LSU with 21 points and nine rebounds. He was 7-of-15 from the field and 7-of-8 from the free throw line. He drew eight fouls in the game. Skylar Mays had 19 points with Darius Days pulling a 16-16 double double with 16 points and 16 rebounds (9 offensive). Javonte Smart added 10.
Mason Jones had 24 points for the Razorbacks with Jimmy Whitt, Jr., getting 22 and Joe 13.
LSU had a 34-24 advantage in points in the paint and two games after posting a 23-0 points off turnovers number against Liberty on Dec. 29, the Tigers posted an even more improbable 26-0 advantage over Arkansas on second chance points.
The Tigers out rebounded Arkansas, 53-24, and 23-3 on the offensive boards.
LSU gave up a 12-0 run in the final eight minutes of the first half to give Arkansas an 11-point, 35-24 lead with 4:06 lead. But Darius Days made two three-pointers late and helped LSU cut the halftime Arkansas lead to three, 40-37. LSU outscored Arkansas, 13-5 in the last four minutes.
The Tigers opened to second half, outscoring Arkansas, 14-4, to take a 51-44 lead with 15:37 to play in the game. But Arkansas kept coming back on LSU setting up the see-saw finish that went LSU's way.
LSU returns to action this Saturday at the Maravich Center against Mississippi State at 7 p.m. on ESPN. Tickets are available during normal business hours at the LSU Athletics Ticket Office and online at LSUTix.net.
---
LSU Head Coach Will Wade
Opening Statement…
"Obviously a critical win. I thought our crowd was great, especially down the stretch. I appreciate everyone that came. I look forward to have the students back on Saturday. I thought the crowd helped us big time. They're a very, very good team. It was a huge win for us – a quad one win. They're going to be a team that is going to be in the SEC race. They have great guard play. They do a great job manipulating matchups. I thought the difference in the game was, obviously, our rebounding. We had 23 offensive rebounds. They had 24 total rebounds. We killed them on the glass which allowed us to get more shots up than they did. I thought they did a good job winning the free-throw line. I wish we would have shot it better from the free-throw line. Obviously Trendon (Watford) made some tremendous play down the stretch and finished them off at free throw line and Charles Manning with two huge defensive plays at the end of the game. I'm very, very proud of our team. It was a very, very good win. We've got to flip it around and get ready to play (Mississippi) State on Saturday."
On the final two offensive possessions that both ended in Trendon Watford And-Ones…
"I think it was huge. One thing that I look at is (Darius) Days was a little hurt down the stretch so we had to be a little carfeul with that and he had been playing well. For Trendon to miss the dunk and miss the bunny a couple minutes before that and both of them would have given us the lead – for him to do that and come back and make those winning plays and then have the poise to knock down the free-throws after the big plays is tremendous. I'm very, very proud of him. The first play was a backdoor play where if we didn't have the backdoor that meant they were overplaying him and they were playing on top. So Trendon was just to follow it with the drive which is what he did. The second one was one of our deep side out of bounds plays and the first option was Days. He wasn't open on the curl so we got it into Trendon and it just becomes a little bit of a single side iso."
LSU Guard Skylar Mays
On Watford's effort at the end of the game…
"(Trendon) is special, man. He's been playing great as we have been going along. He has really turned the corner. I am just so proud of (Trendon and Darius Days). Trendon made awesome plays today."
On matching Arkansas' physicality…
"We just know they are a quality team. They play as hard as we have seen. We just kind of tried to match their energy. Definitely a key was getting on the offensive glass. We did a great job of that, (Trendon and Darius) especially."
On holding Arkansas to zero second-chance points…
"The coaches were definitely happy about that. That is the first thing they said in our postgame talk. That is just a credit to us as a team and the defensive rebounding. We did a great job tonight."
LSU Forward Darius Days
On the career high rebounds…
"Coach Wade preached in practice to stay on the glass, stay on the glass, stay on the glass. I was just very aggressive to the glass and my teammates were aggressive as well. It is very simple, we just stayed on the glass and did what we were supposed to do."
LSU Forward Trendon Watford
On the last possession…
"Coach Wade drew up a few plays for me coming out of bounds. He just trusted in me to do what I do every day. I have to thank him and thank my teammates for putting me in that position."
On improving free-throw shooting…
"Me and Coach Wade get together after every practice and shoot 50 free throws. I went seven out of eight, so a lot of pressure has built up on me. It is just practice everyday. I definitely have to thank (Coach Wade) for working with me. I wasn't shooting good earlier in the year, so he's definitely working with me and it is paying out."
---
Arkansas Head Coach Eric Musselman
January 8, 2020
On the second-chance points allowed…
"LSU was more physical than us. We went with a five-guard lineup and it was our best lineup rebounding the ball. They hung out in the lane and reacted better than us. I've never been a part of a game where its 26-0 in second-chance points and we could've won the game. LSU's plays absolutely did not hurt us one bit, it was free throws attempted and rebounds. Never been a part of a game like that in my entire life. We have to rebound the ball better, we knew that was a deficiency. Again, our best rebounding lineup tonight was when he had five guards. Having said that, we picked up a technical foul in a two-point game. Every little thing matters. The first And-1, Mason Jones gambled and picked up a foul. I've never seen three And-1's to end a game either. LSU had two and we had one."
On the game going to the wire and Arkansas staying with LSU …
"I thought we played phenomenal three-point defense. I thought we took care of the basketball, LSU is a high-steal team. They had one steal all game. LSU has size and they utilized it tonight on the backboards. Their best offense was putting it up and going to get it."

LSU Tigers Columbia College Football Playoff 2020 National Championship Bound Shotgun Quarter-Zip Pullover Jacket – Purple
from:
Fanatics
Never miss the latest news from TigerBait.com!
Join our free email list