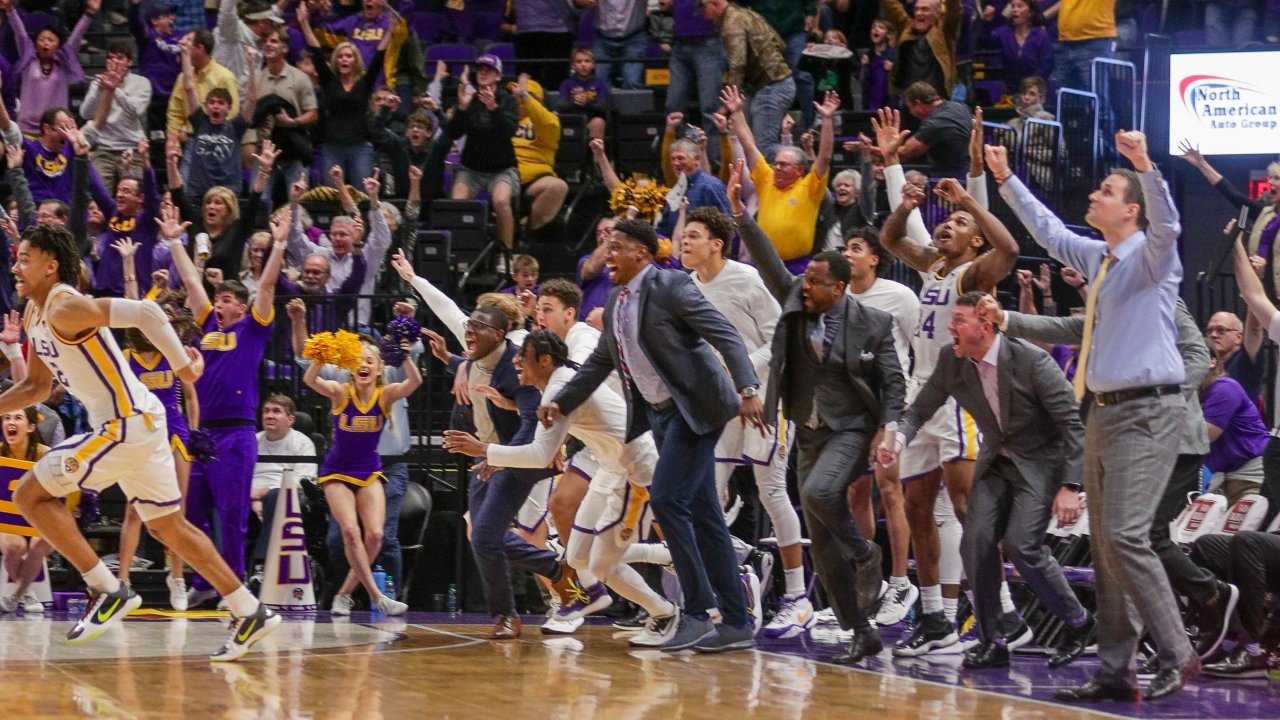 Photo by Stephen Lew-USA TODAY Sports
LSU Basketball
Skylar Mays shot at the buzzer defeats Miss St. 60-59
---
BATON ROUGE – Skylar Mays hit an 18-foot jumper with time running out that swished through the net to set off a victory celebration in the Pete Maravich Assembly Center as LSU ran its record to 3-0 in the Southeastern Conference with a rallying 60-59 win over Mississippi State Saturday night.
*****
LOADS of LSU-Clemson National Championship coverage
*****
The Tigers (11-4 overall and winners of four straight) completed a comeback from nine down in the final 5:18 of the game. Mississippi State falls to 9-6 and 0-3 in the league.
The Tigers did not have one of their best shooting night against the Bulldogs, making just 22-of-59 shots and 2-of-21 from the arc. But again, as they did all last year in league play and Wednesday night in a two-point win against Arkansas, the Tigers dug deep and answered the bell at the right time.
Down 53-44, LSU scored seven straight points to make it a two-point, 53-51, with 3:09 to play. Mississippi State pushed the game back to four. Mays made one of two free throws and after a State turnover, Darius Days drew a foul and made two free throw to cut the Mississippi State lead to 55-54 with 1:43 left.
Days then blocked an Abdul Ado shot and that led to a three-pointer by Charles Manning Jr. that gave LSU its first lead since the nine minute mark at 57-55 with 1:06 to play.
Nick Weatherspoon tied the game at 57-57 with 50 seconds left on the ensuing possession. Emmitt Williams was fouled on the next LSU possession and he made one of two free throws to give LSU back the lead at 58-57 with 43 seconds left.
Weatherspoon missed a jumper for State with 24 seconds to play but the Bulldogs got the rebound. Weatherspoon drew a foul with a chance to give State the lead. He missed both free throws but the ball went out of bounds off LSU with eight seconds left.
On the inbounds, Reggie Perry got the ball inside for a layup and State lead 59-58 with 4.6 seconds remaining.
The officials stopped the game to check the clock on replay (changing it from 4.1 to 4.6) and that allowed Coach Will Wade to draw up a play for the final possession. Manning triggered the inbounds pass, ran to his left and got the ball to Mays who dribbled up for what was the winning shot, sending the Tiger bench and the crowd of 10,364 into an uproar.
It was LSU's fifth win in the Will Wade era in the last five seconds of a game at LSU. The winning bucket was the first basket of the second half for Mays, who finished with 11 points and four steals.
Williams led LSU with 17 points with Manning adding 15 points on 7-of-9 shooting. Weatherspoon led Mississippi State with 14 points, while Reggie Perry had 13 points and 15 rebounds and Ado had 12 points and 12 boards.
State made 19-of-56 from the field against the LSU defense and 3-of-17 from the arc, but an impressive 18-of-21 from the line.
LSU was out rebounded 49-31 and 20-13 on the offensive boards. While MSU had a 14-9 advantage in second chance points, the Tigers again got lots of points off Mississippi State turnovers. State turned it over 18 times compared to eight for LSU and the points off turnovers advantage for LSU was 24-8.
The Tigers had an 11 point lead in the first half of the game and led 30-22 at intermission before Mississippi State came back to take a nine point lead entering the last five minutes.
LSU now will go on the road on Tuesday to face Texas A&M at 6 p.m. on the SEC Network and the LSU Sports Radio Network.
---
LSU vs. Mississippi State Basketball Press Conference | January 11th, 2020
LSU Head Coach Will Wade
Opening Statement…
"We were obviously very fortunate at the end. Skylar (Mays) made a tremendous play. If we had not won, we would be very disappointed about our rebounding and our free throws. Those are two areas we control. We gave (Mississippi State) too many opportunities late in the game. We did a poor job from the free-throw line all night. I told our guys after the game you can't accept in winning what you would not accept in losing. We have to get better. Give Mississippi State credit, they played tremendous. They did exactly what they needed to do, exactly what I thought they would do. They slowed the game down and tried to be extremely physical with us and pack the paint and make some good shots. We got a little frustrated with that. We have to do a better job. Luckily, we didn't turn the ball over much tonight. Javonte (Smart) played a great game with six assists and one turnover. (Trendon) Watford didn't score it well, but played a great floor game. I thought Charles Manning was huge for us, obviously the three's he hit, but also the pull-up shots he hit. I thought he did a nice job for us. Emmitt Williams did a great job as well being able to draw fouls and playing in space. Overall, we have to be quite a bit better if we are going to contend and be a good team in this league."
On improving down the stretch in the game…
"We have a good way about us. We were down five, then seven. We have a good way about us. I am glad we have not lost that trait. If you run over us, you better kick it in reverse and make sure we are dead. If we have any life in us, we find a way. We had some breaks go against us. A lot of times when you make a comeback like that, you need everything to go well. We had some things that went against us there late in the game and we were still able to pull it out. I thought the crowd was great. I thought our crowd gave us a huge lift. That was big because Wednesday night was a really emotional game with Arkansas and I thought our guys' emotional tanks were low. I did think we came out with a workman-like effort. Mississippi State was a desperate team, we were going to get their best shot. Our guys made some big plays down the stretch. I am more focused on making sure we are not in those situations."
On the final play…
"It was a play I draw up on my play card. My play card has all these diagrams and I draw them up every game for all sorts of different situations. Even though we haven't worked on it, it was a play I have written down 100 times. There's basically not a whole lot to it. We curl and get the ball to the best player and everybody gets out of the way and he has to go make a play in space. It was very good timing by Skylar to understand the time and score and how much time he had. Like I said, because we didn't handle our business at the free-throw line, because we didn't handle our business with the rebounding, we put ourselves in a situation where we needed a miracle. I am more focused on making sure we are not in those situations."
LSU Guard Skylar Mays
On the buzzer beater…
"I tried to get in striking distance and get something off. I was lucky to get it in but credit to my teammates, especially Emmitt (Williams) for carrying us in the second half. Someone told me he had half of our points in the second half, Javonte (Smart) for making the right play and getting guys involved with six assists to one turnover. It was a great team win with all these guys doing their part and it came down to a lucky play."
On how the shot felt coming out his hands…
"It felt good. Sometimes, people make game winners and they don't feel good. It felt good off my hands and I'm glad it was able to go in."
On the final play never being practiced…
"That's what Coach (Will Wade) does. We've been able to win close ones like that ever since he's gotten here, so he's great in the late-game situations. He puts us in the best situations, and it worked out for us tonight."
LSU Forward Emmitt Williams
On how LSU is starting to win close games…
"One thing is that we're more together now. We were together at first, but we're more together now. We talk to each other about how we can do better on defense and we let the offense come to us."
On LSU's defense …
"One thing our coach says is to take it one play at a time. If we get a turnover, we can't go crazy, we just focus on getting stops. Let's get a turkey, let's get three stops defensively."
LSU Guard Charles Manning Jr.
On if he thought Skylar Mays shot was going in…
"I thought it was going to go in as soon as it left his hands. That's the kind of player Skylar (Mays) is. He's swaggy."
On figuring his role out…
"Being that energy guy. Me and Marlon (Taylor) being that energy guy off the bench. For myself, it's the work I put in when no one is watching. That corner three is the shot I work on every day after practice. Being able to be confident and hit those shots helps the team a lot."
Mississippi State Head Coach Ben Howland

Opening Statement …
"That's a really hard one to swallow because I thought our guys battled and deserved to win this game. We overcame a lot of adversity but obviously we made plenty of mistakes. I thought our defense was absolutely tremendous tonight, they only shot 37%. The problem for us, especially early in the game, was that we missed four or five wide-open looks to get us going. The only thing that kept us alive in this game was our defense. We were finally able to do something by getting to the free-throw line. Late in the game we made some bad decisions and missed some opportunities in transition. We had two turnovers that were key, one was where Reggie (Perry) threw the lob to D.J. (Stewart Jr.). I was telling them to push it because you have to hurt them when they are pressing in the backcourt. That was just too high risk of a pass. I thought Nick (Weatherspoon) had his best game, he played great defense and was really tough. Reggie and Abdul (Ado) each had a double-double. We out boarded this team by 18 rebounds but for us we just had too many turnovers. We had 18 (turnovers) to their eight which is a 10-point differential."
On the late-game calls made by the officials …
"I thought there was a tough call that went against us, it was with about five minutes to go and we were up nine. They (LSU) miss a shot and there was a call against Nick to put them to the line which cut it to seven. That was a questionable call in my opinion. Getting back to our team, we played the kind of defense that we have to play every night now. We got that figured out so that's a positive. They missed a lot of shots too; they were 2-of-21 from the three-point line. It was hard because we had to play guys for so many minutes and that affected us down the stretch. It was obviously a very disappointing locker room after the game but I'm really proud of our guys and their effort."

LSU Tigers Columbia College Football Playoff 2020 National Championship Bound Shotgun Quarter-Zip Pullover Jacket – Purple
from: Fanatics
Never miss the latest news from TigerBait.com!
Join our free email list