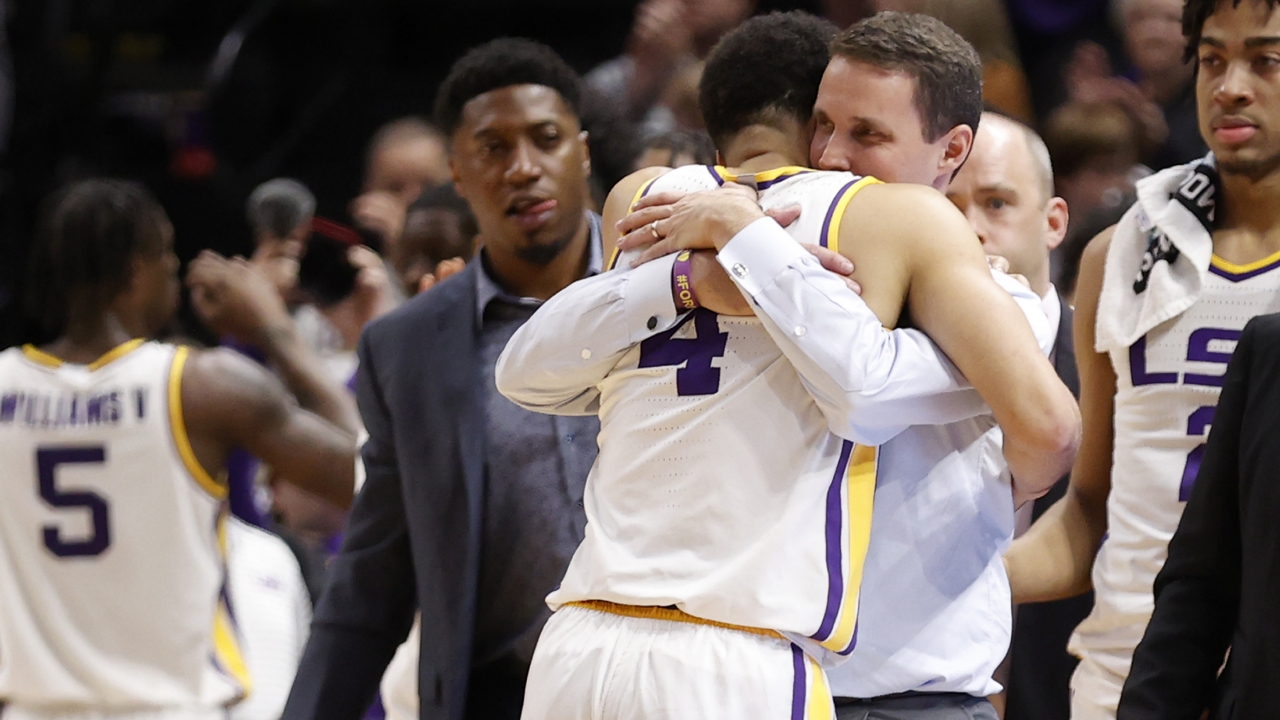 Photo by Stephen Lew-USA TODAY Sports
LSU Basketball
LSU hammers Georgia in home finale, 94-64
---
BATON ROUGE – An emotional senior ceremony followed by an impressive offensive performance made Senior Tribute day a good one at the Pete Maravich Assembly Center as the LSU Tigers downed Georgia, 94-64, Saturday afternoon.
*****
Analysis: First day of spring football (premium)
Songy's LOADED spring football practice report (premium)
WATCH: Bo Pelini back to basics (premium)
LSU recruiting: Junior day LIVE thread (premium)
*****
The Tigers finished the regular season with a 21-10 record and 12 SEC wins, tying for second with Auburn. LSU will receive the double bye as the three seed and play the second game of the night quarterfinal session on Friday at approximately 8:30 p.m. against the 6, 11 or 14 seeds.
The Senior Class of 2020 was honored prior to the game as Marlon Taylor, Skylar Mays, Marshall Graves and the late Wayde Sims received standing ovations from the crowd of 11,697 at the Maravich Center. Sims was represented by his parents, former LSU basketball player Wayne Sims and his wife Fay. The Sims were also on the floor at halftime as Hancock Whitney and the Tiger Athletic Foundation endowed a scholarship in Wayde Sims' name.
There was plenty of highlights to go around on this final afternoon that saw LSU finish with 15 wins in the 49th season of play in the hallowed Maravich Center.
Taylor had a career high of 30 points, hitting 10-of-17 shots including three treys and 7-of-9 at the free throw line.
Mays just missed a third straight 20-plus point game with a solid 19, hitting 7-of-11 field goals, three treys and two free throws.
Graves got his first career start on senior tribute day and scored five points on 2-of-3 shooting with a trey. Ironically Graves' three-pointer came with 44 (Wayde Sims' number) seconds remaining and gave LSU its biggest lead of the night at 32.
The young guys also contributed as sophomore Javonte Smart and freshman Trendon Watford each scored 13 points. Watford had his seventh double double with 11 rebounds and Smart had 10 assists in the contest for his first double double of his career.
For the game, LSU hit 34-of-59 shots or 57.6 percent, the ninth time this season the Tigers shot over 50 percent for the game. LSU shot 64.3 percent in the opening half making 18-of-28 in the first 20 minutes and 6-of-10 three-pointers.
LSU made 11 three-pointers, the third straight game the Tigers made 10 or more treys, and finished 11-of-21 for the game from the arc.
Georgia shot just 36.2 percent for the game (25-of-69) and made just 3-of-26 three-point field goal attempts.
LSU out rebounded the Bulldogs, 39-36 and LSU had 19 assists on 34 baskets. LSU had 42 points in the paint and a 14-5 advantage in second chance points.
Georgia was led by star freshman Anthony Edwards with 17 points with Rayshaun Hammonds getting 12 points.
---
Coach Will Wade's final TV show, Inside LSU Basketball presented by Academy Sports will be broadcast beginning Sunday evening on the affiliates of the LSU Sports Television Network.
The final Will Wade radio show is set for Monday night at 7 p.m. at TJ Ribs on Acadian Thruway and broadcast on the LSU Sports Radio Network affiliates (Eagle 98.1 FM in BR).
The SEC Tournament will be broadcast on the SEC Network and ESPN. The SEC Network will have the LSU game on Friday and that will also be broadcast on the affiliates of the LSU Sports Radio Network.
---
LSU Head Coach Will Wade
Opening Statement…
"Well, that was fun. We won, played well, we guarded. Marlon (Taylor) was unbelievable. I know he'll get a bunch of credit for the 30 points, but he did a tremendous job defensively. Playing 37 minutes like he did and exerting himself on both ends of the court. Skylar (Mays) did a great job in the first half getting us going. I thought Courtese Cooper and Aundre Hyatt played really well in the first half. Hyatt's three was big, he had a put back on a layup and Cooper made a layup. Javonte Smart almost had a triple-double, he played tremendous. All around, good team win. We did a pretty good job guarding them for the most part."
On what legacy this senior class will leave…
"I just told them in there that we flipped it. Their first year they were 10-21, we just finished 21-10. It's a perfect inverse. I think Skylar with his work ethic. Marlon, it's safe to say we're an offensive oriented team, but him being a defensive guy. Marshall Graves is the ultimate teammate. Sets a very good example of how to live your life off the court and to be about the right stuff. Skylar does as well. All of them have helped us big time."
On how good LSU can be…
"We made shots. It was 42 to 42 in the paint. We're both top-10 in the country in scoring in the paint. It certainly helps when you're able to make shots, but we were good today. We were able to get our defense set too. I've said this all year, when our defense is set, we're not terrible. We're a pretty good defensive team when we can get back and get set. Problem is with Arkansas, we could never get our defense set. We were in transition defense the whole game and they were running it down our throats. Today, we got back and stopped them. Number 15 (Sahvir Wheeler) is jet quick. They're fourth in the country with points in transition. We were just able to get back and get set. If we can do that, it gives us a chance. We didn't rebound well today, and we still had a chance because we got set. I think Courtese Cooper helps us. He gives us length, he gives us athleticism around the rim. He's maybe one of our best ball-screen defenders. I think he helps us. I probably should've tried him out a little earlier. Hopefully we can figure it out, we have to play better night to night."
On Marlon Taylor's career night…
"Pretty cool. I would assume that was his career-high, right? I think he scored 21 against Arkansas last year. He played great and it wasn't just the offense. I know the 30 points is going to get a lot, but he did a really good job defensively and had to exert a lot of energy. (Anthony) Edwards scored his average, 17 points, but it took his 22 shots to score 17, which is credit to Marlon pushing him off his spots, push him out. He missed some open ones, but I thought he played a complete game. Hopefully this is something that can jump start him. When he plays well, it gives us another big-time weapon and he's a very good defender."
LSU Guard Skylar Mays
On Marshall Graves' three with 44 seconds remaining in the game …
"That's perfect, you can't end it on a better story. That's the only story that comes close to how Marlon (Taylor) played today. I'm just so happy for these guys."
On how good the team can be …
"I said after the Arkansas game, which definitely wasn't our best game, we are a dangerous team when we get things going, come out the right way, and think of defense first. I think they only scored 64 points today, so when we think defense first, we are one of the better teams in the country. We definitely have some momentum going into the SEC tournament and we are looking to do big things in Nashville."

LSU Guard Javonte Smart
On how much fun he had out there…
"I wanted to let the guys do their thing, whatever they had to do. It was their last night in the PMAC (Pete Maravich Assembly Center) so obviously we wanted to win it. Skylar (Mays) and Marlon (Taylor) had a big night tonight to help us win."
On his first double-double at LSU …
"I think this is my first one. I just wanted to go out of here with a bang for these boys and hopefully we can win the SEC Tournament."
On what lessons he learned from this season …
"Don't take anything for granted because we came out hot but then we kind of had a bad stretch. Now we just beat Georgia and hopefully will win the SEC Championship and go on from there."
LSU Guard Marlon Taylor
On his final game in the PMAC …
"Today was a special day, the last game in the PMAC (Pete Maravich Assembly Center). I'm happy I got to finish it out with my brothers. It was a tough journey."
On how he felt going into the game today …
"Today I was just trying to get the win. I was trying to give the team everything I could, and we got the win. I had a good feeling early on."
---
Georgia Head Coach Tom Crean
On what went wrong during the game …
"We started the game trying to shoot jump shots against a team you got to drive and cut against. We didn't play physical enough inside of that. You've got to establish that you're going to drive; the jump shots come from the drive and the kicks. We have a couple guys, they don't guard. Some other players have to guard those guys which means we have to have that much more cutting and spacing. Next pass, get through the paint, those types of things. We didn't defend the dribble long enough. Then there were times that they hit threes. Our lack of awareness at times caught us on that and they made a bunch of shots. They played well, they moved the ball well, they're a very talented team. We did not guard the ball as well. On the other end, they defended pretty well. Instead of us continuing to stay with it and cut and move, we started to settle a little bit and that's what hurts us more than anything right now."
On how hard LSU is to defend …
"They're hard to defend, no question about that. They're really good. They have a lot of talented guys who make shots, who can make plays at the rim, they're a deep team. We're a step off. The challenge shot, you'll always live with. The open shot is the one tough to swallow and they had too many open shots."
On Marlon Taylor scoring 30 points …
"He's a good player, he's a really good player. He scores, he can defend, he's a part of their winning program here. Not surprised. Everybody they put on the floor can play. You have to guard everybody they put on the floor, there's really nobody you can tag off."

LSU Tigers Nike College Football Playoff 2019 National Champions Locker Room Adjustable Hat - Black
from:
Fanatics
Never miss the latest news from TigerBait.com!
Join our free email list