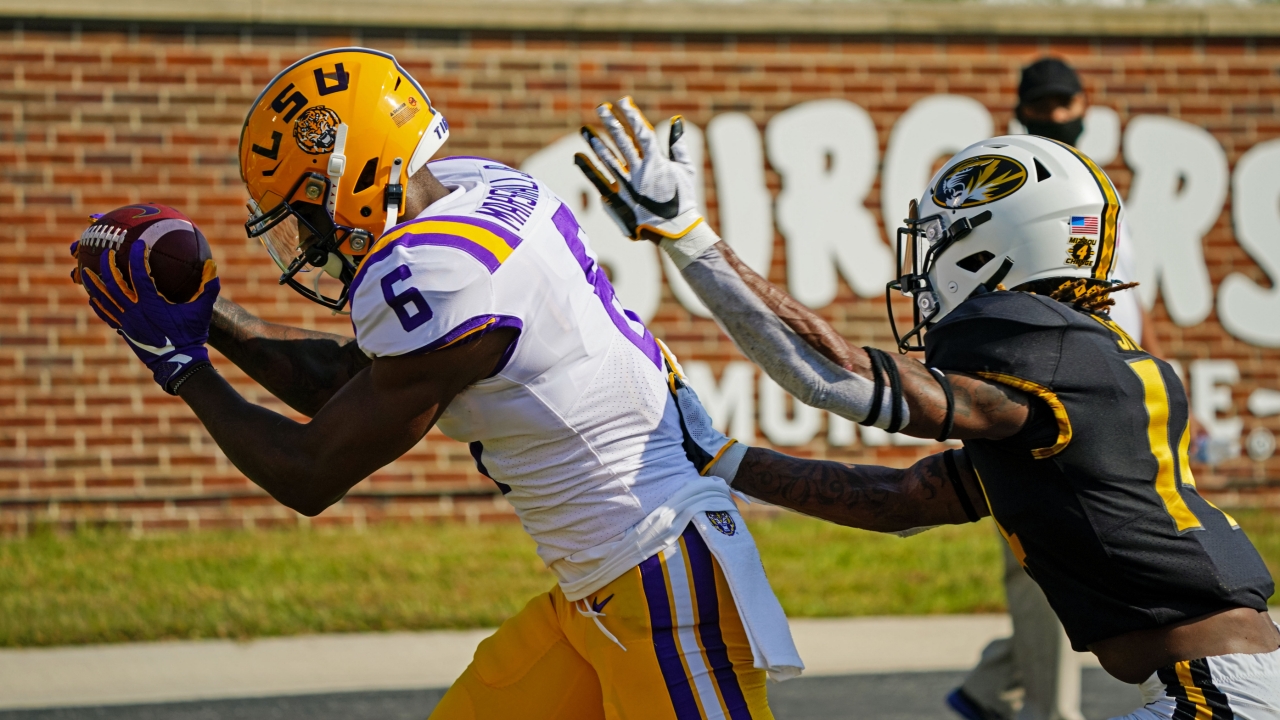 Photo by Jay Biggerstaff-USA TODAY Sports
LSU Football
LSU falls a yard short to Missouri 45-41
---
First, LSU (1-2) was supposed to play in Gainsville against Florida, then in Baton Rouge against Missouri (1-2) and finally it played the in Columbus after was wild series of events. For a game day that had been relocated by more than 1,300 miles, the result came down to just a few inches.
Nearly 1,100 yards, 86 points and a goal-line stand later, Missouri upset LSU 45-41.
LSU's defensive woes continued in this game, as it yielded 586 yards including 406 passing yards from Missouri freshman quarterback Connor Bazealak making his first start of the season. Missouri gashed LSU's defense for 586 yards.
*****
ANALYSIS: Another poor defensive performance results in LSU defeat (premium)
*****
"We have to coach better and that starts with me," LSU coach Ed Orgeron said. "Wide receivers wide open down the field, we couldn't stop anybody. A really poor showing on defense. It was embarrassing."
Meanwhile, LSU quarterback Myles Brennan and LSU's offense held its own in the shootout. Brennan threw 29-48 for 406 and four touchdowns with no interceptions. Wide receiver Terrace Marshall grabbed 11 passed for 235 yards and 3 scores.
"I thought Myles played fantastic," Orgeron said. "He had 430 yards, 4 touchdowns. It was all on the defense. We've got to get it fixed. We've got to stay together. Can't blame the players. I told the players, I've got to coach better."
However, when it mattered most, LSU's offense could not get it done. LSU went 0-10 on third down including its final third down on the Missouri 1-yard line with seconds to play.
"We didn't execute. We didn't finish," Brennan said. "You only get stronger through adversity. We're going through some adversity right now."
Marshall said after the game, that Missouri played a lot more man coverage on third down, which may have played a role in the stark drop in production.
That final series was set up by a nearly-heroic last-minute drive from Brennan. With less than a minute left, Brennan connected with Marshall on the 1 with a timeout left. Subsequently, LSU running back Tyrion Davis-Price was stuffed on a pair of runs on first and second down, and Brennan could not connect with his targets on third and fourth.
The result was LSU's first 1-2 start since 1994.
Outside of wins and losses, Brennan is having an outstanding season statistically for LSU. After three games, he has passed for 1,088 yards with 11 touchdowns and three interceptions.
After the game, Brennan insisted that the uncertainty of this game's location played no role in his team's preparation.
"Any time, any team anywhere, we have to be ready to go," Brennan said.
Despite mentioning that LSU can't blame players and the team must coach better, Orgeron was not quite ready to discredit his defensive coordinator Bo Pelini.
"I think Bo is going to be a great defensive coordinator," Orgeron said. "He's done it before. But we've got to get better."
Defensively, linebackers Damone Clark and Jabril Peppers led the way for LSU with nine and eight tackles respectively.
LSU declined to provide any defensive personnel for comments in the post-game press conference.
LSU Tigers Colosseum OHT Military Appreciation Commo Fleece Quarter-Zip Jacket – Black
Never miss the latest news from TigerBait.com!
Join our free email list