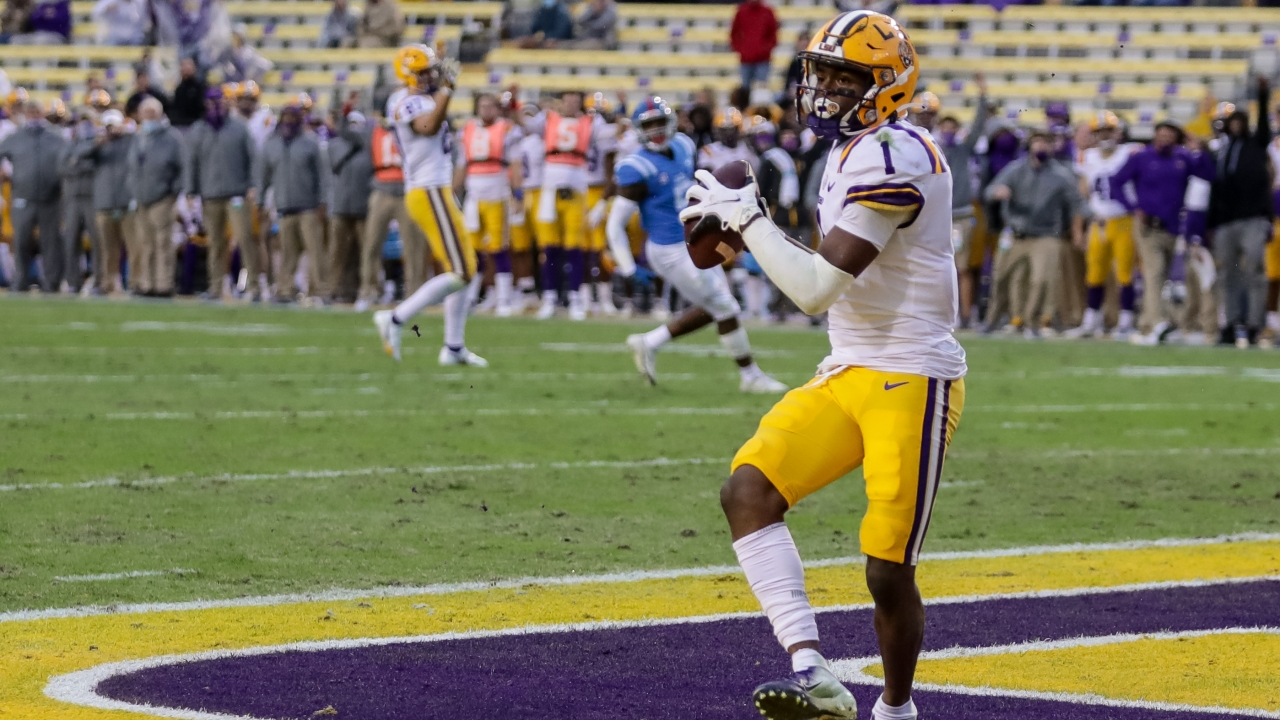 Photo by Stephen Lew-USA TODAY Sports
LSU Football
LSU beats Ole Miss in a thriller 53-48
---
LSU (5-5) finished its tumultuous season in style preserving the second-longest streak of winning seasons in the country in dramatic fashion beating Ole Miss 53-48.
LSU freshman receiver Kayshon Boutte had his break-out game for the Tigers breaking former receiver Josh Reed's single-game receiver record with 308 yards on 14 catches.
His final catch not only broke the 19-year-old record but was the game-winner. The 45-yard catch captured a 53-48 lead with 1:34 to play.
"Anything you threw, he was gonna catch," LSU coach Ed Orgeron said."I think throughout the season our team became tougher. Our coaching staff became closer. We continued to fight."
On Ole Miss' following drive, LSU defensive end Ali Gaye sacked Ole Miss quarterback Matt Corral forcing a fumble, which LSU safety Jacoby Stevens recovered on his final play as a Tiger.
"I'm at a loss of words for that moment. I guess that's a way to end your career. I guess to go out that way is really special," Stevens said. "I can always go back and tell them I didn't quit."
****
Give a LSU fan a TigerBait.com Premium annual subscripton for Christmas
****
Stevens had five tackles to accompany that final fumble. Micah Bakersville led the defense in tackles with 11.
Ole Miss (4-5) battled back down from being down 34-21 at halftime and eventually captured a 48-40 lead in the fourth quarter. But, LSU finished the game on a 14-0 run securing victory.
Defensively it was a roller coaster of a game. LSU forced just three punts on 17 drives. On the other 14 drives, there were seven touchdowns, six turnovers, and one halftime stoppage.
"It's gonna be something our seniors can hang their hat on and be proud of," LSU coach Ed Orgeron said. "We fought through adversity."
And, LSU had no shortage of adversity this season. One small part of that adversity was turning to its third starting quarterback last week.
Freshman Max Johnson made the most of his two starts and once again came out with a win for the Tigers.
He finished the season 2-0 as a starter and accounted for nine touchdowns and a single turnover.
In this game, LSU relied on him early and often. He threw the ball 51 times completing 27 of those for 435 yards three touchdowns and one interception.
LSU did run the ball 43 times but only gained 158 yards on those carries. Running back Josh WIlliams was LSU's leading rusher with 55 yards on 12 attempts.
Johnson went 88-150 for 1,069 yards, eight touchdowns and one interception in his first season at LSU.
Boutte's touchdown may have sealed the deal, but it was Cade York's right leg that kept the Tigers in this game.
While LSU couldn't quite finish a few drives, York was there to add three points on all four of his kicks with a long of 50.
"We wished we had touchdowns earlier, but (the FGs) put us in the position we needed later in the game," Johnson said.
While LSU was forced to settle for these field goals, the Tigers still outgained Ole Miss 593-558 and won the turnover battle 6-1.
LSU's defense limited Ole Miss quarterback Matt Corral in the game forcing him to go 15-27 for 251 yards, three touchdowns and five interceptions.
LSU will not play in a bowl game this season after self-imposing a ban for NCAA violations. This effectively guarantees a winning season for the Tigers for the 20th consecutive season.
Never miss the latest news from TigerBait.com!
Join our free email list