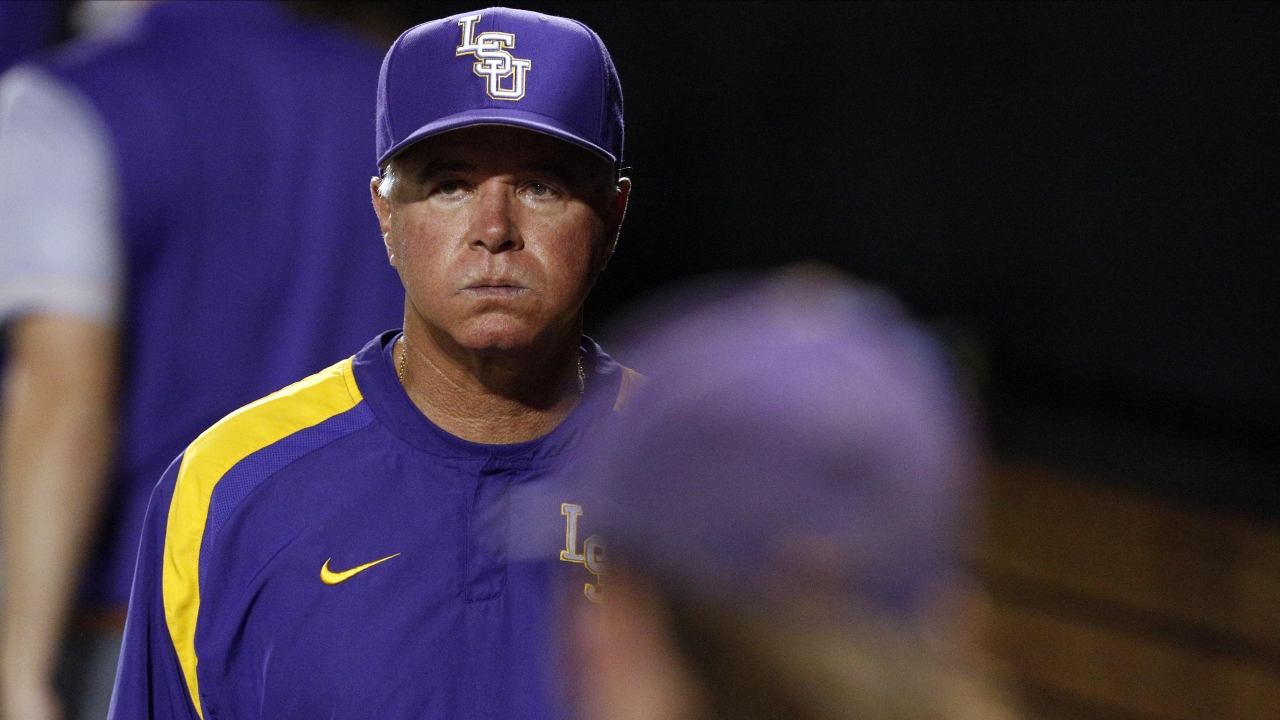 Photo by Bruce Thorson-USA TODAY Sports
LSU Baseball
LSU baseball ranked No. 7 in preseason poll
---
BATON ROUGE, La. -- LSU is ranked No. 7 in the 2021 Collegiate Baseball newspaper preseason poll released Monday, marking the ninth time in 10 seasons the Tigers will begin the year among the Top 10 teams in the nation.
Despite some obstacles created by COVID-19, LSU completed its fall practice session in November, and the team will begin preseason workouts on Friday, January 29. The Tigers' 2021 schedule of games may be finalized in the coming weeks.
"I'm just so thrilled that we were able to have a fall practice," said coach Paul Mainieri, who will enter the 2021 season ranked No. 1 on the active NCAA Division I coaches wins list with 1,467 career victories in 38 seasons at St. Thomas, Air Force, Notre Dame and LSU. "We got an awful lot done and found out a lot about our team. I'm excited about this team, and we can certainly make a run at it with some very talented players.
"We'll come back for preseason practice in January, and we'll have a very competitive environment with guys working to earn roles on the ball club."
LSU has a 39-man roster that includes a recruiting class ranked No. 2 in the country by Baseball America magazine. The Tigers also return 10 position players with starting experience and 11 pitchers who recorded innings last season.
Four juniors – outfielder/first baseman Cade Beloso, centerfielder Giovanni DiGiacomo, outfielder/infielder Gavin Dugas and outfielder/infielder Drew Bianco – provide a veteran presence among the position players.
Members of the skilled sophomore class – catchers Alex Milazzo and Hayden Travinski; infielders Collier Cranford, Cade Doughty and Zach Arnold; and outfielders Maurice Hampton Jr. and Mitchell Sanford will be counted upon to play significant roles this season.
The pitching staff is led by junior right-hander Jaden Hill, who is projected as the Tigers' No. 1 starter; and senior right-hander Devin Fontenot, who is expected to work as the LSU closer. Both Hill and Fontenot earned 2020 All-America honors following the pandemic-shortened season.
LSU has a very deep staff that includes two returning weekend starters – junior right-handers Landon Marceaux and AJ Labas. The bullpen features a wealth of experience, including senior right-handers Matthew Beck, Ma'Khail Hilliard, Aaron George and Trent Vietmeier; senior left-hander Brandon Kaminer, junior right-hander Nick Storz and sophomore left-hander Jacob Hasty.
The Tigers' talented 16-man recruiting class is composed of 10 pitchers and six position players, with several of them expected to make a major impact this season.
LSU is one of 12 Southeastern Conference teams appearing in the Collegiate Baseball 2021 preseason Top 50, along with No. 1 Florida, No. 2 Vanderbilt, No. 5 Ole Miss, No. 9 Mississippi State, No. 12 Georgia, No. 21 South Carolina, No. 22 Arkansas, No. 26 Texas A&M, No. 27 Alabama, No. 35 Tennessee and No. 37 Auburn.
2021 Collegiate Baseball Preseason Poll (2020 records in parentheses)
1. Florida (16-1)
2. Vanderbilt (13-5)
3. UCLA (13-2)
4. Texas Tech (16-3)
5. Mississippi (16-1)
6. Miami, Fla. (12-4)
7. LSU (12-5)
8. UC Santa Barbara (13-2)
9. Mississippi St. (12-4)
10. Arizona (10-5)
11. Louisville (13-4)
12. Georgia (14-4)
13. N.C. State (14-3)
14. Virginia (14-4)
15. Arizona St. (13-4)
16. East Carolina (13-4)
17. Oklahoma St. (13-5)
18. Michigan (8-7)
19. TCU (11-4)
20. Texas (14-3)
21. South Carolina (12-4)
22. Arkansas (11-5)
23. Coastal Carolina (11-5)
24. Dallas Baptist (12-4)
25. Clemson (14-3)
26. Texas A&M (15-3)
27. Alabama (16-1)
28. Florida St. (12-5)
29. Southern Mississippi (12-4)
30. Texas St. (14-4)
31. Stetson (11-4)
32. Central Florida (15-3)
33. Pepperdine (12-3)
34. Georgia Tech (11-5)
35. Tennessee (15-2)
36. Duke (12-4)
37. Auburn (13-5)
38. Central Michigan (11-6)
39. Indiana (9-6)
40. Winthrop (11-4)
41. Oklahoma (14-4)
42. UC Irvine (8-7)
43. Tulane (15-2)
44. Long Beach St. (10-5)
45. Wichita St. (13-2)
46. Minnesota (8-10)
47. Notre Dame (11-2)
48. Houston (6-9)
49. Oregon St. (5-9)
50. Stanford (5-11)
ONLY 6 LEFT - OFFICIAL Joe Burrow LSU Tigers Fanatics Authentic Autographed Riddell Speed Flex Authentic Helmet with "19 Champs" Inscription*
*TigerBait.com has teamed up with Fanatics to connect our readers with the best selection of officially licensed LSU fan gear out there. If you purchase through our links, we will earn a commission that will support the work we do on this site.
Never miss the latest news from TigerBait.com!
Join our free email list