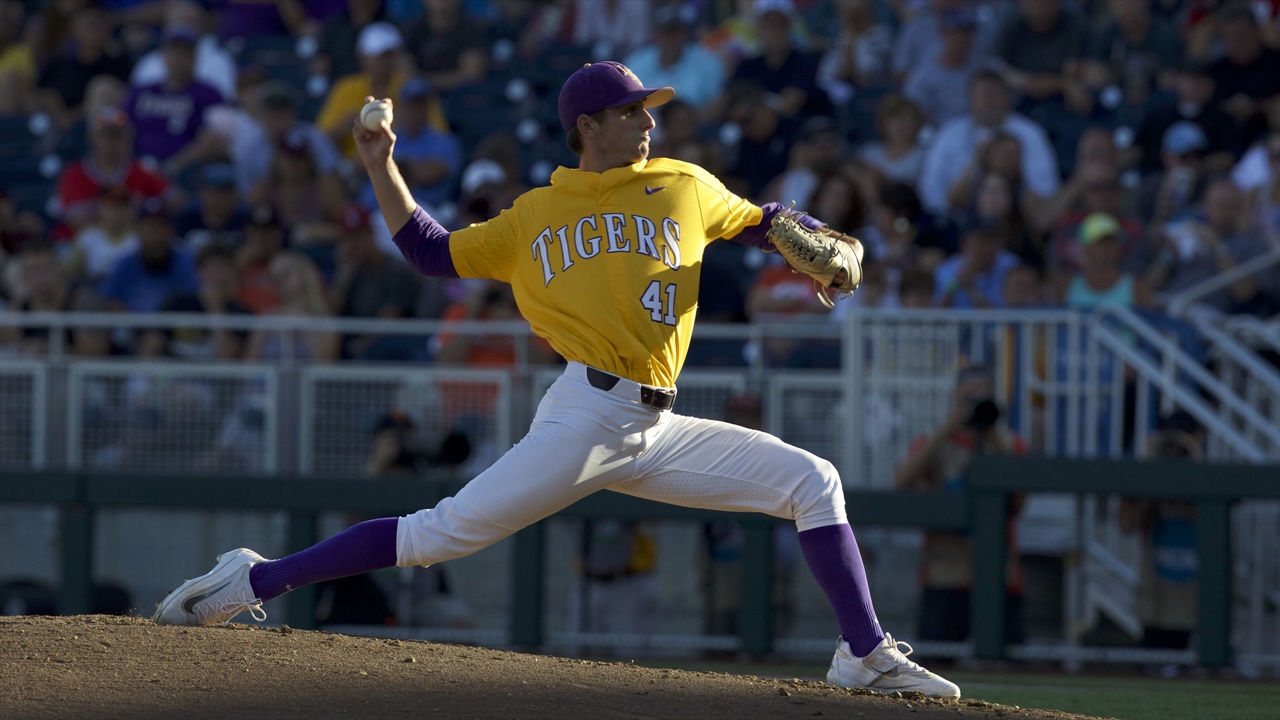 Photo by Bruce Thorson-USA TODAY Sports
LSU Baseball
Injured pitchers will alter fall schedule
---
LSU coach Paul Mainieri will certainly agree with the baseball adage, 'you can never have too much pitching.'
There are 20 pitchers on the 2019 Tigers baseball roster. However, LSU will have just 11 healthy pitchers when it opens fall practice Sunday. The amount of intrasquad scrimmages will decrease because the Tigers simply do not have enough arms.
"We normally have five scrimmages a week in the fall," Mainieri said. "We will now have just three a week, at least through the first half of fall practice. When everybody is healthy, the quality of our pitching depth is much better. We'll just see how each guy develops during fall practice."
Two pitchers are out for fall practice – senior Caleb Gilbert, who had shoulder surgery during the summer, and freshman Cole Henry, who is dealing with a stress reaction in his arm. That injury originally occurred during Henry's junior year in high school. Tests are being run on Henry at this time.
Three pitchers who had injuries during the 2018 season are still not ready to pitch – sophomores Ma'Khail Hilliard, AJ Labas and Nick Storz. A MRI has been done on the shoulders of both Hilliard and Labas. Neither pitcher has anything structurally wrong, but each one gets sore after throwing.
Storz is moving in a positive direction, but he has not yet thrown off the mound. Mainieri hopes these three pitchers will be ready to pitch in the second half of fall practice.
It is not known if four other pitchers will be able to pitch during fall practice – junior Matthew Beck (elbow), sophomore Trent Vietmeier (shoulder), freshman Easton McMurray (shoulder) and freshman Rye Gunter (back).
Mainieri did have some positive news on the pitching front, as regards sophomore Eric Walker. After missing last season due to Tommy John surgery, Walker is ready to rejoin the weekend rotation. Mainieri said that Walker is "100 percent."
Walker is one of only five returning pitchers who will be ready to take the mound when fall practice begins. The other four returnees are senior Clay Moffitt, juniors Zack Hess and Todd Peterson and sophomore Devin Fontenot. Hess is the projected No. 1 starter and Peterson is the projected closer.
There are six healthy newcomers on the pitching staff – junior Aaron George and freshmen Chase Costello, Jaden Hill, Landon Marceaux, Will Ripoll and Riggs Threadgill. Costello, Hill and Marceaux have thrown the ball well during individual workouts. One of the newcomers is likely to be the No. 3 starter.
There are also some injury matters with the position players. There is good news regarding junior shortstop Josh Smith, who missed all but six games last season with a back injury. According to Mainieri, Smith 'looks good and is full go.'
Junior outfielder Zach Watson, who suffered a hand injury in an off-the-field incident, should be able to swing a bat next week. Freshman CJ Willis, who had labrum surgery in June, cannot throw until at least January. Willis, who will work at first base and the outfield, will hit during fall drills.
Senior Bryce Jordan had another knee surgery during the summer. As a result of the surgery, Jordan will not run during fall practice. He will be a designated hitter in intrasquad games. Senior outfielder Antoine Duplantis, who injured a shoulder while playing for Team USA, is completely healthy.
Two positions concern Mainieri as fall practice begins – catcher and third base. Sophomores Saul Garza and Brock Mathis, two junior college transfers, will compete for the catching job. Sophomore Hal Hughes and freshmen Drew Bianco and Gavin Dugas are in the mix at third base.
"Garza and Mathis are two mature kids," Mainieri said. "They both look the part. Neither is perfect, but both really hit the ball when they square it up. Garza has the more consistent swing.
"Both guys need work defensively. The key is to get defense from them. It will be a great competition all fall. I intend to use both in the spring."
There are five scholarship infielders to handle third base, shortstop and second base – Smith, Hughes, Bianco, Dugas and senior Brandt Broussard. Mainieri is hoping Smith and Broussard will handle the middle of the infield.
"Josh is the key to our team," Mainieri said. "Hal did a credible job for us at shortstop last year, but Josh can play that position at a championship level. If Josh is healthy and plays like he can, he's the shortstop. Brandt looks more confident. He is more physical and more talkative."
Bianco and Dugas will get most of the time at third base during the fall intrasquad games. Hughes will work at shortstop along with Smith.
"I know Hal can play third base for us," Mainieri said. "He is much better defensively than the two freshmen and he has improved tremendously as a hitter. Both Bianco and Dugas are really good players. The question is whether they are consistent enough to play third base at a high level."
The only scholarship first baseman is freshman Cade Beloso, who has impressed Mainieri with the way he carries himself. Willis and the two catchers will also receive some time at first base.
There are no worries about the outfield where the starters are sophomore Daniel Cabrera in leftfield, Watson in centerfield and Duplantis in rightfield. The fourth outfielder is set to be freshman Giovani DiGiacomo, who will get some playing time in the spring.
"If we are healthy, we will be a lot better than last year," Mainieri said. "Getting those three guys back (Duplantis, Hess and Watson) is huge. They give us leadership and guys who have done it. We do not have to depend upon throwing freshmen in the water and have them play right away."
NCAA rules now permit two games between schools during fall practice. LSU has two games scheduled against UNO – October 14 at The Box and October 27 in New Orleans. The Tigers will conclude fall practice will the Purple-Gold World Series on November 1, 2 and 4.
Never miss the latest news from TigerBait.com!
Join our free email list