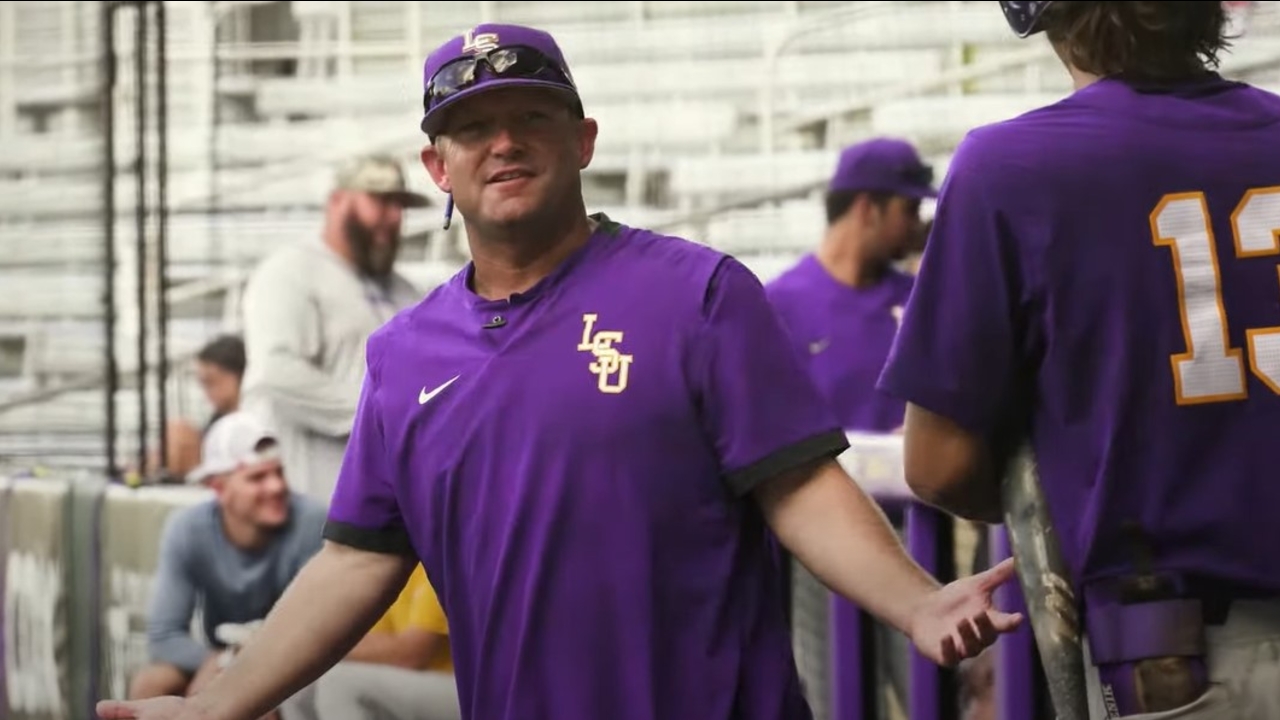 LSU Baseball
LSU survives MLB draft
---
The 2022 Major League Baseball draft can be viewed in two different ways by LSU observers.
There were 12 Tigers signees who were ranked among the top 200 prospects for the draft – meaning they could be chosen in the first seven rounds according to their talent. Normally players picked that high opt for professional baseball over college.
LSU coach Jay Johnson did a pretty good job re-recruiting those 12 individuals. Four of them were not drafted – infielder Gavin Guidry, outfielder Paxton Kling, pitcher Chase Shores and catcher Jared Jones. In addition, catcher Brady Neal and pitcher Jaden Noot were token selections in the last four rounds.
So, Johnson will definitely have those six highly-rated players come to school next month.
The Tigers had three of their transfers selected – pitcher Dylan Tebrake (Creighton), infielder Jack Pineda (Baylor) and infielder Carter Young (Vanderbilt). Both Tebrake and Pineda have indicated that they are going to sign pro contracts. It was expected that both Tebrake and Pineda would come to LSU.
To no one's surprise, four current players were drafted – third baseman Jacob Berry, infielder Cade Doughty and pitchers Eric Reyzelman and Paul Gervase. All four players will sign pro contracts. Gervase switched course Tuesday after not being selected in the first ten rounds.
The probable departures of Tebrake, Pineda and Gervase will have the most impact on the 2023 LSU roster. Seven current players or signees were among the first 80 selections. Johnson expected those seven players not to be in a Tigers uniform next spring.
Tebrake was slotted to be a LSU weekend starter. Pineda was the top candidate to be the Tigers' No. 1 shortstop. Gervase appeared to be the closer with Reyzelman leaving for pro ball.
LSU's 2023 roster should be a little stronger than the one this past season. The Tigers everyday lineup should be solid once again. One would expect the defense to be stronger with Young, as long as he doesn't sign, at shortstop.
There will still be questions about the pitching staff, particularly with the weekend starters. Seven months from opening day, LSU seems to certainly to be a regional host team. The development of the pitching staff will determine the Tigers' chance of being a top-eight national seed.
Here is how the MLB draft impacts each position area on the 2023 LSU roster.
INFIELD
Jack Pineda was brought in from Baylor to be the starting shortstop. If Pineda does sign with the Kansas City Royals, there are two candidates for the shortstop job – Young and returning starter Jordan Thompson. North Carolina State transfer Tommy White, who hit 27 homers in 2022, could get an opportunity to play third base. White could be in a similar situation as Berry, who transferred to LSU from Arizona to get a chance to play third base. Guidry, the top ranked high school player (Lake Charles Barbe) in Louisiana could definitely figure in the infield rotation. The Tigers must find a replacement for Doughty at second base.
OUTFIELD
Depth in the outfield is no problem for LSU. Dylan Crews and Josh Pearson are two returning starters. Gavin Dugas and Josh Stevenson, both of whom started in leftfield, are back for another season. Kling, the top-rated high school player in Pennsylvania, could push for a starting spot as the third outfielder along with Crews and Pearson.
CATCHER
Neal was not chosen until the 17th round. Obviously, Neal had made it known that he wanted to attend LSU. Neal could definitely pass up the returning catchers Alex Milazzo and Hayden Travinski to be the starter. Neal was probably the signee the Tigers could least afford to lose to the MLB draft.
PITCHER
LSU's starting rotation is still in flux. Tebrake was expected to be a weekend starter. Now, it looks like he is going to sign with the New York Mets. Ty Floyd was not drafted and should be back as one of the top three starters. Transfers Thatcher Hurd (UCLA) and Christian Little (Vanderbilt) may be the other two starters. Neither Hurd nor Little was a consistent starter at his previous school. Hurd is coming off a back injury. Little was very inconsistent in his two seasons with the Commodores. Noot and Shores are the two incoming freshmen who could find roles in 2023. The expected departures of Reyzelman and Gervase will have an effect on the bullpen. So, there are certainly openings on the LSU pitching staff with new coach Wes Johnson.
Here are the players on the 2022 LSU roster who were drafted.
3B Jacob Berry, first round, Miami Marlins, $6 million slot value
2B Cade Doughty, second compensation round, Toronto Blue Jays, $833,000 slot value
P Eric Reyzelman, fifth round, New York Yankees, $341,000 slot value
P Paul Gervase, 12th round, New York Mets, no slot value
Here are the 2022 LSU signees who were drafted.
OF Justin Crawford, first round, Philadelphia Phillies, $3.8 million slot value
IF Mikey Romero, first round, Boston Red Sox, $3 million slot value
P Robby Snelling, first compensation round, San Diego Padres, $2 million slot value
P Jacob Misiorowski, second round, Milwaukee Brewers, $1.1 million slot value
IF Tucker Toman, second compensation round, Toronto Blue Jays, $847,000 slot value
P Michael Kennedy, fourth round, Pittsburgh Pirates, $555,000 slot value
C Brady Neal, 17th round, Milwaukee Brewers, no slot value
P Jaden Noot, 19th round, Milwaukee Brewers, no slot value
Here are the 2022 LSU transfers who were drafted.
P Dylan Tebrake, eighth round, New York Mets, $182,000 slot value
IF Jack Pineda, 12th round, Kansas City Royals, no slot value
IF Carter Young, 17th round, Baltimore Orioles, no slot value
Here are the LSU signees who were rated among the top 200 prospects and were not drafted.
IF Gavin Guidry, No. 67
OF Paxton Kling, No. 102
P Chase Shores, No. 127
C Jared Jones, No. 193
Never miss the latest news from TigerBait.com!
Join our free email list