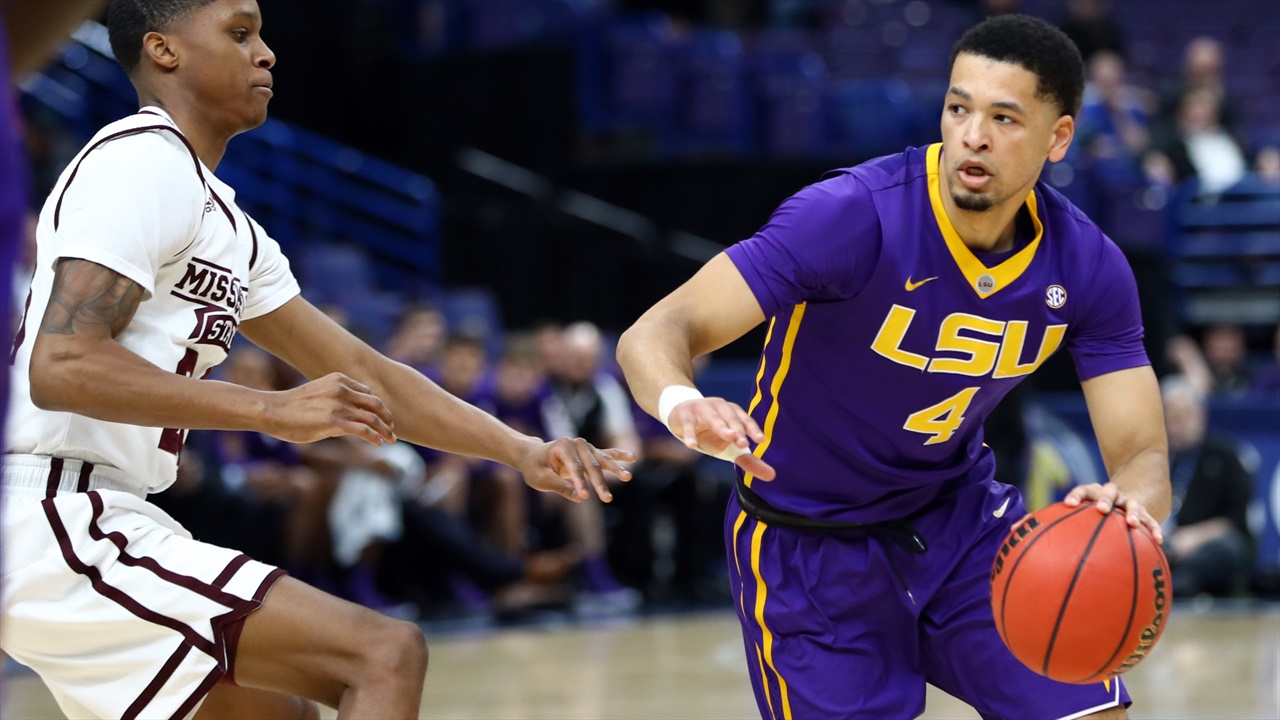 Photo by Billy Hurst-USA TODAY Sports
LSU Basketball
LSU has the parts to be a good team
---
We would love to have you as a premium member of TigerBait. Subscribe now and enjoy all of the benefits of a subscription. Click here to join
Two seasons ago, Oregon reached the Final Four where it lost by one point in the semifinals to eventual national champion North Carolina.
LSU post player Kavell Bigby-Williams was a backup on that Ducks team. He averaged three points and three rebounds while playing ten minutes a game. Bigby-Williams, who transferred to the Tigers after that season, knows the looks of a championship team.
"We have all the pieces in multiple positions," the 6-foot-11 Bigby-Williams said. "We have a lot of depth this year. We need to build good habits and stay consistent."
For the first time in three seasons, LSU is ranked in the Associated Press preseason poll at No. 23. Prior to the 2015-16 season, the Tigers were ranked No. 21 in the country. That team, which was led by future No. 1 draft pick Ben Simmons, did not make the NCAA tournament and turned down a NIT bid.
To give one an indication of the status of the LSU basketball program, it has now been ranked in the preseason top 25 just three times since Shaquille O'Neal went to the NBA after the 1991-92 campaign. The other time was prior to the 2006-07 season – the year after the Tigers went to the Final Four.
Junior guard Skylar Mays was part of a team which endured a horrible season two years ago. The Tigers won only two Southeastern Conference games. Coach Johnny Jones was fired at the end of that season and Will Wade was hired. In just his second year, Wade has LSU a potential player on the national stage.
"That ranking is just on paper," Mays said. "We haven't proven anything yet. We do have a lot of talent with a great freshman class coming in. We also have some good returning guys. If we can mesh the right way, we can give ourselves a chance to play in the NCAA tournament and go deep in the tournament."
Selected members of the media picked LSU to finish sixth in the SEC. In the AP preseason rankings, four SEC teams are ahead of the Tigers – Kentucky at No. 2, Tennessee at No. 6, Auburn at No. 11 and Mississippi State at No. 18. Florida, which was selected to finish fifth in the SEC, is unranked.
"The ranking is a little too generous," Wade said. "Our roster is more athletic, particularly down low where we have more big bodies. I would like for us to be more physical. Being ranked just means we have a target on our back. It's not where you start, but where you end."
The Tigers return only three players from last season's 18-15 squad which lost at Utah in the second round of the NIT. All three of those individuals were starters – Tremont Waters at point guard, Mays at shooting guard and Daryl Edwards at small forward.
Waters, a first-team preseason All-SEC choice, and Mays will once again be in the starting lineup. Edwards may lose his starting job to freshman Ja'Vonte Smart. But, Edwards is greatly trusted by Wade and will still get significant minutes. Edwards, a senior, likes the appearance of this season's squad.
"We are looking like a team expecting to win instead of hoping to win," Edwards said. "We have a lot more talent than last year. There is a lot less pressure than last year and we are having a lot more fun.
"We have less pressure because of the time we have been here. Last year was the first time in the SEC for a lot of the players and the coaching staff. Now, we know what it is going to be like. You only get so much information from about what you hear. I know that I understand the little things now."
The LSU basketball fan base is anticipating the upcoming campaign. The Tigers have not won a SEC title in ten seasons – the last time they won a game in the NCAA tournament. LSU has made only one trip to The Big Dance since that 2008-09 campaign.
"Everybody is excited," Wade said. "We have sold 6,500 season tickets. Our goal is 7,000 which would put us in the top five in the league in percentage of tickets sold in the arena. It seems are fans are excited. People like teams who win.
"We're coaching the players the same way as last year. We are working hard every day. There are certain expectations and certain standards for the team. As (New England Patriots coach) Bill Belichick said, 'you become us. We don't become you.'"

LSU Tigers Colosseum Team Logo Quarter-Zip Pullover Jacket – Charcoal
from:
Fanatics
Never miss the latest news from TigerBait.com!
Join our free email list