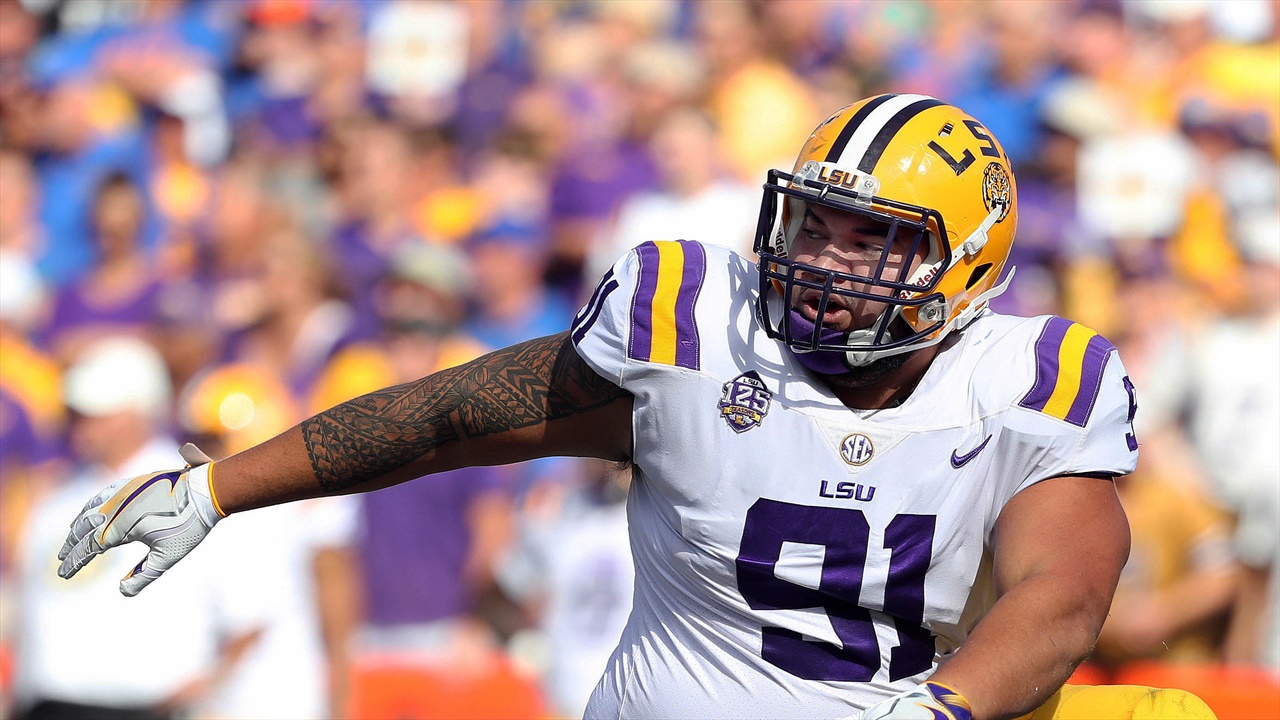 Photo by Kim Klement-USA TODAY Sports
LSU Football
Nothing easy for LSU defensive line against Alabama
---
We would love to have you as a premium member of TigerBait. Subscribe now and enjoy all of the benefits of a subscription. Click here to join
The Alabama offense revolves around quarterback Tua Tagovailoa's passing.
The sophomore quarterback is averaging 258 yards per game while throwing for 25 touchdowns and no interceptions.
But, the LSU defense cannot disregard the Crimson Tide running attack.
Alabama is getting 149 rushing yards per game from Najee Harris, Damien Harris and Josh Jacobs. The two Harrises are averaging more than six yards per carry. Jacobs, who is gaining five yards a carry, has rushed for eight touchdowns.
The use of the run-pass option makes defending the Tide offense even more challenging. Tagovailoa has become more dangerous as he can hand the ball to one of Alabama's three backs or opt to pull the ball and throw it to one of five capable receivers.
"Alabama runs a lot of RPOs and that is tough on a defensive line," end Breiden Fehoko said. "You get your run keys from the offensive line. It looks like a run and then they end up passing. That's tough on us. You still have to play your keys and watch for the run first."
LSU defensive coordinator Dave Aranda has had great success in stopping the Alabama run the past two seasons. Crimson Tide backs have rushed for 177 yards on 49 carries – an average of only 3.6 yards per attempt – in the two previous games.
Quarterback Jalen Hurts did give the Tigers problems with his running ability in these two contests. Hurts picked up 158 yards and two touchdowns on the ground. Tagovailoa is not used much as a runner as he has gained only 150 yards in eight games.
"Alabama is known for its running game," inside linebacker Jacob Phillips said. "It is different this year because they have a good passing game. But, they still have a good running game. They have good backs and good linemen. Coach Aranda will have something to stop their running game."
Phillips is not the only defensive player who has confidence in Aranda. It is amazing the trust these LSU players have in Aranda's ability to come up with the proper scheme.
"Coach Aranda is one of the smartest coaches I've been around," outside linebacker Michael Divinity said. "He spends a lot of extra time coming up with a scheme like he did for (Louisville quarterback) Lamar Jackson two years ago. There will be some new ideas he comes up with."
The most overlooked part of the Tide offense is its line. Alabama has three veteran starters – junior left tackle Jonah Williams, senior left guard Lester Cotton and senior center Ross Pierschbacher. The other two starters are sophomores – Alex Leatherwood at right guard and Jedrick Wills at right tackle.
"Alabama is not the biggest offensive line I have seen," defensive end Rashard Lawrence said. "Georgia had the biggest one. But, all of the SEC teams have big offensive lines. Alabama's offensive line is well coached."
Of course, the LSU defensive front will be asked to put some pressure on Tagovailoa. It would help the Tigers secondary if they rush Tagovailoa without blitzing a number of players.
"I am anxious to see what coach Aranda is going to do on defense," Lawrence said. "I would want my four defensive linemen to get to the quarterback, so we could leave seven guys in coverage. If we can get to (Tagovailoa) with just three, we would have an extra guy in the back end of the defense."
Not having inside linebacker Devin White for the first two quarters will certainly be a problem for the Tigers as they try to slow down the Crimson Tide ground game. Sophomore Patrick Queen is expected to start instead of White. Freshman Micah Baskerville may also get some snaps.
"The plan is for us to be close or up at halftime," Lawrence said. "I know what's going to happen with the crowd when Devin can come in. We all know what he's going to do."
Here are the rushing totals by Alabama's running backs in its last seven games against LSU.
2011 (national title game) – Alabama 21, LSU 0
Trent Richardson/Eddie Lacy: 31 carries, 139 yards, 1 touchdown
2012 – Alabama 21, LSU 17
Eddie Lacy/TJ Yeldon: 22 carries, 159 yards, 1 touchdown
2013 – Alabama 38, LSU 17
TJ Yeldon/Kenyan Drake: 35 carries, 198 yards, 2 touchdowns
2014 – Alabama 20, LSU 13
TJ Yeldon/Derrick Henry: 23 carries, 92 yards, 0 touchdowns
2015 – Alabama 30, LSU 16
Derrick Henry/Kenyan Drake: 48 carries, 278 yards, 3 touchdowns
2016 – Alabama 10, LSU 0
Damien Harris/Bo Scarbrough/Josh Jacobs: 28 carries, 102 yards, 0 touchdowns
2017 – Alabama 24, LSU 10
Bo Scarbrough/Damien Harris/Josh Jacobs: 21 carries, 75 yards, 1 touchdown

LSU Tigers Nike Elite Hybrid Rivalry Jacket – Cream
from:
Fanatics
Never miss the latest news from TigerBait.com!
Join our free email list