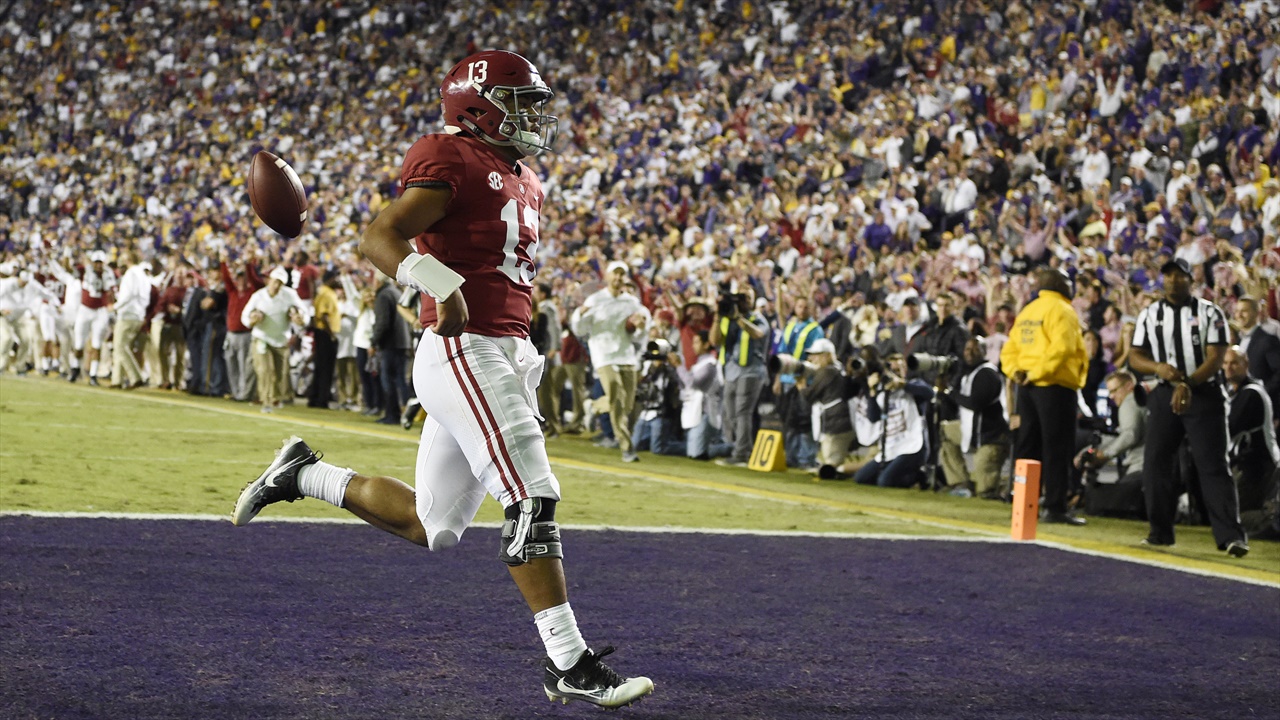 Photo by John David Mercer-USA TODAY Sports
LSU Football
LSU whipped again by Alabama 29-0
---
Tua Tagovailoa threw two touchdown passes and ran for one touchdown as Alabama defeated LSU 29-0 in a Southeastern Conference game at Tiger Stadium on Saturday night.
HOW THEY SCORED
First Quarter
Alabama 6, LSU 0
Score: Henry Ruggs 15-yard pass from Tagovailoa. Kick blocked. Time Remaining: 4:58. Drive: 78 yards in 5 plays. Time of Possession: 2:38. Key Play: On first-and-ten, Najee Harris ran 28 yards for a first down at LSU's 19.
Second Quarter
Alabama 9, LSU 0
Score: Joseph Bulovas 23-yard field goal. Time Remaining: 6:59. Drive: 75 yards in 15 plays. Time of Possession: 7:15. Key Play: On fourth-and-one, Josh Jacobs ran four yards for a first down at LSU's 12.
Alabama 16, LSU 0
Score: Irv Smith 25-yard pass from Tagovailoa. Time Remaining: 1:15. Drive: 54 yards in 2 plays. Time of Possession: :27. Key Play: On first-and-ten, Tagovailoa completed a 29-yard pass to Jerry Jeudy for a first down at LSU's 25.
Third Quarter
Alabama 22, LSU 0
Score: Tagovailoa 44-yard run. Kick blocked. Time Remaining: 5:14. Drive: 72 yards in 7 plays. Time of Possession: 2:57. Key Play: On third-and-15, Tagovailoa completed a 16-yard pass to Smith for a first down at Alabama's 39.
Fourth Quarter
Alabama 29, LSU 0
Score: Damien Harris 1-yard run. Bulovas kick. Time Remaining: 5:42. Drive: 80 yards in 8 plays. Time of Possession: 5:03. Key Play: On second-and-three, Tagovailoa completed a 24-yard pass to Jeudy for a first down at LSU's 20.
TURNING POINT OF THE GAME
LSU had a chance to got out of the first half trailing by just nine points after Todd Harris intercepted Tagovailoa at the Tigers' 4 with 3:27 remaining before halftime. LSU was unable to pick up and first down and Alabama took over at its 46-yard line with 1:42 remaining following a Zach Von Rosenberg punt. The Crimson Tide proceeded to score a touchdown in two plays – a 29-yard pass to Jeudy and a 25-yard pass to Smith. The 16 points were much more than enough for Alabama.
LSU OFFENSIVE PLAYER OF THE GAME
Wide receiver Justin Jefferson was the only Tigers player who had any production against Alabama. Jefferson gained 81 yards on six receptions – the longest catch going for 23 yards.
LSU DEFENSIVE PLAYER OF THE GAME
Harris was forced into the lineup after safety John Battle went out with an injury on the first series of the game. Harris made a career-high 12 tackles – nine unassisted. In addition, Harris became the first defensive player to intercept Tagovailoa this season.
KEY TEAM STATISTICS
First downs: Alabama 29, LSU 13
Rushing first downs: Alabama 14, LSU 3
Rushing yards: Alabama 281, LSU 12
Rushing yards per attempt: Alabama 7.6, LSU 0.5
Passing yards: Alabama 295, LSU 184
Total offense: Alabama 576, LSU 196
Yards per play: Alabama 7.3, LSU 3.3
Punting average: LSU 43.1, Alabama 32.8
Penalty yardage: Alabama 60, LSU 15
Sacks: Alabama 5, LSU 1
Time of Possession: Alabama 35:18, LSU 24:42
Third-down conversions: Alabama 8-of-14, LSU 5-of-16
INDIVIDUAL STATISTICAL LEADERS
LSU
Clyde Edwards-Helaire: 6 carries, 14 yards
Joe Burrow: 35 attempts, 18 completions, 184 yards, 1 interception
Justin Jefferson: 6 catches, 81 yards
Todd Harris: 12 tackles, 1 interception
Patrick Queen: 9 tackles, 2 tackles-for-loss, 1 quarterback-hurry
ALABAMA
Damien Harris: 19 carries, 107 yards, 1 touchdown
Tua Tagovailoa: 42 attempts, 25 completions, 295 yards, 2 touchdowns, 1 interception
Jerry Jeudy: 8 catches, 103 yards
Quinnen Williams: 10 tackles, 3½ tackles-for-loss, 2½ sacks
Saivion Smith: 6 tackles, 2 pass breakups
Christian Miller: 1 tackle, 1 sack, 2 quarterback-hurries
NOTES
Queen replaced Devin White in the starting lineup and made a career-high nine tackles in the first half. White was credited with eight tackles in the second half. . .Right tackle Austin Deculus was benched for the second straight game in favor of Adrian Magee. . .Alabama had ten tackles-for-loss, including five sacks. Nine Crimson Tide players had a hand in the ten tackles-for-loss. . .Ed Alexander had a career-high seven tackles. . .Alabama's running backs Damien Harris, Najee Harris and Jacobs combined for 207 yards on 29 carries. LSU running backs Edwards-Helaire and Nick Brossette combined for 19 yards on 13 carries. . .The Tigers have lost eight consecutive games to the Crimson Tide. LSU has had only three longer losing streaks to SEC teams – 11 against Alabama, ten against Tennessee and nine against Florida. . .Nick Saban is only the second coach to beat the Tigers in eight straight games. Alabama's Bear Bryant had an 11-game winning streak against LSU. . .Smith, who played his high school football at New Orleans Brother Martin, gained 64 yards on four receptions for the Tide. . .Cole Tracy missed just his third field goal of the season – from 33 yards. Tracy's other two misses were from 53 yards. . .The Tigers have been shut out at home four times since the end of the 1992 season. All four shutouts came come against Alabama – 26-0 in 1996, 31-0 in 2002, 10-0 in 2016 and 29-0 in 2018. . .The Crimson Tide is 9-0 overall, 6-0 in the SEC. Alabama clinched the SEC West title. The Tide will meet Georgia, which beat Kentucky on Saturday afternoon to win the SEC East crown, for the conference championship. . .LSU is 7-2 overall, 5-1 in the SEC. . .The paid attendance was 102,321.
FROM THE LOCKER ROOM
Coach Ed Orgeron's comments: "We got beat at the line of scrimmage. We couldn't block their defensive line. They had 281 rushing yards and we had 12 rushing yards. Our offensive line got beat in one-on-one situations. We tried everything – max protection, sliding. It was not scheme. It was personnel. They just overpowered us. We recruited No. 99 (Raekwon Davis) and No. 49 (Isaiah Buggs) and got beat. It is the same old thing. To beat Alabama, we have to beat them at the line of scrimmage. We have to get better defensive linemen, better offensive linemen. Alabama is No. 1 and we're No. 3. We weren't close tonight. We have a good team, not a great team. We are not close to Alabama. We're not there at the line of scrimmage. We have a ways to go. But, we have to move forward. We have a chance to have a very good season and go to a big bowl game."
UP NEXT
LSU will play Arkansas at Donald Reynolds Razorback Stadium in Fayetteville on Saturday. The network, which will televise the game, and the kickoff time will be announced Sunday. Arkansas (2-7, 0-5) had an open date this week.

LSU Tigers Antigua Fortune 1/2-Zip Pullover Sweater - Heathered Charcoal
from:
Fanatics
Never miss the latest news from TigerBait.com!
Join our free email list