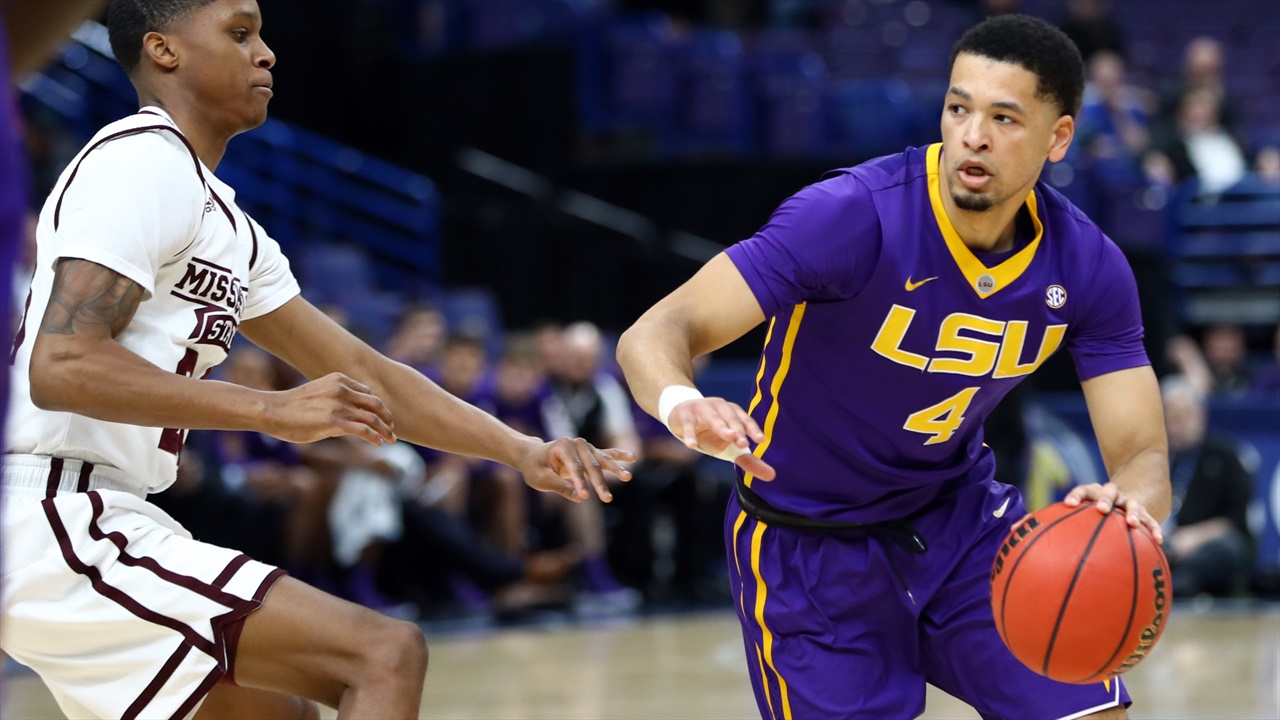 Photo by Billy Hurst-USA TODAY Sports
LSU Basketball
LSU basketball preview
---
Coach Will Wade's massive overhaul of the LSU basketball roster was accomplished very rapidly.
When the Tigers open the 2018-19 season against Southeastern Louisiana at the PMAC on Tuesday, combo guard Skylar Mays will be the lone scholarship player who was a member of coach Johnny Jones' final campaign just two seasons ago.
In fact, only three scholarship players who saw action last season will be on the roster – Mays, point guard Tremont Waters and wing Daryl Edwards. But, LSU finds itself ranked among the top-25 teams in the country due to the influx of new players.
First, there is post player Kavell Bigby-Williams, who sat out last season after transferring from Oregon. Second, there is wing Marlon Taylor, an athletic junior college transfer.
Finally, and most importantly, there are four top-60 recruits – combo guard Ja'Vonte Smart, forwards Emmitt Williams and Darius Days and center Naz Reid. Smart, Williams and Reid were all rated among the top 30 players in the nation.
Waters admitted that he had to carry the Tigers last season as a freshman. Waters averaged 16 points and six assists per game. The situation is much different for him heading into this season.
"We had talent last year, but we have more talent this year," Waters said. "We have more playmakers. We are more versatile this year. Last year, I had to force shots and force plays to make it work. We have the pieces this year. It is a different feeling for me. I can flow into the offense this year."
The Tigers will begin the season using three former high school point guards on the perimeter – Waters, Mays and Smart. Waters and Mays played together last season. Now, Smart will join that duo.
"We can space the floor really well with the three of us out there," Mays said. "We have three guys who can lead the break and three guys who can score off the dribble. The negative would be our size when we play a team with big wings. We may be at a disadvantage when it comes to defensive rebounding."
Waters is looking forward to being able to play off the ball on occasions in the upcoming campaign.
"I don't have to have the ball in my hands all the time," Waters said. "Last year, I had to have the ball in my hands to make the team operate. It was all ball screens for me. This year, I can do other things playing off the ball."
One cannot overlook the contributions which can be made by Edwards and Taylor. Neither Edwards nor Taylor has been completely healthy during preseason practice. Taylor missed the scrimmages against South Alabama and Texas because of a broken finger. He may be ready for the opener against SLU.
"The seasons Daryl and Marlon have will be a big part of where we end up in conference," Mays said. "Like last year, Daryl brings toughness and competitiveness. He is our best outside shooter. Marlon is the most athletic player I have played with. He can offensive rebound and play defense at a high level."
The Tigers lost all four of their post players from last season – Duop Reath, Aaron Epps, Wayde Sims and Brandon Rachal. Reath and Epps were seniors. Sims was tragically killed in late September. Rachal transferred to a junior college.
Bigby-Williams is the only post player with any Division I experience. Bigby-Williams averaged ten minutes a game on Oregon's Final Four team two seasons ago. Bigby-Williams will be counted upon to provide defense around the basket.
"I am focusing on the defensive side," Bigby-Williams said. "Things have been going pretty good for us inside. We are mixing people around trying to see what's the best fit for the team. We definitely have more depth inside this year."
Reid is the top-rated player – projected to be a first-round NBA draft choice next June. Reid has lost 30 pounds since he arrived at LSU – getting down to 240. Williams and Days are both rugged 6-foot-7 post players.
"Naz can do everything," Wade said. "He's like having Tremont at center. Naz just needs to be himself. He's going to have four or five '10' games and three or four '5' games. The rest will be '7' or '8' games. His '7' or '8' eight games are really good. He has earned the right to be the high-level player he is.
"Emmitt is a 6-6 player who plays like he's 6-10. He has a phenomenal personality, He is always engaging. Darius is more of a shooter, a pick and pop guy. He really knows how to play."
Bigby-Williams believes the three freshmen will be a problem for opposing teams.
"All three of them bring a different dynamic," Bigby-Williams said. "Naz is simply a skilled big man. Emmitt is more of an energy guy. Darius is a stretch-4 post player. Naz and me go well together when we are in there. Emmitt is a good rebounder and I'm a good rebounder."
Here is a breakdown of the personnel on LSU's 2018-19 basketball team.
PERIMETER PLAYERS
No. Name Hgt. Wgt. Class Hometown
1 Ja'Vonte Smart 6-4 190 Fr. Baton Rouge
3 Tremont Waters 5-11 165 So. New Haven (Conn.)
4 Skylar Mays 6-4 200 Jr. Baton Rouge
5 Daryl Edwards 6-3 165 Sr. Fresno (Cal.)
12 *Marshall Graves 6-2 185 Jr. Ponchatoula
13 *Will Reese 6-4 190 So. Leesville
14 Marlon Taylor 6-6 210 Jr. Mount Vernon (N.Y.)
15 Aundre Hyatt 6-7 215 Fr. Bronx (N.Y.)
20 Danya Kingsby 6-1 165 Jr. Milwaukee (Wis.)
*Walk-on
POST PLAYERS
No. Name Hgt. Wgt. Class Hometown
0 Naz Reid 6-10 240 Fr. Asbury Park (N.J.)
11 Kavell-Bigby Williams 6-11 230 Sr. London (England)
21 Courtese Cooper 6-9 205 So. Elgin (Ill.)
22 Darius Days 6-7 220 Fr. Raleigh (Fla.)
24 Emmitt Williams 6-7 215 Fr. Fort Myers (Fla.)

LSU Tigers Colosseum Performance Pullover Hoodie - Heathered Charcoal
from:
Fanatics
Never miss the latest news from TigerBait.com!
Join our free email list