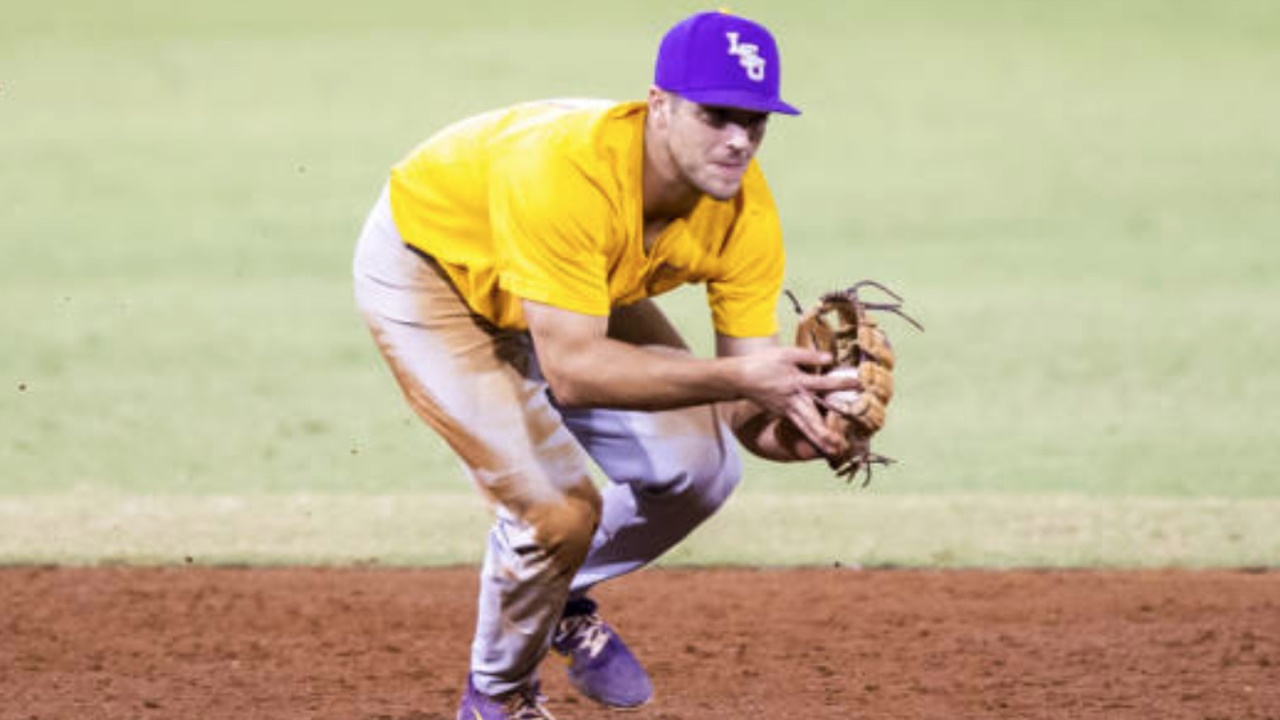 Photo by LSU sports information
LSU Baseball
Tigers endure disruptive fall practice
---
LSU coach Paul Mainieri admitted that he has never been a huge fan of fall baseball practice.
Mainieri will find out next spring how critical fall practice is for the success of the regular season.
Rain and injuries prevented the Tigers from having their normal amount of scrimmage time. Bad weather reduced the scrimmages by almost half. Then, injuries knocked out half of the pitching staff.
"I am hoping I find out that fall practice is not as important as I thought," said Mainieri in an exclusive interview with TigerBait.com. "I don't enjoy fall practice. If the pitchers shut down the hitters, you worry about your hitters. If the hitters hit the pitchers, you worry about your pitchers.
"Fall practice is a necessary evil. I am glad when it's over. The players need the game speed and the competition. The players need some real game action. We had some coach-pitch scrimmages. We did the best we could with what we had."
Only six pitchers threw during the entire fall practice – freshmen Jaden Hill, Riggs Threadgill and Will Ripoll; sophomore Trent Vietmeier; junior college transfer Aaron George and senior Clay Moffitt. Hill and Threadgill were the two pitchers in this group who showed some potential.
Hill has a lot to learn," Mainieri said. "He got hit harder than expected because he threw too many pitches down the middle. But, he throws 93 (miles per hour) and has a good curve. Threadgill is someone who emerged during the fall. He throws the ball over the plate with a slider and sinker."
Five pitchers, who are projected to be at the top of the pitching staff, were shut down by Mainieri for a simple reason. He did not want to risk injury for these pitchers – starters Zack Hess, Landon Marceaux and Eric Walker and relievers Todd Peterson and Devin Fontenot.
"I don't see why we will not have a good pitching staff if we are healthy," Mainieri said. "We need Hess to pitch at a high level – like a No. 1 every time out. Marceaux has a chance to be a special pitcher. We need the old Eric Walker. Peterson needs to keep doing what he was doing as does Fontenot."
There are nine pitchers who were unavailable to throw in the fall due to various injuries. Mainieri believes five of these pitchers will be ready to go in January – veterans Caleb Gilbert, Ma'Khail Hilliard and Matthew Beck and newcomers Chase Costello and Cole Henry.
Mainieri is not certain if four other pitchers will be ready for the 2019 season – AJ Labas, Nick Storz, Rye Gunter and Easton McMurray. Mainieri is hopeful that there are 12 pitchers who can get outs for the Tigers against Southeastern Conference teams.
The catching position was also hit by injuries. Junior college transfer Saul Garza suffered a knee injury, which required surgery. Garza, who was expected to be the No. 1 catcher, will not be back until the start of the regular season. Brock Mathis, another junior college transfer, came on strong during fall drills.
"I am confident we have two outstanding catchers," Mainieri said. "Garza was making a major impact until he hurt his knee. Mathis was tremendous the last four weeks of fall practice. We will probably use both catchers. Mathis will do most of the catching at the start of the season until Garza is healthy."
Mainieri answered one of his questions in the infield. Josh Smith is 100 percent and appears ready to be one of the best shortstops in the country. Smith basically missed the entire 2018 season because of a back injury.
"Josh played like an All-American in the fall," Mainieri said. "In this middle of the fall, he had a shoulder bruise. We haven't even thought about his back. Josh looked great at shortstop. He looked quick. Josh is one of our best hitters. He had four hits in the Purple-Gold game to end fall practice."
Mainieri is still undecided about second base and third base. He has two veterans – Brandt Broussard, who started at second base last year, and Hal Hughes, who replaced Smith at shortstop. There are two freshmen – Drew Bianco and Gavin Dugas. According to Mainieri, Bianco is more advanced than Dugas.
"I played Hughes a lot at third base in the fall," Mainieri said. "He looked great and Broussard looked pretty good. Hughes' consistency as a hitter has improved. He plays really good defense at third base. Hopefully, he can be a .270 or .280 hitter. Broussard brings speed to the lineup.
"Now, we may need more physicality in the lineup. That's where Bianco and Dugas could play a role. Those two guys made some progress during the fall, but I am not satisfied where either one is defensively at third base. We'll see what happens in January."
Three players are competing to be the first baseman and designated hitter – freshmen Cade Beloso and CJ Willis and the catcher who is not behind the plate. Willis was unable to throw during fall practice because of an arm injury.
"Beloso is a very mature kid," Mainieri said. "Willis started a throwing program a couple of weeks ago. I like Beloso and I like Willis. Garza is an option if he cannot catch. Garza is a cleanup hitter. He has an exit velocity of 110 miles per hour. So, Garza could be the first baseman or the DH."
There are no questions about the LSU outfield with returning starters Daniel Cabrera, Zach Watson and Antoine Duplantis. The fourth outfielder is freshman Giovanni DiGiacomo. Either Broussard or Willis can also play in the outfield.
"Our outfield is set," Mainieri said. "We have three of the best players in the country there. DiGiacomo is very solid. He has the potential to be real good down the road."

LSU Tigers Nike 2017 Coaches Sideline Shield Hybrid Half-Zip Jacket - Gray
from: Fanatics
Never miss the latest news from TigerBait.com!
Join our free email list