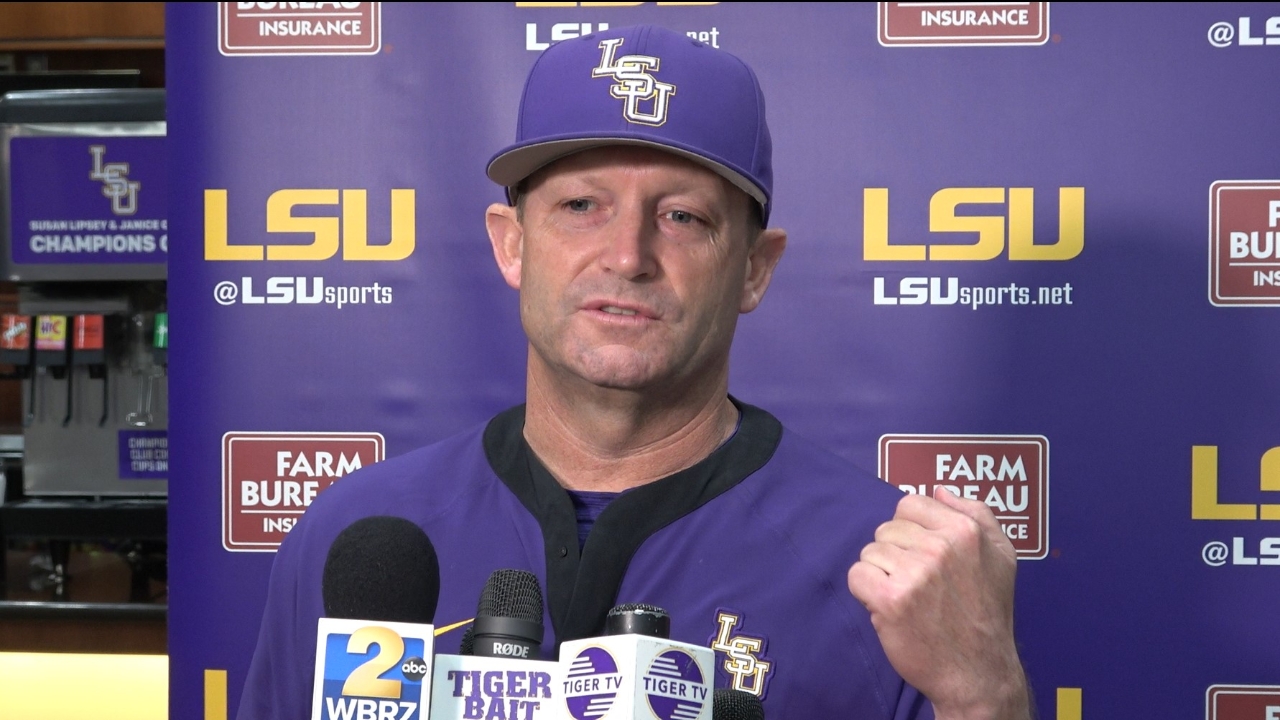 Photo by Mike Scarborough, TigerBait.com
LSU Baseball
LSU vs Texas A&M baseball preview
---
No. 1 LSU Tigers (16-1) at No. 11 Texas A&M Aggies (13-4)
DATES/TIMES
Friday, March 17 @ 6 p.m. CT (SEC Network)
Saturday, March 18 @ 2 p.m. CT (SEC Network +)
Sunday, March 19 @ 1 p.m. CT (SEC Network +)
STADIUM
Alex Box Stadium, Skip Bertman Field (10,326)
RANKINGS
LSU – No. 1 in all college baseball polls
TAMU – No. 11 Baseball America, No. 15 D1 Baseball, No. 15 Collegiate Baseball
RADIO
· LSU Sports Radio Network affiliates, including 98.1 in Baton Rouge
· Live audio for LSU games at www.LSUsports.net/live; Live stats for LSU games at www.LSUstats.com
TV/ONLINE
Friday's game will be televised on the SEC Network and streamed live on SEC Network +
Saturday and Sunday's games will be streamed live on SEC Network +
LSU SERIES RECORD VS. TEXAS A&M
Texas A&M leads the all-time series with LSU – which began in 1907 – 29-26-1 … the Aggies won two of three games over the Tigers last season in Baton Rouge on March 18-20, which was the opening weekend of SEC play … the Aggies lead the series, 14-13, in the 27 games played between the schools since Texas A&M began playing baseball in the SEC in 2013 … 11 of the 27 games played since 2013 have been decided by one run … LSU is 7-8 vs. Texas A&M in its SEC regular-season games played in Bryan-College Station since 2013.
PITCHING MATCHUPS
Game 1
LSU – Jr. RH Paul Skenes (4-0, 0.75 ERA, 24.0 IP, 4 BB, 48 SO)
TAMU – Jr. RH Nathan Dettmer (1-1, 2.37 ERA, 19.0 IP, 7 BB, 24 SO)
Game 2
LSU – Jr. Ty Floyd (3-0, 1.08, 16.2 IP, 5 BB, 21 SO)
TAMU – So. LH Troy Wansing (2-1, 2.75 ERA, 19.2 IP, 6 BB, 33 SO)
Game 3
LSU – So. RH Thatcher Hurd (2-0, 2.04 ERA, 17.2 IP, 9 BB, 25 SO)
TAMU – So. RH Chris Cortez (1-0, 5.60 ERA, 17.2 IP, 12 BB, 17 SO)
QUOTING COACH JAY JOHNSON
"I love the talent on our team; I think we match up great with anyone. Our players have shown a strong mindset, and I think if they continue to be themselves and execute the fundamentals – quality at-bats, play great defense, apply strike zone pressure from the mound – we will be headed in the right direction. Playing in the SEC is difficult, but that's also what makes it awesome to play in these games. This is how you test how good you are, and that's exciting. Texas A&M is a great team, and they have a lot of veteran players that were on their College World Series team last year. It should be a great challenge."
ABOUT THE TIGERS
LSU enters the Texas A&M series riding an 11-game win streak … the 11-game win streak is LSU's longest since the 2017 Tigers won 17 in a row from May 11 through June 17 … LSU's 16-1 start this season is the Tigers' best record through 17 games since the 2015 team also posted a 16-1 mark.
LSU is batting .361 (129-for-357) during the 11-game win streak with 31 doubles, three triples and 27 homers – the Tigers have outscored their opponents, 142-14, over the past 11 games. LSU is No. 3 in the SEC in team batting average with a .338 mark.
The Tigers' pitching staff has posted a 1.24 ERA during the 11-game win streak with 108 strikeouts in 87.0 innings while limiting opponents to a .140 batting average. LSU is No. 2 in the SEC in team ERA at 2.27.
Freshman rightfielder Paxton Kling is hitting .593 (16-for-27) during LSU's 11-game win streak with three doubles, one triple, three homers, six RBI and 15 runs … junior centerfielder Dylan Crews is batting .541 (20-for-37) during the Tigers' 11-game win streak with seven doubles, four homers, 18 RBI and 21 runs … Crews is riding a 15-game hitting streak entering Friday night's game at Texas A&M.
Sophomore third baseman Tommy White is hitting .447 (17-for-38) during LSU's 11-game win streak with seven doubles, six homers, 26 RBI and 17 runs scored … he earned Collegiate Baseball National Player of the Week recognition on Monday after he batted .438 (7-for-16) in LSU's five wins last week with three doubles, three homers, 14 RBI and nine runs … he homered, doubled and collected four RBI in LSU's win over Lamar on March 8 before posting two doubles, two homers and nine RBI in the Tigers' three-game sweep of Samford last weekend … in the Tigers' win over Samford last Sunday, White launched LSU's first grand slam of the season.
Freshman first baseman Jared Jones was named SEC Co-Freshman of the Week on Monday after he batted .600 (6-for-10) for LSU last week with four homers, 11 RBI and five runs … he homered four times in four consecutive plate appearances over the course of the Tigers' games versus Samford last Friday and Saturday … in last Friday's game, Jones launched two 2-run homers in his final two plate appearances, and in last Saturday's game, he unloaded two 3-run dingers in his first two plate appearances … he added an RBI single in Sunday's win over Samford, as the Tigers completed a three-game sweep.
Sophomore right-hander Thatcher Hurd received SEC Co-Pitcher of the Week and Collegiate Baseball National Player of the Week recognition on Monday after he posted two wins in two starts last week, working a total of 11 scoreless innings with three walks and 18 strikeouts … Hurd allowed just four hits and limited opponents to a .111 batting average in his two outings … he defeated Butler on March 6, firing six shutout innings with three hits, one walk and 11 strikeouts, just one strikeout shy of his career high … Hurd then posted a win over Samford last Sunday, working five scoreless innings and limiting the Bulldogs to one hit with two walks and seven strikeouts … Hurd pitched 3.2 perfect innings versus Samford before allowing a batter to reach base.
Junior right-hander Paul Skenes improved to 4-0 this season with a win last Friday night over Samford, working six innings and limiting the Bulldogs to one run on two hits with one walk and 12 strikeouts … Skenes' cumulative ERA is 0.75 and he has recorded 48 strikeouts in 24 innings this season while limiting opponents to a .099 batting average.
ABOUT THE AGGIES
Texas A&M, which advanced to the College World Series in 2022, is batting .279 as a team this season, which is No. 13 in the SEC … the Aggies' pitching staff is No. 5 in the SEC with a 3.35 ERA
The Aggies have collected 33 doubles, three triples, 16 home runs and 25 steals in 30 attempts … infielder Hunter Haas is hitting .371 with four doubles, three homers and 10 RBI … infielder Austin Bost is batting .323 with six doubles, one triple three homers and a team-high 24 RBI … utility player Ryan Targac also has three homers and is second on the club with 17 RBI.
The Texas A&M pitching staff has recorded 188 strikeouts in 153.0 innings while limiting opponents to a .227 batting average.

LSU The Power House of Baseball Tee
from: Alumni Hall
Never miss the latest news from TigerBait.com!
Join our free email list