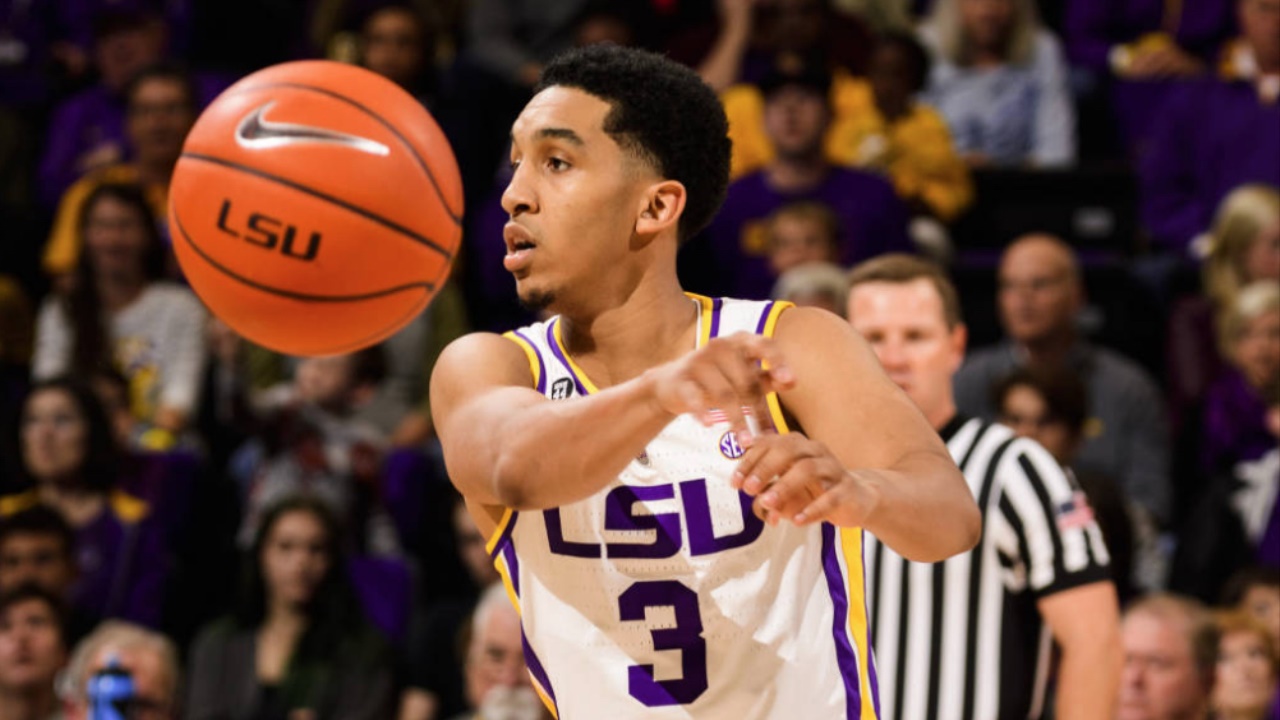 Photo by Chris Parent, LSU
LSU Basketball
Naz Reid and Tremont Waters leading balanced LSU attack
---
Prior to the start of the season, LSU coach Will Wade said that this year's team will have a balanced attack.
That assessment has proven to be correct in Tigers victories against Southeastern Louisiana and North Carolina-Greensboro. Seven players are averaging more than nine points per game.
As expected, the top two scorers are the players expected to leave for the NBA after this season – post player Naz Reid and point guard Tremont Waters. Reid, who knocked down four 3-pointers against Greensboro, has 46 points in two games. Waters has 30 points and 12 assists in those games.
"I have the green light from anywhere as long as the ball goes in," said Reid, who missed four of his five 3-point shots against SLU. "Overall, I don't think I have played that bad in the first two games. I could have done better rebounding and crashing the boards.
The 6-foot-10 Reid has just 13 rebounds – three off the offensive board – in the first two games. Reid is shooting 63 percent from the field (17-of-27). Wade has a set plan on what type of shot Reid takes in a game.
"Naz has the green light early in the game," Wade said. "If the ball is not going in, then he goes in the post. Naz has a different post game. We give him the ball on the wing and let him back in rather than having him post up on the block.
"Because of the way he plays, Naz will pull one of the other team's bigs away from the basket. When we need to, we can get him in the post. It is not like Naz is just firing up shots from three."
Waters had a rather mediocre first game against SLU. He had nine points and just two assists. In addition, he committed three turnovers. Waters bounced back with a double-double against Greensboro – 21 points and 10 assists. Waters has made 11 steals in the first two games.
"I think we have played pretty well the first two games," Waters said. "We have been nowhere near perfect. We have been pushing the ball in transition and making the extra pass. The biggest thing we have to work on is talking. That's just effort."
Once again, LSU fell victim to the 3-point shot against UNCG. The Spartans made 19 shots from behind the 3-point line – eight by post player Kyrin Galloway.
"The biggest issue with (Greensboro's) 3s the other night was our transition defense," Wade said. "We've had better days with our transition defense. If you can't get back and cover the shooters and cover the guys who are tough matchups, that's a problem. We have got those issues corrected."
LSU goes for a third straight victory Tuesday against Memphis at the PMAC (6 p.m. Central/SEC Network). Memphis, which is coached by Penny Hardaway, defeated Tennessee Tech by 15 points in its season opener. Memphis has a starting lineup similar to LSU with three guards.
"Memphis puts their best guards out there like us," Wade said. "We must be able to handle their pressure. We may be a little more discreet in the half court than Memphis. We play fast too, but not like them. We are not going to change who we are and they are who they are. It will be a clash of wills."
Memphis starts two freshmen guards who are shorter than 6-feet – Alex Lomax and Tyler Harris. Lomax had eight points and four assists against Tennessee Tech. The third perimeter starter is 6-3 senior Jeremiah Martin, who had 18 points in the opener.
The Memphis starting post players are 6-8 Kyvon Davenport and 6-10 Isaiah Maurice. Davenport had a double-double against Tennessee Tech – 30 points and 10 rebounds. Davenport contributed 17 points and 11 rebounds last season when Memphis lost 71-61 to LSU at home.
LSU's first two victories came against teams who won their conference championship last season. Greensboro reached the NCAA tournament last season where it lost a tight game to Gonzaga in the first round.
"Greensboro was a really good team," junior wing Skylar Mays said. "More than likely, they will be in the NCAA tournament. We know we can play in the NCAA tournament. That game was a big confidence-builder for us."

LSU Tigers Colosseum Banked 1/4-Zip Fleece Jacket – Heathered Gray
from:
Fanatics
Never miss the latest news from TigerBait.com!
Join our free email list