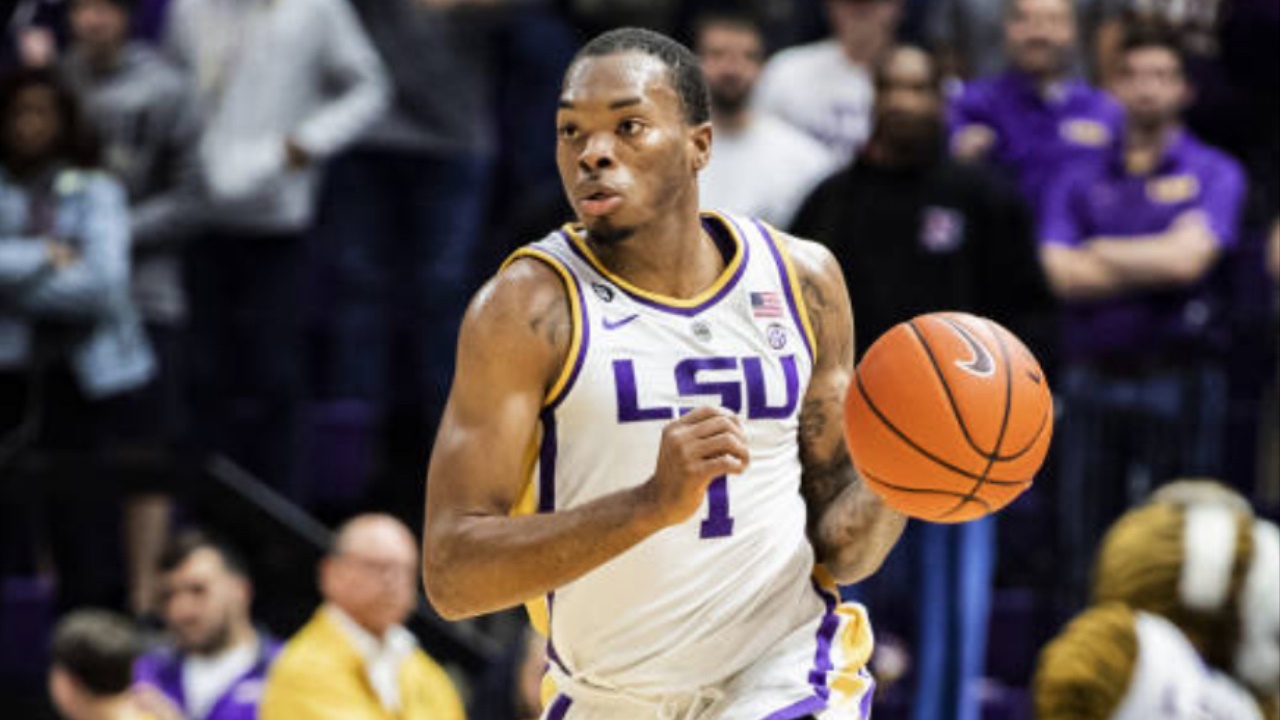 Photo by Gus Stark, LSU
LSU Basketball
LSU wins late against Louisiana Tech 74-67
---
A 3-pointer by Ja'vonte Smart ignited a game-closing 12-5 run to give LSU a 74-67 non-conference victory against Louisiana Tech at the PMAC on Friday night.
DECISIVE STRETCH OF THE GAME
Daquan Bracey made his only basket of the night to tie the score at 62-62 with 2:27 remaining in the game. Smart knocked down a 3-pointer on the next possession to give the Tigers the lead for good. LSU held the Bulldogs scoreless on their next two possessions as Anthony Duruji missed a jumper and Bracey committed a turnover. Meanwhile, the Tigers got a put-back basket from Kavell Bigby-Williams and three foul shots from Skylar Mays to build a 70-62 lead with 40 seconds to play.
LSU PLAYER OF THE GAME
Smart scored in double figures for the fourth consecutive game. He had a season-high 16 points against Louisiana Tech. Smart made a season-high seven field goals in ten attempts. He also grabbed three rebounds and handed out two assists. Smart has scored 52 points in the first four games has made 19 of his 30 field goal attempts.
KEY TEAM STATISTICS
Field goal shooting: LSU 45% (29-of-64), Louisiana Tech 39% (24-of-61)
Three-point field goal shooting: Louisiana Tech 39% (11-of-28), LSU 21% (5-of-24)
Free throw shooting: Louisiana Tech 62% (8-of-13), LSU 58% (11-of-19)
Rebounds: Louisiana Tech 42, LSU 38
Turnovers: LSU 7, Louisiana Tech 17
Blocked shots: LSU 7, Louisiana Tech 3
Points in the paint: LSU 44, Louisiana Tech 26
Points off turnovers: LSU 22, Louisiana Tech 9
Bench points: LSU 18, Louisiana Tech 9
INDIVIDUAL LEADERS
LSU
Ja'vonte Smart: 16 points
Tremont Waters: 14 points, 5 assists, 5 rebounds
Daryl Edwards: 12 points
Skylar Mays: 12 points
Emmitt Williams: 9 points, 7 rebounds
Kavell-Bigby Williams: 5 points, 6 rebounds
LOUISIANA TECH
Anthony Duruji: 22 points, 9 rebounds
Exavian Christon: 15 points, 5 rebounds
Amorie Archibald: 10 points, 5 rebounds
Oliver Powell: 5 points, 10 rebounds
NOTES
LSU's starting lineup consisted of Bigby-Williams and Williams in the post, Smart and Mays on the wings and Waters at point guard. Reid did not start because of an ankle injury. He played just ten minutes and accounted for only four points and three rebounds. The five starters all played at least 20 minutes. Bigby-Williams played the fewest minutes of the starters with 20. Both Edwards and Darius Days came off the bench and were on the floor for 19 minutes. . .Waters had an up-and-down night. It took him 14 shots to score his 14 points, Waters was 5-of-14 from the field, including 1-of-7 on 3-pointers. He also missed two of his five foul shots. . .Edwards, who scored a total of four points in the first three games, had his best night of the young season. Edwards, who wore a facemask, was 4-of-8 from the field and 3-of-4 at the foul line. . .Mays missed three of his four 3-point shots. He was 4-of-9 from the field. . .LSU's four post players combined for just 18 points – nine from Williams, five from Bigby-Williams and four from Reid, Days did not score. The four inside players were a combined 8-of-18 from the field. They grabbed 19 rebounds and blocked six shots – three by Bigby-Williams and two by Days. . .Marlon Taylor had two points in nine minutes. He missed all four of his shots from behind the 3-point line. . .The Tigers committed only seven turnovers – three by both Smart and Waters. . .LSU's 45 percent shooting from the field was a season-low as was its 58 percent shooting at the foul line. For the third time in four games, the Tigers made less than 30 percent of their 3-point shots. LSU was outrebounded for the first time this season. . .The Tigers went on a 10-0 run to take a 24-15 lead with 9:39 remaining in the first half. Mays had two field goals, one a 3-pointer, in that stretch. Louisiana Tech battled back to pull within three points at halftime 36-33. . .The Bulldogs opened the second half on a 21-10 run to take an eight-point lead at 54-46. Duruji had nine of Louisiana Tech's points in that span. . .LSU came right back with a 16-4 run to go ahead 62-58. Waters had five of those 16 Tigers points. . .The Tigers extended their homecourt winning streak to 11 games. That streak is LSU's longest in ten seasons. The Tigers had a 17-game winning streak at the PMAC during the 2008-09 seasons. . .LSU has won its first four games for the first time in six seasons. The Tigers began the 2012-13 campaign with six straight victories. . .Louisiana Tech is 3-1. . .The paid attendance was 9,557. The actual crowd was about 5,700.
FROM THE LOCKER ROOM
Coach Will Wade's comments: "It was a good team win. We found a way to get it done. We still have some things we need to work on. At the end of the day, the goal was to be 4-0 and we're 4-0. Competition is getting ready to kick up as we head to Orlando. I did think our defense was improved. We didn't move the ball as well as we needed to on offense, but we can get some of that stuff corrected. Our defensive rebounding was exposed a little bit. Our two seniors (Bigby-Williams and Edwards) really helped us. Daryl played his best game this year and, maybe since he's been here. I knew we were going to need guys to step up. Naz was banged up. I didn't know how much he could do. He tried to give it a go."
UP NEXT
LSU will play Charleston in a first-round game of the Advocare Invitational Tournament at The Arena at ESPN Wide World of Sports in Orlando on Thursday. Tipoff is scheduled for 6 p.m. Central. The Cougars (3-0) will play Oklahoma State in Stillwater on Sunday afternoon. The LSU-Charleston game will be available on ESPNU.

LSU Tigers Aero Quarter-Zip Pullover Jacket - Black
from:
Fanatics
Never miss the latest news from TigerBait.com!
Join our free email list