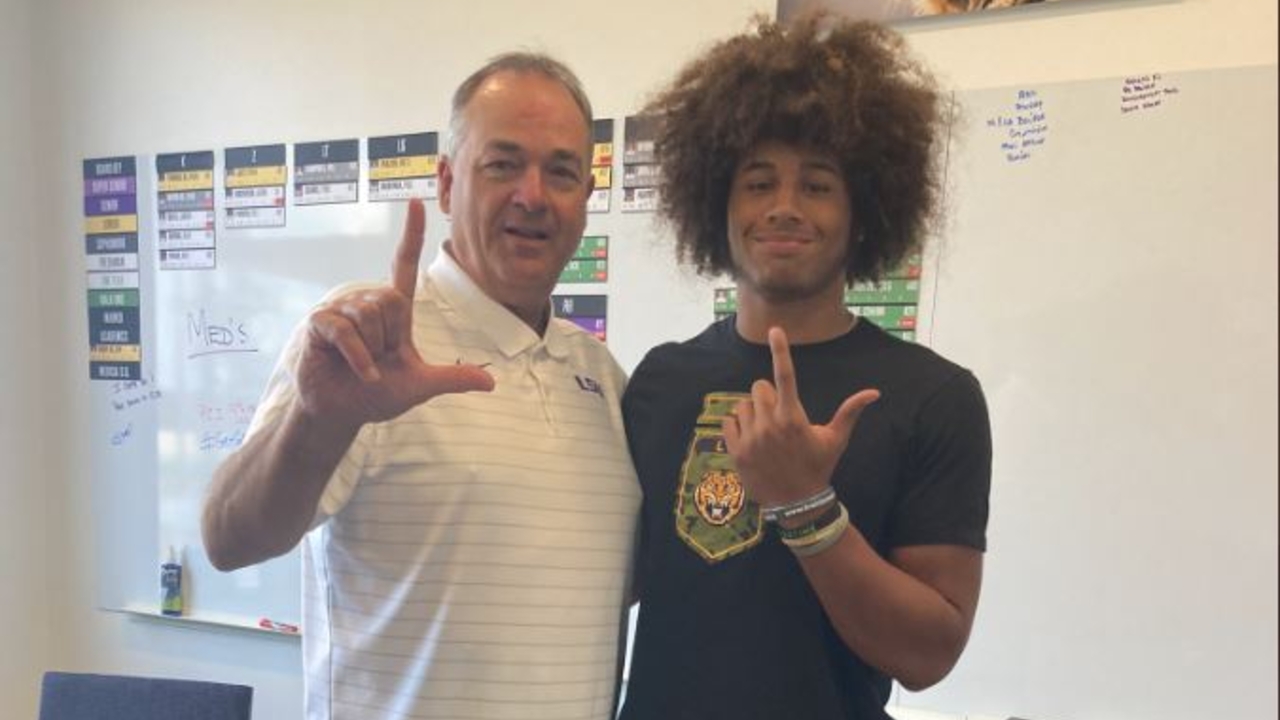 'It sends a message' Colin Hurley Q&A after Bayou Splash
---
TigerBait.com connected with LSU's 2024 quarterback commit out of Trinity HS in Jacksonville, Florida Colin Hurley‍. Here's the complete interview:
This Bayou Splash had a ton of talent there. How many guys were you pushing to come to LSU?
1. This Bayou Splash had a ton of talent there. How many guys were you pushing to come to LSU?
There was a ton of talent, from our current commits to our prospects and recruiting targets. It was great to see and spend time with our current commits. All of us stay in touch and continue to work on building the '24 Class.
I know I've taken on a leadership role in the '24 Class and am working hard to continue to build it. I feel it's coming along well. We've locked up the state of Louisiana with 14 dudes and we will close out a few more from the Boot. I really like Dominick McKinley‍. We also went to Florida and grabbed two of the state's best players - myself and Cai Bates, who will be my teammate and roommate. We went to Tennessee, Georgia and North Carolina and picked up top talent. We're now focusing on some of best talent in Texas - Caden Durham‍, Colin Simmons‍ , Blake Ivy‍ and Jelani Watkins‍ . Those guys are all monsters. I want all of them!
I so damn happy to see Ory Williams commit. I played hoops with him and he's actually got some game. He's massive at 6'8 and 290lbs and his film shows exactly what type of player he is. He is a mauler that destroys his opponent and then looks for someone else to hit. You don't coach that. He's just a damn monster.
Theres also a possible flip coming, so stay tuned.
Did you get to talk to Collin Simmons? How do you feel about LSU's chances?
He's one of the most impressive high school defensive players in the country. He can do it all. He can play Edge. He can play inside. He can cover. He can pass-rush and run-stop. He's strong, powerful and explosive. He plays nasty. I love everything about him. Super good dude too.
What did you do at the splash?
The Bayou Splash was a blast. It was wet and wild fun in the sun. We had a great time. I think the Bayou Splash served many roles. It was about football and building out our '24 Class. It was a team-building event for Coach Brian Kelly. He's a tremendous coach and CEO. It was about setting goals, establishing an elite mindset and building culture and cohesion. But it was also about family, fun, food, essence, soul, music, vibe and fellowship.
There were current players, commits, recruits, prospects, coaches and staff, as well as parents and families there. Everyone got to see what Louisiana and the Bayou are about. Everyone saw what student life and family at LSU is about. It was like the "Water Olympics." We went swimming, had water balloon fights, races and more. It was good healthy competition.
The Bayou Splash was a setting with a relaxed environment and chill vibe. I think it was great for everyone and there will be some good things to come of it - I promise.
How did this event compare to other recruiting events/camps?
I've camped and attended other events and I am grateful to any school and staff that goes out-of-their way to entertain and host student-athletes. My recruiting journey has been a blessing and I've met some great coaches and players. I've been fortunate to visit some nice schools and programs. That said, I've visited LSU over one dozen times. I think it's safe to say I'm "all in" on LSU. Each visit has been a great experience. The staff at LSU has embraced me. I've built a very solid relationship with the coaches. I've met a lot of the current players.
I also have connected with our '24 commits and can't wait for us to all be in Baton Rouge. Each visit has had a unique purpose and this one was no different. It was about recruiting and connecting.
The #1 player in the state, Dominick McKinley was there - did you get to talk to him? How do you feel about him?
I did. He's very impressive. His film speaks for itself. He's a guy who can change a game. He and I spoke and obviously, he knows I'd love to have him stay home and come to LSU.
LSU has locked up, eight of the top ten in-state players. And there other two are still on the board. What does that mean to you as the leader of this class?
First, I think it sends a message that LSU has locked up the state of Louisiana and that's always important to do. Keeping in-state talent home is a goal for Coach Kelly and this staff and I think they've demonstrated that. Louisiana is deep in talent so I think it's important to keep those guys home. I also want to reiterate that Coach Kelly and this staff can, and will, go to other states and grab talent too, because this is LSU and that brand simply puts us in that position to do so.
You heard the noise of Brian Kelly's recruiting being lackluster before coming to LSU. What's your impression of him as a recruiter now that you've been a recruit for a couple of years now?
You said it- that's nothing but noise and I don't pay attention to that stuff. First, that narrative is carried and spread by people who are either misinformed, uninformed or both. Recruiting is perpetual and it's the one part of college football that never stops. Whether you're a coach, member of the recruiting department or player, recruiting is a part of the game. There's the in-season and off-season. There's strength and speed development. There's film study. All of those are done at various times and intervals.
Recruiting doesn't stop - especially in today's college football space. I also think recruiting at LSU likely differs from recruiting at the previous school Coach Kelly was at. Both are excellent programs, but I don't think it's fair, or accurate, to compare the two of them. I can tell you as a top prospect and recruit of LSU and Coach Kelly, he can flat-out recruit. He's a total professional. He has been doing this for over three decades and had tremendous success.
Coach Kelly and his staff have treated me with all the respect in the world. They've been first-class in everything they do. Coach Kelly is honest. He's intelligent. He understands how to speak with student-athletes and parents. He invests a lot of time and energy into developing a recruiting and evaluation plan. He empowers his staff to do this work, but he's very involved in the process too. Why do I say this and how do I know? Because I'm directly involved in it, with Coach Kelly. So that noise is likely coming from people outside of LSU.
Just look at the '24 Class and what Coach Kelly's done so far. Check back with me over the next few weeks and months and I think we can put that rumor to rest. He's also used the Transfer Portal strategically to strengthen some position groups.
Are you planning on taking all 5 OVs this year or have you shut that down?
I have a few dates in mind and I'll release those shortly. My focus is now on leading my team at Trinity Christian Academy to another FHSAA State Championship and continuing to build this '24 Class so that I can also help to bring a National Championship to Baton Rouge.
It was great to visit - it always is. I'll be back soon.
Never miss the latest news from TigerBait.com!
Join our free email list