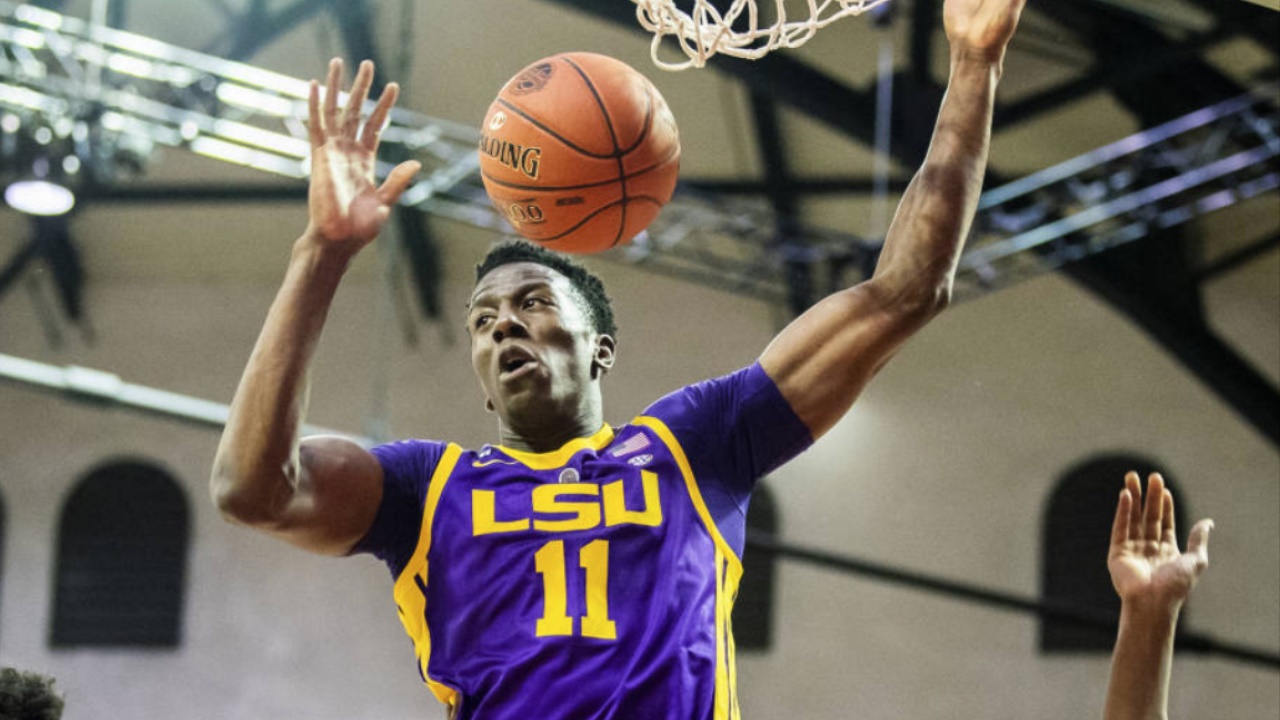 Photo by Gus Stark, LSU
LSU Basketball
Bad shooting results in LSU's 90-77 loss to Oklahoma State
---
Cameron McGriff scored 28 points and LSU made just 41 percent of its field goal attempts as Oklahoma State won the consolation game of the AdvoCare Invitational tournament 90-77 at HP Field House in Orlando (Fla.) on Sunday afternoon.
DECISIVE STRETCH OF THE GAME
Trailing 45-39 one minute into the second half, LSU went six minutes without scoring a point. Oklahoma State scored 12 points in that stretch to go on top 57-39. McGriff had a field goal and two foul shots for the Cowboys. The Tigers missed 11 field goal attempts and committed five turnovers. Naz Reid ended the LSU scoring drought with a free throw at the 13:05 mark of the second half. The Tigers came no closer than 13 points the rest of the game.
LSU PLAYER OF THE GAME
Skylar Mays had a second straight outstanding offensive performance. Mays, who was 7-of-9 from the field while scoring 19 points against Florida State, had 20 points against Oklahoma State. Mays made eight of his 11 field goal attempts, including four of his seven 3-point shots. The 20 points were a season-high for Mays. For the second consecutive game, Mays matched his career-high in 3-pointers with four.
KEY TEAM STATISTICS
Field goal shooting: Oklahoma State 59% (31-of-53), LSU 41% (28-of-68)
Three-point field goal shooting: Oklahoma State 50% (8-of-16), LSU 33% (9-of-27)
Free throw shooting: Oklahoma State 80% (20-of25), LSU 60% (12-of-20)
Rebounds: LSU 36, Oklahoma State 34
Offensive rebounds: LSU 18, Oklahoma State 8
Bench points: LSU 29, Oklahoma State 21
Steals: LSU 11, Oklahoma State 8
Second-chance points: LSU 15, Oklahoma State 9
INDIVIDUAL LEADERS
LSU
Skylar Mays: 20 points
Kavell Bigby-Williams: 12 points, 7 rebounds
Emmitt Williams: 8 points, 6 rebounds
Tremont Waters: 8 points, 5 assists
Naz Reid: 6 points, 5 rebounds
OKLAHOMA STATE
Cameron McGriff: 28 points
Lindy Waters: 16 points, 5 rebounds
Michael Weathers: 12 points
Isaac Likelele: 9 points, 9 rebounds, 8 assists
NOTES
LSU's starting lineup consisted of Reid and Williams in the post, Ja'vonte Smart and Mays on the wings and Waters at point guard. The five starters all played more than 20 minutes. Reid played the fewest minutes of the starters with 21. . .Bigby-Williams helped LSU take a lead late in the first half. All but two of Bigby-Williams' points came in the last nine minutes before halftime. Bigby-Williams, who played 18 minutes, was 6-of-9 from the field. . .Waters had another difficult game going against taller guards. Waters missed six of his nine field goal attempts. He was 2-of-6 on 3-pointers. Waters was responsible for six of the Tigers' 16 turnovers. . .Reid also shot the ball poorly as he made just two of his nine field goal attempts. . .Smart had the worst shooting afternoon for LSU as he was 2-of-13 from the field, including 2-of-7 on 3-pointers. Smart did hand out four assists. . .Daryl Edwards missed five of his six field goal attempts. Edwards, who had five points, committed four turnovers. . .Darius Days had seven points, four rebounds and three steals in 17 minutes. . .Marlon Taylor had two points and two rebounds in 13 minutes. . .McGriff, a 6-foot-7 post player, was 10-of-15 from the field for Oklahoma State. Likelele, a 6-4 freshman point guard, nearly had a triple-double. . .LSU missed its first 11 shots from the field as it fell behind 15-2 in the first 5½ minutes. The only Tigers points came on two foul shots by Taylor. . .LSU took a couple of two-point leads late in the first half. The Tigers went on a 15-4 run to go ahead 35-33. Waters and Smart knocked down 3-pointers and Bigby-Williams made two baskets in this stretch. . .The Cowboys scored the final seven points of the first half to take a 42-37 lead. . .LSU is 5-2, while Oklahoma State is 4-2. . .Villanova defeated Florida State 66-60 in the championship game of the tournament.
UP NEXT
LSU will play host to Grambling at the PMAC on Saturday. Tipoff is scheduled for 4 p.m. Central. Grambling (3-3) lost IUPUI 80-69 in Niagara (N.Y.) on Saturday. The LSU-Grambling game will be available on the SEC Digital Network.

LSU Tigers 4-Pack Coaster Set - Silver
from: Fanatics
Never miss the latest news from TigerBait.com!
Join our free email list