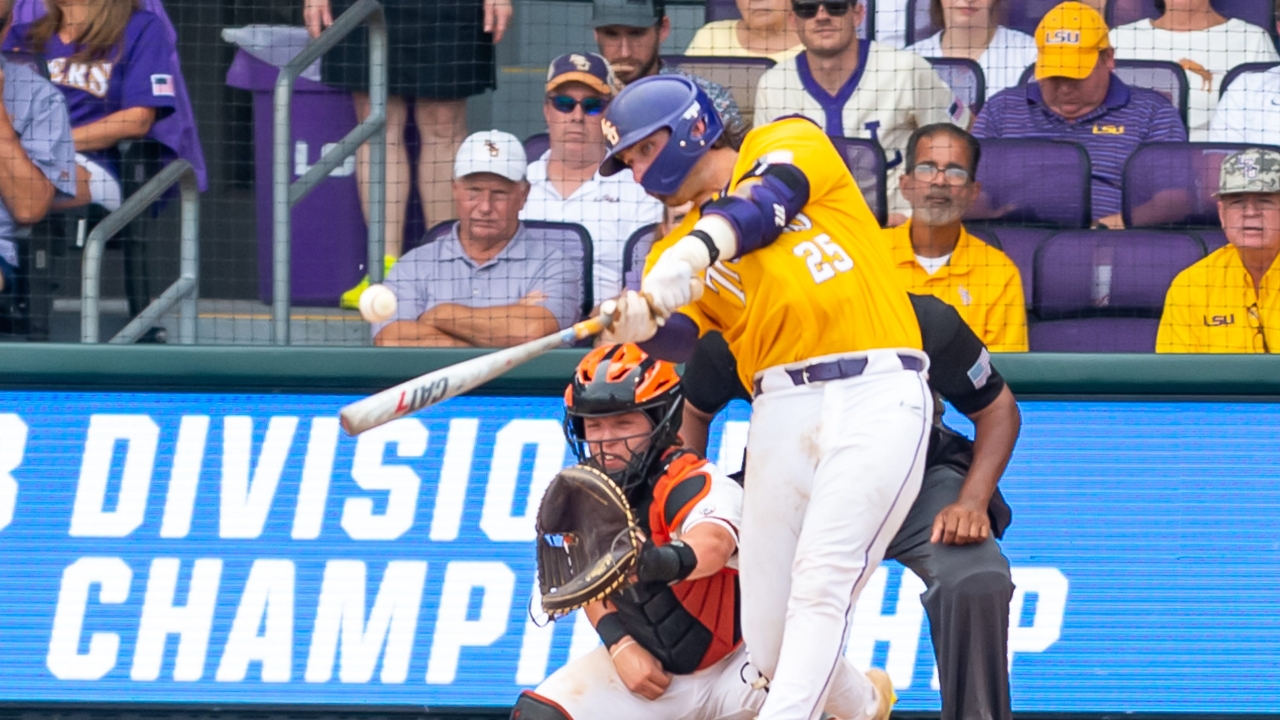 Photo by Scott Clause//USA TODAY Network
LSU Baseball
Hayden Travinski will continue LSU tradition by wearing No. 8
---
BATON ROUGE, La. – LSU senior catcher/first baseman Hayden Travinski will wear jersey No. 8 for the 2024 season, coach Jay Johnson announced this week. The No. 8 jersey is given each season to the upperclassman who exemplifies the spirit of LSU Baseball through his leadership and dedication to the program.
The No. 8 tradition was started by outfielder Mikie Mahtook (2009-11) and has since been continued by first baseman Mason Katz (2012-13), shortstop Alex Bregman (2014-15), outfielder Jake Fraley (2016), second baseman Cole Freeman (2017), outfielder Antoine Duplantis (2018-19), outfielder Daniel Cabrera (2020), pitcher Matthew Beck (2021) and infielder/outfielder Gavin Dugas (2022-23).
"I'm very grateful for the opportunity to continue this tradition and excited for another great season," said Travinski, who helped lead the Tigers to the 2023 College World Series title.
Travinski, a native of Shreveport, La., has played in 112 career games (54 starts) at LSU from 2020-23, batting .286 (66-for-231) with nine doubles, 21 homers, 57 RBI and 54 runs. He is a two-time SEC Academic Honor Roll selection, and he earned his LSU bachelor's degree in the spring of 2023.
"You could make the argument that, outside of Dylan Crews, there was not a more valuable player on our team down the stretch of the 2023 season than Hayden Travinski," Johnson said. "There aren't many players that have the power at the plate and the arm strength that he has. I think Hayden feels like his best baseball at LSU is still in him, and I know he's fired up for this opportunity."
Travinski earned the starting catcher position at the end of April and played a tremendous role in the Tigers' drive to the 2023 National Championship. He appeared in 41 games (23 starts) on the year, batting .356 (37-for-104) with five doubles, 10 homers, 30 RBI and 30 runs scored.
He was voted to the NCAA Baton Rouge Regional All-Tournament Team after hitting .429 (6-for-14) with one double, two homers, five RBI and five runs. He batted .538 (7-for-13) in the SEC Tournament with one double, three RBI and three runs scored, recording a career-best four hits in four-at bats with two runs scored in the May 25 game versus Arkansas.
Travinski homered at least once in each of LSU's final five SEC regular-season series versus Ole Miss, Alabama, Auburn, Mississippi State and Georgia (two HRs). He blasted the go-ahead three-run homer in the bottom of the sixth inning on April 29 versus Alabama, erasing a 7-5 deficit and lifting the Tigers to a 12-8 win.
He launched a two-out, pinch-hit three-run homer in the top of the ninth inning on April 23 to lift LSU to a 7-6 win at Ole Miss. Travinski's homer, his first of the season, erased a 6-4 Ole Miss lead.

LSU Antigua Spark Polo
from:
Alumni Hall
Never miss the latest news from TigerBait.com!
Join our free email list