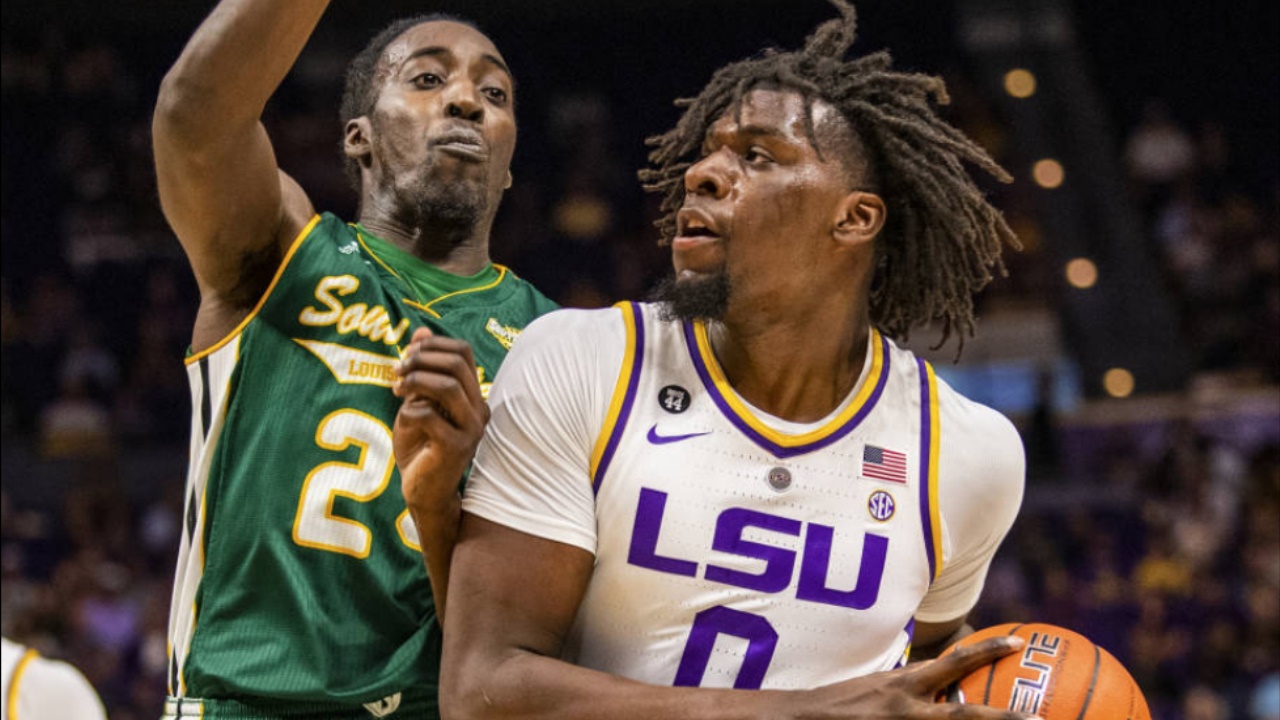 Photo by Gus Stark, LSU
LSU Basketball
LSU's best players must step up
---
LSU fans, jump on our "Early Signing Special" now. 2 Months of TigerBait.com for 2 Bucks!. CLICK HERE to get this deal before it ends
The first half of LSU's non-conference basketball schedule ended Sunday with a 13-point loss to Oklahoma State in the consolation game of the AdvoCare Invitational tournament at Orlando (Fla.).
For the fifth consecutive season – three under former coach Johnny Jones and two under current coach Will Wade, the Tigers completed their Thanksgiving week tournament with a losing record. LSU has a 4-10 record in that span with victories against Weber State, Old Dominion, Michigan and Charleston.
The Tigers have a 5-2 record with six games remaining before the start of the Southeastern Conference schedule – home games against Grambling, Incarnate Word, Furman and Louisiana-Monroe and away games at Houston and at Las Vegas (Nev.) against St. Mary's.
This LSU team, which has six newcomers – four being freshmen – in their nine-man rotation, is following a similar pattern to the final two months of last season. The Tigers have been perfect at home (4-0) and below average away from the PMAC (1-2).
LSU now has an 11-game winning streak at home and has lost 11 of its last 12 games away from the PMAC. The one victory came against College of Charleston in Orlando last Thursday. When the SEC schedule starts in January, constant losing on the road will mean no NCAA tournament berth.
Wade has pointed to defensive and rebounding deficiencies during his team's first seven games. His assessment is definitely accurate. Opposing teams are shooting 44 percent from the field, including a very high 38 percent on 3-pointers. The Tigers are giving up 12 offensive rebounds per game.
LSU had one of those horrible defensive days in its setback against Oklahoma State. The Cowboys made almost 60 percent of their field goal attempts, including 50 percent of their 3-point shots. In the overtime loss to Florida State two days earlier, the Tigers allowed 22 offensive rebounds.
Even if LSU cleans up these areas, success against the top teams in the SEC will not occur unless its two best players perform up to their standard. Sophomore point guard Tremont Waters considered leaving for the NBA after last season. Freshman post player Naz Reid is projected as a one-and-done player.
Waters' shooting numbers through the first seven games are worse than those of last season. His field goal percentage is down from 42 percent to 39 percent. Waters' 3-point shooting has decreased from 35 percent to 28 percent. Even his foul shooting is slightly lower – from 80 percent to 77 percent.
Waters' assists are up from 6.0 per game to 6.3 per game. However, his turnovers have also increased – from 2.9 per game to 4.1 per game. Waters is making more steals per game – 3.3 this season as compared to 2.0 last season. Finally, Waters scoring average is down from 15.9 to 11.3 per game.
In the first seven games this season, Waters has made some lackadaisical turnovers. His passes have not been as crisp as they should be. Also, many of his 3-point shots are not coming in rhythm.
During the tournament in Orlando, Waters averaged 9.0 points, 6.3 assists and 2.3 steals per game. But, he made just 38 percent of his field goal attempts – including a miserable 29 percent on 3-pointers. Waters averaged five turnovers per game.
Larger guards gave Waters some problems last season. That trend is continuing this month. Both Florida State and Oklahoma State harassed Waters with point guards well over six feet.
Reid has the appearance of a post player at 6-10 and 240 pounds. However, Reid has been no factor on the backboards. He is averaging a mere 4.3 rebounds per game. Reid was on the floor for 41 minutes against the Seminoles and grabbed just two boards. NBA scouts are already questioning his motor.
So far this season, Reid is averaging 12.1 points per game. Reid has made 49 percent of his field goal attempts. Reid has connected on just 32 percent of his 3-point shots. In the Orlando tournament, Reid was 2-of-9 from behind the arc.
Reid was far from a first-round NBA selection last weekend. He shot 36 percent from the floor and 57 percent from the foul line. Amazingly, Reid contributed only three rebounds a game. Reid, who only scored 24 points in the three games, had one fewer turnover (eight) than rebound (nine).
From the start of practice, Wade praised Waters and Reid. He said Waters had reshaped his body and was stronger. At times, Waters doesn't seem to be quite as quick. Reid looks like someone who does not want to mix things up in the post. He appears to be a perimeter player in a big man's body.
The problems identified by Wade are all true. However, the results – especially on the road – will not be better unless Waters and Reid play like high-caliber players.
Here are statistics for Tremont Waters and Naz Reid.
Tremont Waters
2017-18 statistics: 33 minutes, 15.9 points, 6.0 assists, 2.9 turnovers, 2.0 steals, 42% FG shooting, 35% 3-point shooting, 80% FT shooting
2018-19 statistics: 33 minutes, 11.3 points, 6.3 assists, 4.1 turnovers, 3.3 steals, 39% FG shooting, 28% 3-point shooting, 77% FT shooting
2018 Orlando tournament: 34 minutes, 9.0 points, 6.3 assists, 5.0 turnovers, 2.3 steals, 38% FG shooting, 29% 3-point shooting, 83% FT shooting
Naz Reid
2018-19 statistics: 24 minutes, 12.1 points, 4.3 rebounds, 2.4 turnovers, 0.7 blocked shots, 49% FG shooting, 32% 3-point shooting, 79% FT shooting
2018 Orlando tournament: 28 minutes, 8.0 points, 3.0 rebounds, 2.7 turnovers, 0.7 blocked shots, 36% FG shooting, 22% 3-point shooting, 57% FT shooting

LSU Tigers Antigua Fortune 1/2-Zip Pullover Sweater - Heathered Charcoal
from: Fanatics
Never miss the latest news from TigerBait.com!
Join our free email list