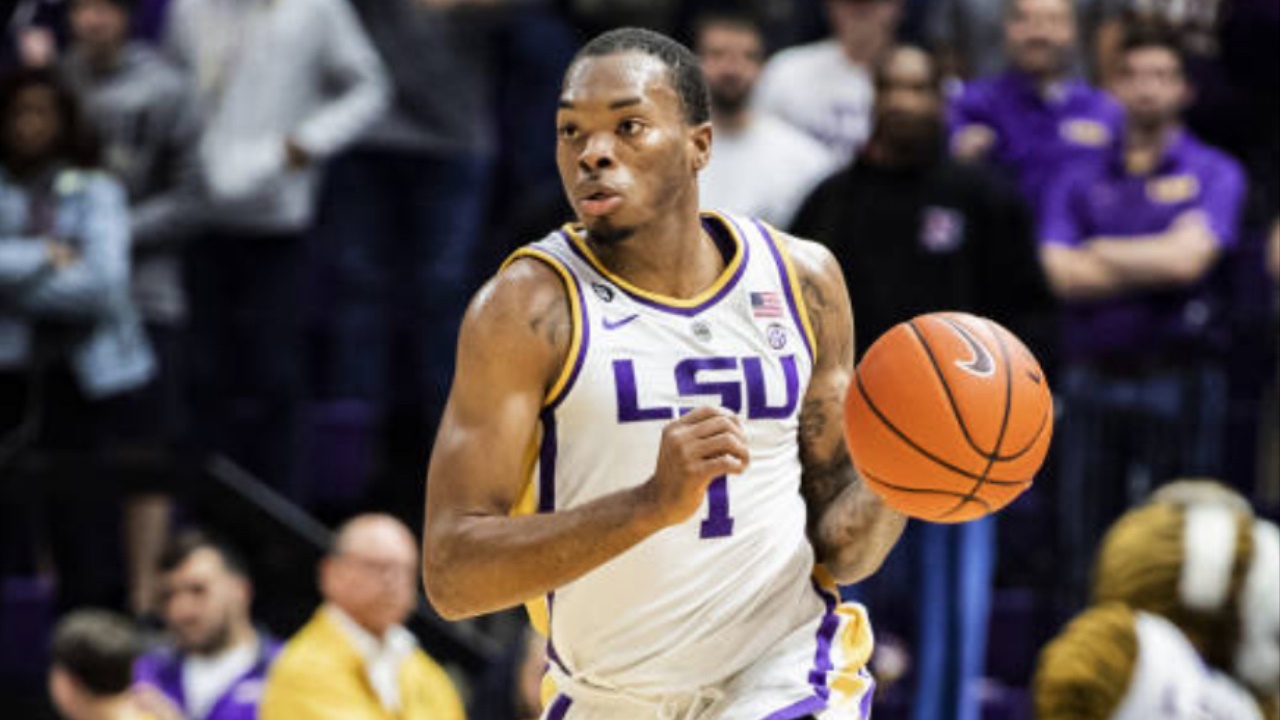 Photo by Gus Stark, LSU
LSU Basketball
Houston rallies past LSU 82-76
---
If you aren't already a premium member of TigerBait, it's time to give us a try. Subscribe now and enjoy all of the benefits of a subscription. Click here to join
Galen Robinson scored 18 points and handed out six assists as Houston overcame a 15-point second-half deficit to defeat LSU 82-76 in a non-conference game at the Fertitta Center in Houston on Wednesday night.
DECISIVE STRETCH OF THE GAME
A field goal by Naz Reid and three foul shots by Ja'vonte Smart put LSU ahead of Houston 50-35 less than one minute into the second half. The Tigers did not make another field goal until the 9:29 mark of the second half. Darius Days' basket at that time gave LSU a 59-56 lead. The Cougars did not take the lead until less than eight minutes remained in the game at 63-62 on a field goal by Nate Hinton. But, that nine-plus minute stretch enabled Houston to get back in the game. The Tigers scored seven points in that span – all on foul shots. LSU missed seven field goals attempts and committed seven turnovers as it was outscored 21-7 before Days' field goal. The Tigers never tied the score again after falling behind on Hinton's basket.
LSU PLAYER OF THE GAME
Smart was the main reason the Tigers took a 45-35 lead into halftime. Smart scored 13 of his season-high 18 points in the first half. Smart made six of his 14 field goal attempts and all five of his foul shots. Smart only scored two points in the last 19 minutes of the game when LSU was outscored 47-26.
KEY TEAM STATISTICS
Field goal shooting: Houston 42% (26-of-62), LSU 37% (21-of-57)
Three-point field goal shooting: Houston 20% (4-of-20), LSU 19% (5-of-26)
Free throw shooting: LSU 76% (29-of-38), Houston 68% (26-of-38)
Rebounds: Houston 48, LSU 35
Offensive rebounds: Houston 18, LSU 12
Second-chance points: Houston 18, LSU 6
Points off turnovers: Houston 20, LSU 9
INDIVIDUAL LEADERS
LSU
Ja'vonte Smart: 18 points
Naz Reid: 13 points
Marlon Taylor: 11 points, 5 rebounds
Tremont Waters: 10 points
Darius Days: 7 points, 5 rebounds
Skylar Mays: 7 points, 5 rebounds
Emmitt Williams: 4 points, 6 rebounds
HOUSTON
Galen Robinson: 18 points, 6 assists, 5 rebounds
Armoni Brooks: 13 points, 9 rebounds
Cedric Alley: 13 points
Fabian White: 10 points
Nate Hinton: 7 points, 8 rebounds
Brison Gresham: 1 point, 8 rebounds
NOTES
LSU's starting lineup consisted of Reid and Days in the post, Smart and Mays on the wings and Waters at point guard. Only three starters played more than 20 minutes – Smart, Mays and Waters. Two reserves played more than 20 minutes – Taylor and Williams. . .The Tigers four post players combined for only 28 points. Reid accounted for almost half of those points with 13. Reid was 4-of-8 from the field and 5-of-9 at the foul line. . .Kavell Bigby-Williams scored four points in six minutes. . .Waters and Mays had poor shooting nights. They were a combined 5-of-22 from the field, including 3-of-15 on 3-pointers. Waters made just three of his 13 shots. He missed eight of his nine 3-point shots. Mays was 2-of-9 from the field, including 2-of-6 from behind the 3-point line. . .Waters continued to have turnover problems with five. He only had two assists. . .Nine of Taylor's 11 points came at the foul line. . .Daryl Edwards returned to action and scored two points in 17 minutes. . .Brooks scored all 13 of his points in the second half for Houston. . .LSU closed the first half on a 15-4 run to go ahead 45-35. Smart scored eight of those 15 points. . .After falling behind 63-62, the Tigers had just one chance to take the lead. Edwards committed a turnover with LSU behind 69-68. The Tigers had one opportunity to tie the score, but Waters missed a 3-point shot with Houston on top 73-70. Brooks knocked down a huge 3-pointer with 3:08 remaining which gave the Cougars a 76-72 lead. . .LSU has lost nine consecutive games on the opposing team's home court. The Tigers have dropped 12 of their last 13 games away from the PMAC. . .LSU is 7-3, while Houston is 9-0. . .The paid attendance was 7,039.
UP NEXT
LSU will play Saint Mary's at T-Mobile Arena in Las Vegas on Saturday. Tipoff is scheduled for 10 p.m. Central. The Gaels (7-4) defeated Cal State Fullerton 81-66 in Moraga (Cal.) on Monday. The LSU-Saint Mary's game will be available on ESPNU.

LSU Tigers Nike Vault Logo Club Fleece Pullover Hoodie – Purple
from:
Fanatics
Never miss the latest news from TigerBait.com!
Join our free email list