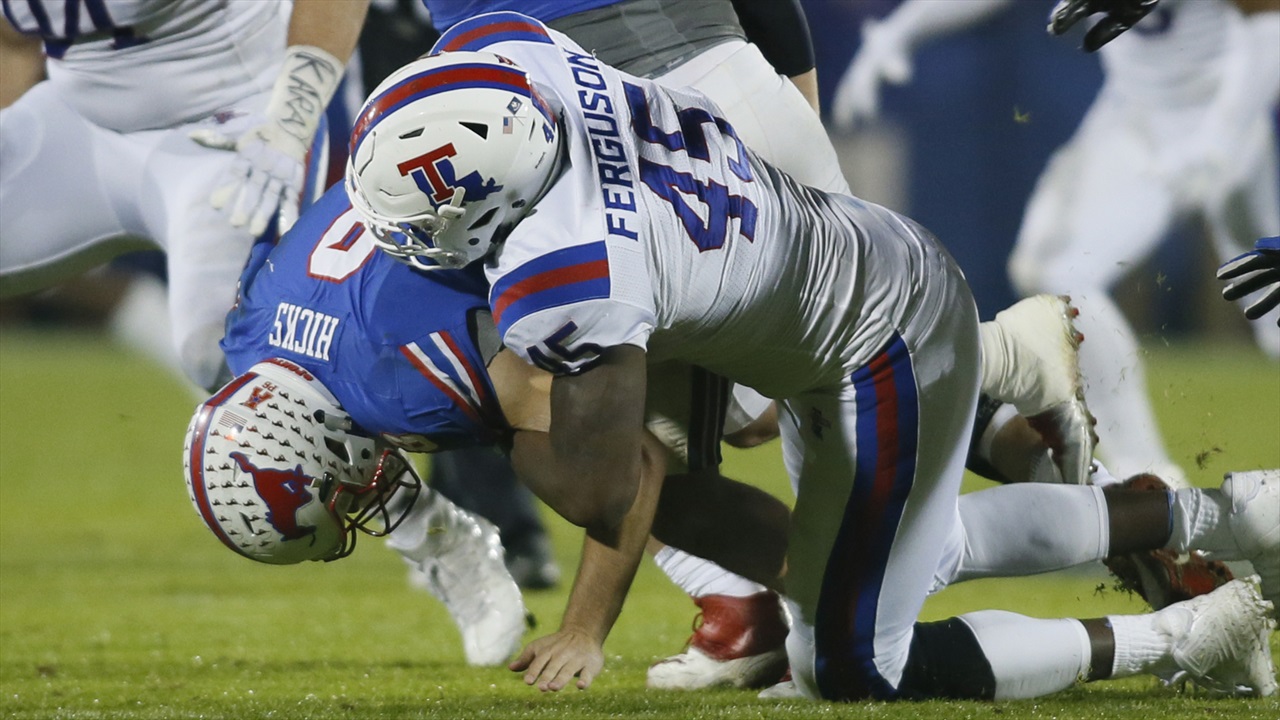 Photo by Tim Heitman-USA TODAY Sports
LSU Football
LSU season preview: Louisiana Tech
---
Jaylon Ferguson could very easily be in a NFL training camp at this time.
Instead, Ferguson will be a member of the Louisiana Tech football team for his senior season. Ferguson opted to return to school for some unfinished business.
"All of that stuff (NFL) is to come," said Ferguson at Conference USA Media Day. "I have one goal in mind – helping my team win. I'll do whatever it takes, if I have to do it on the field or on the bench. I'll worry about everything else after this season."
Ferguson, a two-time All-CUSA defensive end, is projected to be an early-round draft pick next spring. He enters his fourth season with the Bulldogs with 27½ sacks and 40½ tackles-for-loss in his career. No other active FBS player has more career sacks and tackles-for-loss.
"I'm glad Jaylon is back," Louisiana Tech coach Skip Holtz said. "We could be sitting here talking about him being a first or second-round draft pick. He came back and I think it speaks volumes for him. He came back because he's hungry. He came back because he wants to play with his teammates.
"Jaylon came back because he wants to win a conference championship. He came back because he wants a degree. Those are the intangibles that are going to make him such a special player when he has the opportunity to go to the NFL."
Holtz is preparing for his sixth season in Ruston. Under Holtz's guidance, Louisiana Tech has averaged nearly eight victories per year. The Bulldogs have won four consecutive bowl games. However, there has been no conference title for Louisiana Tech – losing league championship games in 2014 and 2016.
The Bulldogs needed a three-game winning streak to finish with a winning record a year ago. Louisiana Tech defeated UTEP and Texas-San Antonio before knocking off SMU in the Frisco Bowl. The Bulldogs lost one-point decisions to South Carolina, UAB and North Texas and an overtime game to USM.
"Last season was a year of frustration," Holtz said. "It was a year of close calls. If we find a way to win those games, we are sitting here with 11 wins. We finished strong and I think that will propel us this year. If we can turn that frustration into success, last year will have been worth it."
Ferguson is the main playmaker on a defense, which will be expected to perform better in 2018. Louisiana Tech gave up 386 yards and 25 points per game. The Bulldogs allowed more than 30 points in three of their six losses.
"We have a chance to make huge strides on defense," Holtz said. "We have some very talented players in our front seven. Our linebackers have size. Last year, we made turnovers. The biggest difference this year is how productive we can be on defense."
Besides Ferguson, Louisiana Tech has another top-flight player on defense in sophomore cornerback Amik Robertson. As a freshman, Robertson intercepted five passes and broke up six others. He also was credited with 62 tackles, including 5½ behind the line of scrimmage.
The Bulldogs offense will be built around quarterback J'Mar Smith and wide receiver Teddy Veal. In his first season as a starter, Smith accounted for more than 3,300 yards and 22 touchdowns. Veal gained 950 yards and scored seven touchdowns on 74 catches.
"The coaches put me in the best situations to make plays," said Veal, who was the CUSA Newcomer of the Year after transferring from Tulane. "I am now working on the little things. I am watching more film and preparing more mentally."
The Bulldogs will have new running backs after losing New Orleans Saints draftee Boston Scott, a 1,000-yard rusher. Jaqwis Dancy and converted tight end Kam McKnight will be at the top of the running back depth chart. Louisiana Tech returns four starters on the offensive line.
But, Holtz knows the effectiveness of the offense depends upon Smith and Veal.
"J'Mar needs to continue to grow, continue to develop," Holtz said. "He now has a great understanding of the offense. He is reading defenses. He knows where to go with the ball. J'Mar can make the routine play.
"Teddy shows up every week. He is incredibly smart, incredibly competitive. Teddy is a phenomenal talent. He can change directions and runs well after the catch. The way he works stands out."
---
LSU vs. Louisiana Tech
Date: Saturday, Sept. 22
Site: Tiger Stadium (Baton Rouge)
Louisiana Tech fast facts
Head coach: Skip Holtz, sixth year (38-28)
2017 record: 7-6, overall; 4-4, Conference USA, fourth in the Western Division
Returning starters: offense, 8; defense, 7; specialists, 1
All-CUSA candidates: WR/PR Teddy Veal (6-0, 190, Sr.), G O'Shea Dugas (6-5, 350, Sr.), C Kody Russey (6-1, 280, So.), G Ethan Reed (6-4, 295, Jr.), DE Jaylon Ferguson (6-5, 260, Sr.), DT Ka'Derrion Mason (6-3, 295, Jr.), LB Trey Baldwin (6-2, 250, Jr.), CB Amik Robertson (5-9, 170, So.) KR Jaqwis Dancy (5-11, 195, Jr.)
Returning statistical leaders
RB/KR Jaqwis Dancy: 39 carries, 262 yards, 2 touchdowns; 10 kickoff returns, 308 yards
QB J'Mar Smith: 409 attempts, 229 completions, 56% completion rate, 2,974 yards, 16 touchdowns, 5 interceptions; 119 carries, 371 yards, 6 touchdowns
WR/PR Teddy Veal: 74 catches, 950 yards, 7 touchdowns; 14 punt returns, 94 yards, 1 touchdowns
LB Dae'Von Washington: 70 tackles, 5 pass breakups
CB Amik Robertson: 5½ tackles-for-loss, 5 interceptions, 6 pass breakups
DE Jaylon Ferguson: 7 sacks, 5 quarterback-hurries
S L'Jarius Sneed: 6 pass breakups
P Davan Dyer: 19 punts, 39.1-yard average
Next: Rice
Never miss the latest news from TigerBait.com!
Join our free email list