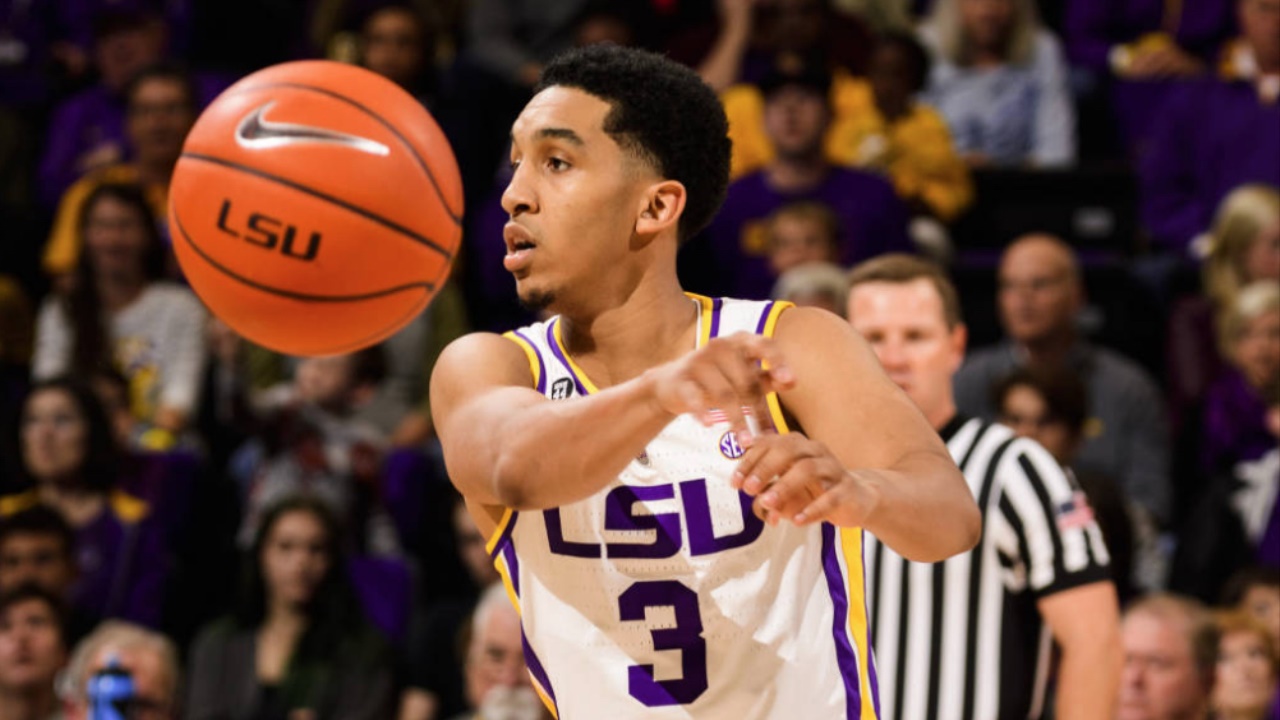 Photo by Chris Parent, LSU
LSU Basketball
LSU holds off Saint Mary's 78-74
---
If you aren't already a premium member of TigerBait, it's time to give us a try. Subscribe now and enjoy all of the benefits of a subscription. Click here to join
Tremont Waters scored 18 points as LSU held on for a 78-74 victory against Saint Mary's in a non-conference game at T-Mobile Arena in Las Vegas on Saturday night.
DECISIVE STRETCH OF THE GAME
After building a 15-point advantage in the first six minutes of the second half, the Tigers had to repeatedly weather Gaels rallies down the stretch of the game. Trailing 74-66, Saint Mary's scored six points in a ten-second span during the final minute. Malik Fitts made one foul shot and Tanner Krebs made two free throws following an offensive rebound. After a Waters turnover, Jordan Ford made a 3-pointer to leave LSU ahead 74-72 with 22 seconds to play. Waters then made just one of two free throws to give the Gaels an opportunity to tie the score. Fitts missed a 3-pointer and Kavell Bigby-Williams rebounded with six seconds remaining. Bigby-Williams made one free throw. After Ford made a layup, Skylar Mays clinched the victory with two foul shots.
LSU PLAYER OF THE GAME
Waters did not start for the first time since last season's opener. He played 30 minutes off the bench and scored 18 points. Waters was 7-of-12 from the field, including 3-of-5 on 3-pointers. Waters had three assists and two turnovers. Half of Waters' 18 points came during the last 7½ minutes of the game.
KEY TEAM STATISTICS
Field goal shooting: Saint Mary's 48% (25-of-52), LSU 45% (25-of-56)
Three-point field goal shooting: LSU 35% (6-of-17), Saint Mary's 35% (6-of-17)
Free throw shooting: LSU 88% (22-of-25), Saint Mary's 72% (18-of-25)
Rebounds: Saint Mary's 36, LSU 27
Turnovers: LSU 11, Saint Mary's 19
Bench points: LSU 36, Saint Mary's 19
Blocked shots: LSU 4, Saint Mary's 1
Steals: LSU 11, Saint Mary's 7
INDIVIDUAL LEADERS
LSU
Tremont Waters: 18 points
Emmitt Williams: 15 points, 6 rebounds
Naz Reid: 14 points, 5 rebounds
Skylar Mays: 14 points
SAINT MARY'S
Jordan Ford: 21 points
Jordan Hunter: 15 points, 6 rebounds
Malik Fitts: 9 points, 8 rebounds
Tanner Krebs: 8 points, 7 rebounds
Tommy Kuhse: 8 points, 6 assists
Dan Fotu: 7 points, 5 rebounds
NOTES
LSU's starting lineup consisted of Bigby-Williams and Reid in the post, Mays and Marlon Taylor on the wings and Ja'vonte Smart at point guard. Bigby-Williams was the only starter who did not play at least 23 minutes. Bigby-Williams was on the floor for 18 minutes. . .Williams was 4-of-6 from the field and 7-of-7 at the foul line in his 21 minutes. . .Reid made just five of his 13 field goal attempts. . .Mays was 7-of-8 at the foul line. . .Bigby-Williams had five points and two rebounds. . .Taylor had seven points in 23 minutes. He was 3-of-6 from the field. . .Smart had a poor night with two points in 30 minutes. Smart missed seven of his eight field goal attempts. . .Darius Days was scoreless in 13 minutes. Daryl Edwards had three points in 11 minutes. . .Ford scored 19 of his 21 points in the second half for Saint Mary's. . .A 9-0 run enabled LSU to go ahead 22-14 with 8:54 before halftime. Williams scored four of those nine points. The Tigers only made two field goals the rest of the first half. Saint Mary's outscored LSU 14-7 over the last eight minutes. The Tigers had a 29-28 halftime advantage. . .LSU went on a 16-2 run early in the second half to go ahead by 15 points at 47-32. Taylor scored all seven of his points in that span. Mays had five points in that stretch. . .The Tigers had a 15-point lead midway through the second half before the Gaels scored ten consecutive points. LSU answered that run with seven straight points – two field goals by Reid sandwiched around a 3-pointer by Waters. The Tigers had to withstand another push in the final minute by Saint Mary's. . .LSU is 8-3, while Saint Mary's is 7-5. . .The paid attendance was 5,107.
UP NEXT
LSU will play host to Furman at the PMAC on Friday. Tipoff is scheduled for 7 p.m. Central. The Paladins (12-0) defeated North Carolina-Wilmington 93-50 in Greenville on Saturday afternoon. The LSU-Furman game will be available on the SEC Digital Network.

LSU Tigers Nike Performance Quarter-Zip Pullover Jacket - Purple
from:
Fanatics
Never miss the latest news from TigerBait.com!
Join our free email list