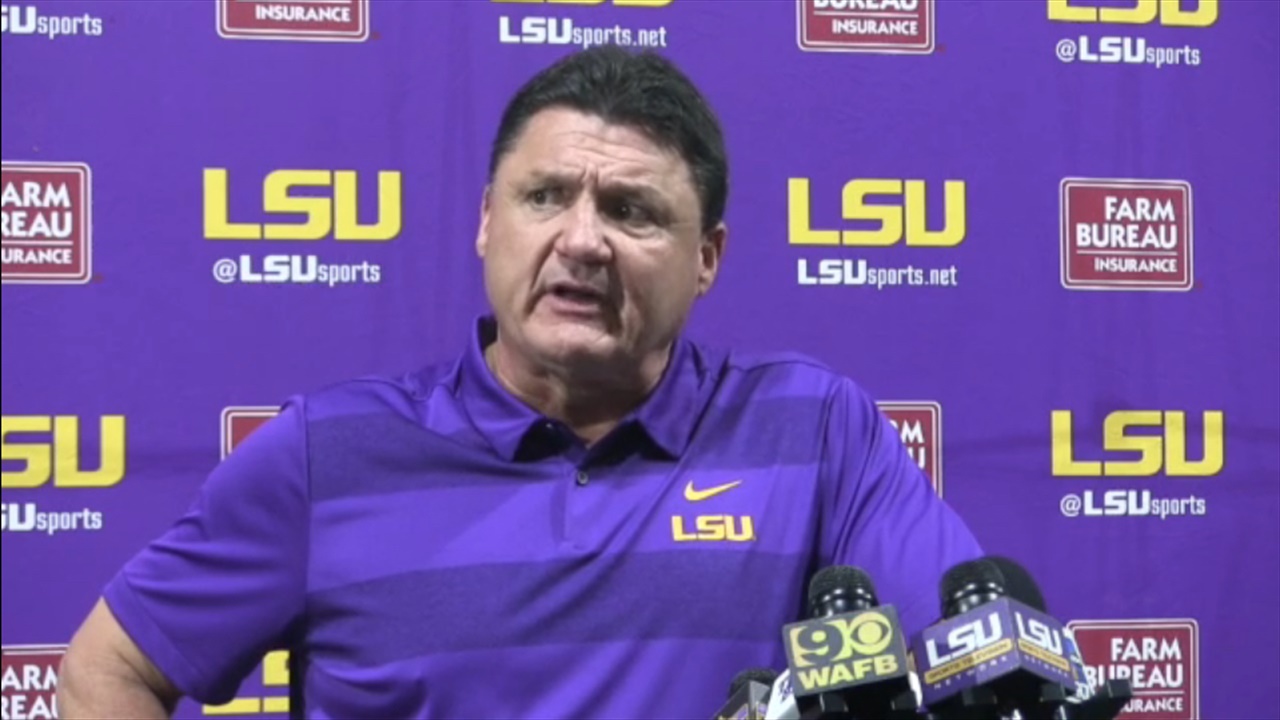 LSU Football Recruiting
Ed Orgeron dives into his LSU signing day haul
---
If you aren't already a premium member of TigerBait, it's time to give us a try. Subscribe now and enjoy all of the benefits of a subscription. Click here to join
No college football coach ever says that he signed anything but a great recruiting class.
However, LSU coach Ed Orgeron exhibited somewhat of a swagger at his post-practice press conference Wednesday evening. Orgeron felt quite confident with the 19 players who joined the Tigers on the first day of the early signing period.
"I am really excited about the work this staff did in recruiting," Orgeron said. "We have had relationships with these guys for two years. I like the character of these kids. We have a much stronger recruiting staff. We were able to go to Dallas, Utah, Michigan and Alabama to get players."
Orgeron acknowledged that LSU was able to have a different recruiting approach this December.
"Last year, we had so many holes to fill," Orgeron said. "We needed help on the line. We had to get transfers. We needed a kicker. We needed a quarterback. This time, we were not getting players just to get us better. We went out to get the best players."
Orgeron tagged a few signees as the best in the country – wide receiver Trey Palmer from Kentwood (La.), running back John Emery of Destrehan (La.), guard Kardell Thomas and running back Tyrion Davis-Price from Baton Rouge Southern Lab and defensive back Derek Stingley from Baton Rouge Dunham.
Notice those five players are from Louisiana. According to Orgeron, every in-state player offered by the Tigers signed with them or no one else. There are still two huge Louisiana targets for the February signing period – wide receiver Devonta Lee and defensive lineman Ishmael Sopsher from Amite.
LSU had 19 commitments entering Wednesday. But, the 19 signees were not the same people. Two individuals did not sign – offensive lineman Ray Parker from Ruston and defensive back Maurice Hampton from Memphis. Hampton is projected to be a high major league baseball draft pick next June.
Orgeron was quite pleased with the two new players the Tigers came away with Wednesday – defensive lineman Siaki Ika from Salt Lake City (Ut.) and defensive back Raydarious Jones from Horn Lake (Miss.).
"(Safeties coach) Bill Busch went out to Salt Lake City and signed one of the best defensive linemen in the country," Orgeron said. "Busch did one of the best recruiting jobs I have ever seen. Ika can help us right away. He is a mid-year (high school) graduate.
"(Cornerbacks coach) Corey Raymond did a good job with Jones. He is a long tall cornerback, who was the quarterback on a state championship team. Corey closed on him at the end. He reminds us a lot of Greedy Williams. We were fighting all day on the phone with a lot of recruits."
Immediate needs for the Tigers are tight end, running back and cornerback. LSU signed TK McLendon, a tight end from Copiah-Lincoln Junior College, and Charles Turner from IMG Academy in Florida. Orgeron said that Turner will move from the offensive line to become a run-blocking tight end.
Emery and Tyrion-Price are the two running backs who could quickly move up the depth chart – right behind Clyde Edwards-Helaire. Emery originally committed to Georgia.
"We didn't panic with John with his commitment (to Georgia)," Orgeron said. "We played it cool. We had a great relationship with his parents and with Destrehan. The Georgia game played a big role (in his flipping). John figured out LSU was the place for him."
The Tigers are thin at cornerback as they prepare for the Fiesta Bowl matchup with Central Florida. Williams left the team to concentrate on preparing for the NFL draft. Kristian Fulton is injured. LSU will start Terrence Alexander, who is a senior, and Kary Vincent. Stingley and Jones can play next year.
LSU has six scholarships available for the February signing period.
"We got the best Louisiana guys and that's what we are all about," Orgeron said. "We are still recruiting the best guys available. Defensive line is a priority for us."
Never miss the latest news from TigerBait.com!
Join our free email list