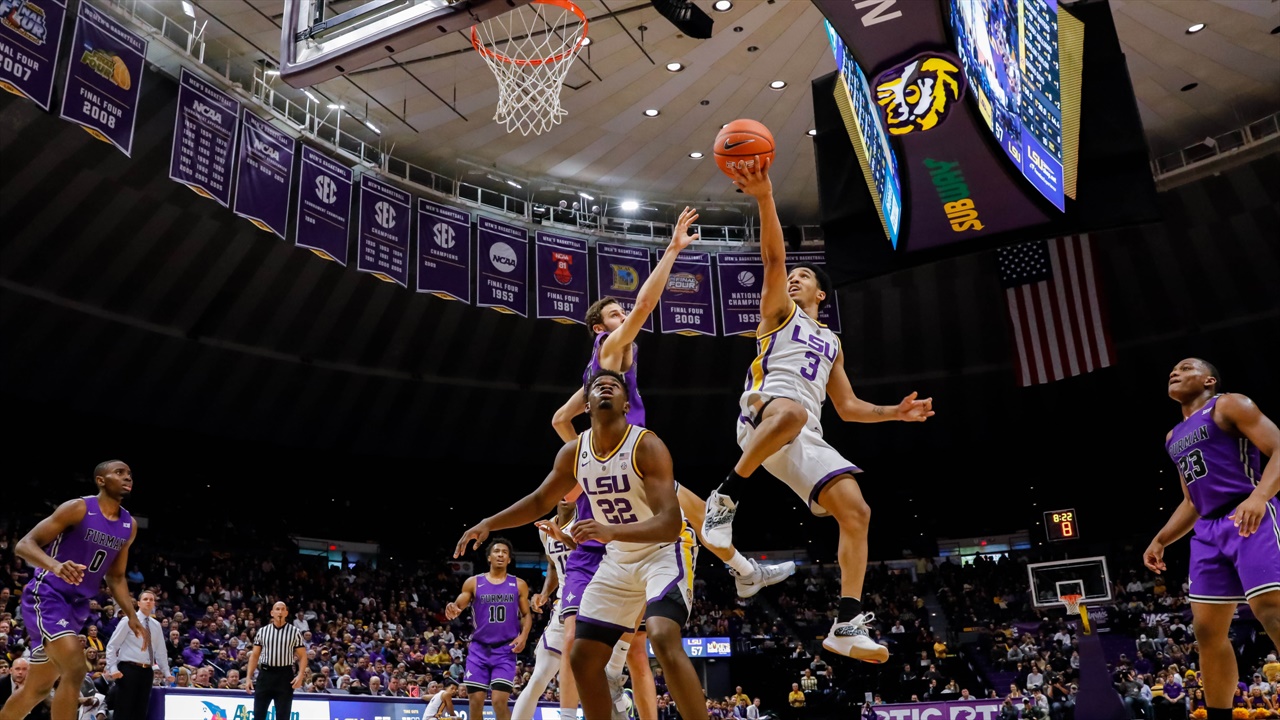 Photo by Stephen Lew-USA TODAY Sports
LSU Basketball
Tremont Waters and Bigby-Williams lead LSU past No. 24 Furman 75-57
---
If you aren't already a premium member of TigerBait, it's time to give us a try. Subscribe now and enjoy all of the benefits of a subscription. Click here to join
Tremont Waters scored 20 points and handed out seven assists and Kavell Bigby-Williams recorded a double-double with ten points and ten rebounds as LSU defeated previously unbeaten Furman 75-57 in a non-conference game at the PMAC on Friday night.
DECISIVE STRETCH OF THE GAME
Holding a 31-27 lead, the Tigers jumped on the Paladins at the outset of the second half. LSU went on a 12-3 run in the first four minutes after halftime. Naz Reid made a basket on the Tigers' first second-half possession. Skylar Mays made two field goals, including a 3-pointer, and Bigby-Williams had two baskets as the Tigers went ahead 43-30. Furman did trim its deficit to five points around the 12-minute mark of the second half, but it got no closer. LSU pulled away during the last six minutes.
LSU PLAYER OF THE GAME
Coming off the bench for the second straight game proved to be no problem for Waters, whose 20 points were one shy of his season-high. Waters, who had 18 points and three assists in a reserve role in the victory against Saint Mary's last Saturday, scored nine of his 20 points in the last six minutes when the Tigers extended their lead from eight points to 18 points in a 14-4 run. Waters had six of his seven assists in the second half. Waters did miss six of his eight 3-point field goal attempts. He played 35 minutes.
KEY TEAM STATISTICS
Field goal shooting: LSU 55% (31-of-56), Furman 38% (21-of-56)
Three-point field goal shooting: LSU 31% (4-of-13), Furman 29% (9-of-31)
Free throw shooting: Furman 67% (6-of-9), LSU 60% (9-of-15)
Rebounds: LSU 40, Furman 22
Bench points: LSU 32, Furman 8
Points in the paint: LSU 50, Furman 22
Second-chance points: LSU 16, Furman 7
INDIVIDUAL LEADERS
LSU
Tremont Waters: 20 points, 7 assists, 5 rebounds
Skylar Mays: 16 points
Kavell Bigby-Williams: 10 points, 10 rebounds
Naz Reid: 9 points, 10 rebounds
Darius Days: 4 points, 5 rebounds
FURMAN
Andrew Brown: 15 points
Jordan Lyons: 13 points
Alex Hunter: 12 points, 5 rebounds
NOTES
LSU's starting lineup consisted of Bigby-Williams and Reid in the post, Mays and Marlon Taylor on the wings and Ja'vonte Smart at point guard. Neither Reid nor Smart played 20 minutes. Reid was on the floor for 19 minutes and Smart played 17 minutes. Emmitt Williams played 20 minutes off the bench. Daryl Edwards was not in uniform because of a leg injury. . .Bigby-Williams set the tone with his defensive work on Matt Rafferty, who was averaging 17 points and ten rebounds a game. Bigby-Williams, who was the primary defender on Rafferty, limited him to nine points and four rebounds. Bigby-Williams's double-double was his second of the season. He was 4-of-6 from the field, However, he missed four of his six foul shots. . .Mays had a solid night on both ends of the floor. He made seven of his ten field goal attempts while scoring in double figures for the tenth time in 12 games. Mays, who had four steals, guarded Lyons – Furman's top scorer at 18 points per game. It took Lyons 16 shots to score his 13 points. . .Reid, who played only seven minutes in the first half, was a major contributor after halftime. Reid had seven points and eight rebounds in 12 second-half minutes. Reid was 4-of-7 from the field. . .Smart failed to score as he missed his four field goal attempts. . .Taylor, who started instead of Waters, had eight points and three rebounds. He held Clay Mounce, who was averaging 12 points a game, scoreless. . .Williams had eight points and two rebounds. Williams and Days were a combined 5-of-5 from the field. . .The Tigers committed 17 turnovers – four each by Waters and Smart. . .LSU led for all but five minutes of the game. The Tigers held a 31-27 halftime advantage. . .The 57 points were a season-low for Furman, which had won its first 12 games of the season. . .The 18-point margin of victory was the largest for LSU against a ranked team in three seasons. The Tigers beat No. 9 Kentucky 85-67 in the 2015-16 campaign. The last time LSU beat a ranked opponent by more than 18 points happened in the 1999-2000 season when it defeated No. 5 Arizona 86-60. . .The Tigers are now 2-6 against ranked opponents under coach Will Wade. The other victory came at Texas A&M last season. . .LSU extended its homecourt winning streak to 14 games – matching the sixth longest in the PMAC. . .The Tigers are 9-3. . .The paid attendance was 9,765. The actual crowd was a little more than 6,000.
FROM THE LOCKERROOM
Coach Will Wade's comments: "It was a good win. We did a good job on the backboards. We did a good job contesting their 3s. We controlled the game playing inside-out. We only turned it over three times in the second half and that's where we were able to get separation. The 14 turnovers in the first half were way too many. I'm proud of how we played."
UP NEXT
LSU will play host to Louisiana-Monroe at the PMAC next Friday. Tipoff is scheduled for 7 p.m. Central. The Warhawks (7-4) defeated played Coppin State 80-63 in Monroe on Friday night. The LSU-UL-Monroe game will be available on the SEC Digital Network.

LSU Tigers Nike Element Performance Half-Zip Pullover Jacket - Heathered Gray
from:
Fanatics
Never miss the latest news from TigerBait.com!
Join our free email list