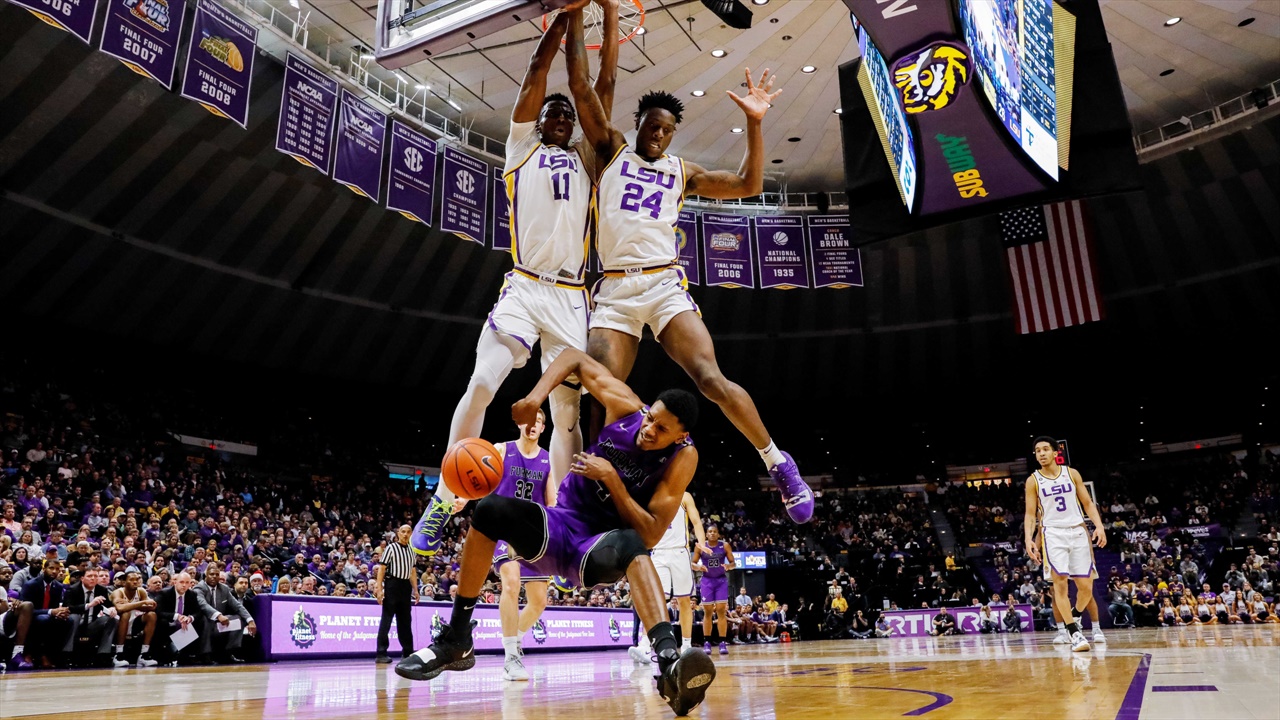 Photo by Stephen Lew-USA TODAY Sports
LSU Basketball
LSU's defense rules the night
---
If you aren't already a premium member of TigerBait, it's time to give us a try. Subscribe now and enjoy all of the benefits of a subscription. Click here to join
Very rarely has LSU knocked off a nationally-ranked team in recent seasons.
In fact, the Tigers had just eight victories against a ranked opponent in the previous 11 years.
Even more rare than a victory over a ranked opponent was such a game in which the LSU defense was the main storyline.
However, that scenario played out for the Tigers against No. 24 Furman at the PMAC on Friday. For just the second time in eight chances since Will Wade became coach, LSU knocked off a nationally-ranked team.
This victory was not a nail-biter as the Tigers pulled away during the final six minutes to defeat the Paladins 75-57. This was a Furman team which had road victories against Loyola Chicago and Villanova – a Final Four participant and the national champion, respectively, last season.
The 18-point victory was the largest for LSU against a ranked team since it defeated No. 9 Kentucky 85-67 three seasons ago. It has been 19 seasons since the Tigers had a victory by more than 18 points against a ranked opponent. LSU pounded No. 5 Arizona 86-60 in January, 2000.
Now, let's get to some facts surrounding the Tigers defense.
The last time LSU held a ranked team to as few as 57 points in a victory occurred 12 seasons ago. The Tigers beat No. 3 Florida 66-56 in February, 2007.
The last time LSU knocked off a ranked team by at least 18 points and held it to 57 points or less took place some 27 seasons ago. That Shaquille O'Neal-led Tigers squad beat No. 14 Kentucky 74-53.
"We guarded (Furman) really well," Wade said. "They are a really, really good offensive team. We contested a lot of shots. Our defense helped our offense as well."
Just check out these numbers.
Furman was averaging 84 points a game. It scored 57. The Paladins were shooting 49 percent from the field. They made 38 percent of their field goal attempts. Furman was shooting 37 percent on 3-pointers. It made 29 percent of its 3-point shots.
In addition, the LSU defense produced extra possessions. The Paladins were averaging 12 turnovers a game. They made 17. Furman opponents were averaging seven steals per game. The Tigers had 11.
All three of the Paladins' double-figure scorers were contained by the LSU defense. Jordan Lyons scored 13 points – five below his per-game average. Matt Rafferty had nine points – eight below his per-game average. Clay Mounce, who was averaging 12 points a game, did not score.
Lyons was guarded most of the game by Skylar Mays. Lyons was 5-of-16 from the field, including 2-of-7 on 3-pointers. Wade made the decision to put the shorter Marlon Taylor on Mounce, who got off only two shots in 19 minutes.
The key defensive performance came from Kavell Bigby-Williams against Rafferty through whom goes the Furman offense. Bigby-Williams' length really bothered Rafferty, who took seven shots. Moreover, Rafferty had four rebounds and two assists. He was averaging ten boards and five assists per game.
"Kavell's defense on Rafferty was important because we didn't have to double him," Wade said. "Marlon gave us good energy again. He did a good job starting out on Mounce. He did a good job shutting him down. Marlon is solving our issue with these mismatched 4-men."
Notice there has been no mention yet of what happened when LSU had the basketball. The one negative was a sloppy first half when the Tigers committed 14 turnovers. But, things got cleaned up after halftime. Tremont Waters had ten points, six assists and no turnovers after halftime.
The way LSU whipped Furman was encouraging. The Tigers won not because of an outstanding shooting night by a couple of players. Instead, LSU dominated the paint and defended the offensively efficient Paladins very well. That recipe can be successful in the Southeastern Conference.

LSU Tigers Nike Element Performance Half-Zip Pullover Jacket - Heathered Gray
from: Fanatics
Never miss the latest news from TigerBait.com!
Join our free email list