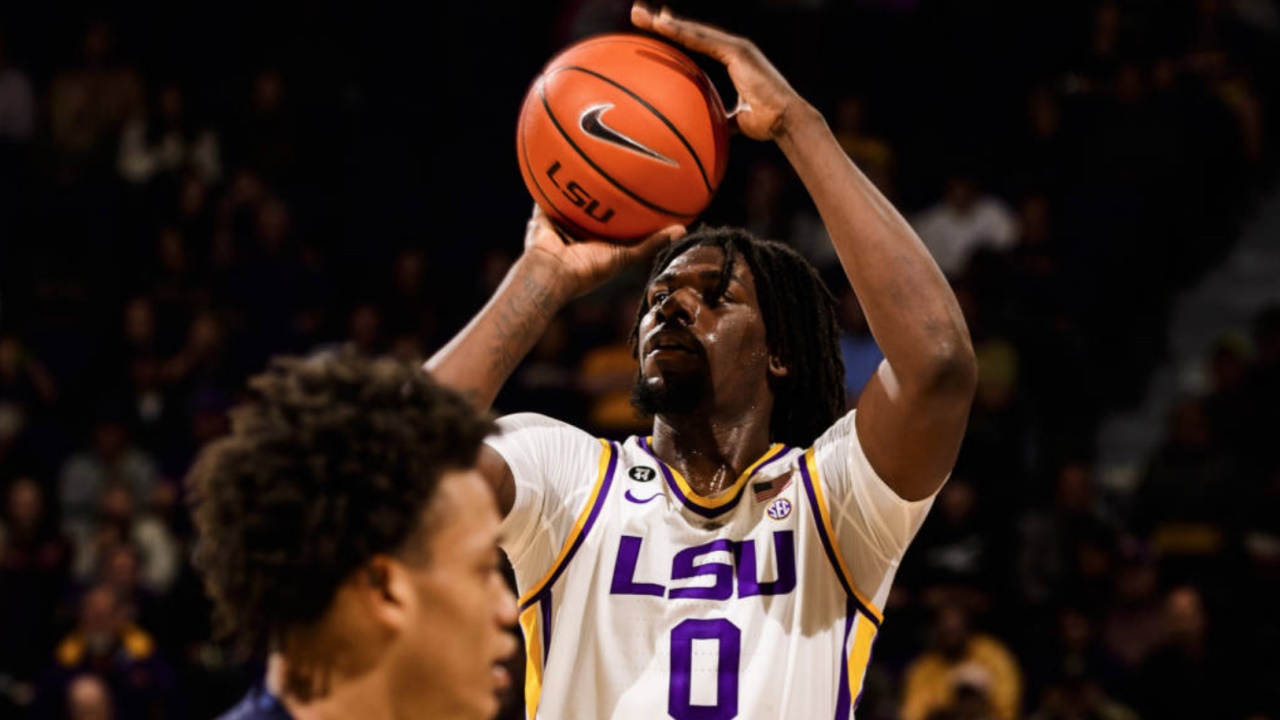 Photo by Chris Parent, LSU
LSU Basketball
New-look Tigers team putting together good pre-SEC worksheet
---
If you aren't already a premium member of TigerBait, it's time to give us a try. Subscribe now and enjoy all of the benefits of a subscription. Click here to join
A pre-Southeastern Conference schedule which began in early November will finally come to a conclusion Friday when LSU plays host to Louisiana-Monroe at the PMAC (7 p.m. Central/SEC Digital Network).
The Tigers are coming off their best non-conference victory – a 75-57 decision against then No. 24-ranked and undefeated Furman. That victory boosted LSU's record to 10-3 with two of the losses coming in tight games against once-beaten Florida State and unbeaten Houston.
With a victory against the 7-4 Warhawks, the Tigers will finish with their best pre-SEC record in four seasons. LSU went 11-2 prior to the start of conference play in 2014-15.
In the previous ten seasons, there were only two other occasions when the Tigers went better than 11-3 before the SEC schedule began – 12-2 in 2008-09 and 9-2 in 2012-13.
One should realize that concluding this season's pre-SEC schedule at 11-3 would be quite an accomplishment considering the makeup of the roster. Just three players on this season's team were in a LSU uniform last season – point guard Tremont Waters and wings Skylar Mays and Daryl Edwards.
Of this trio, only Mays has been a consistent performer so far this season. Due to his rather mediocre play, Waters has been coming off the bench the last two games. Waters has delivered two of his best games of the season as a backup. Edwards' playing time has been limited because of a leg injury.
So, second-year Tigers coach Will Wade has been forced to rely upon six newcomers – four freshmen, one four-year transfer and one junior college transfer. Three other newcomers are being redshirted by Wade – freshman Aundre Hyatt and junior college transfers Courtese Cooper and Danya Kingsby.
At least three newcomers have been in the starting lineup every game – normally Ja'vonte Smart, Naz Reid and Emmitt Williams. Since Waters has been removed from the starting lineup, a fourth newcomer has taken over for him – Marlon Taylor.
Smart is the lone newcomer to start every game – ten as a wing and the past two games at point guard with Waters on the bench. Reid has been a starting post player except for two games when he was bothered by an ankle injury.
On most occasions, Williams has been the other starting post player. Kavell Bigby-Williams has been in the starting lineup when Wade wants to go with two taller post players. Darius Days, a shorter post player like Williams, has also received a few starts.
The four Tigers freshmen – Reid, Smart, Williams and Days – are averaging a combined 37.4 points and 19.8 rebounds per game. The three freshmen post players – Reid, Williams and Days – are all making at least 48 percent of their field goal attempts.
Bigby-Williams, a transfer from Oregon, and Taylor, a junior college transfer, are averaging a combined 13.3 points and 7.5 rebounds per game. Bigby-Williams is shooting a team-best 67 percent from the field. Both Bigby-Williams and Taylor have provided much energy on the defensive end of the floor.
The four freshmen have been up-and-down as one would expect. Reid is beginning to shoot the ball at a higher percentage as he has reduced the number of 3-point shots. Smart has not been as productive since starting at point guard. Both Williams and Days have been active rebounders.
Louisiana-Monroe has dropped all three of its games against power conference teams – by 10 points at Texas, by 21 points at Michigan State and by 23 points at Ole Miss.
ULM's top scorer is 6-foot-1 senior wing Daishon Smith (18.0 points per game). The Warhawks' best all-around performer is 6-6 senior post player Travis Munnings (14.5 points, 6.6 rebounds, 2.6 assists per game).
Here are the statistics for LSU's six newcomers on the roster.
FRESHMEN
Naz Reid: 10 starts, 23 minutes, 12.1 points, 5.3 rebounds, 1.2 assists, 48% FG shooting, 30% 3-point FG shooting, 69% FT shooting
Ja'vonte Smart: 12 starts, 28 minutes, 10.3 points, 3.1 rebounds, 2.8 assists, 42% FG shooting, 32% 3-point FG shooting, 85% FT shooting
Emmitt Williams: 7 starts, 24 minutes, 8.6 points, 6.5 rebounds, 0.8 blocked shots, 64% FG shooting, 73% FT shooting
Darius Days: 3 starts, 17 minutes, 6.4 points, 4.9 rebounds, 1.1 steals, 52% FG shooting, 29% 3-point FG shooting, 85% FT shooting
TRANSFERS
Kavell Bigby-Williams (Oregon): 4 starts, 17 minutes, 7.3 points, 4.8 rebounds, 2.2 blocked shots, 67% FG shooting, 58% FT shooting
Marlon Taylor (junior college): 2 starts, 18 minutes, 6.0 points, 2.7 rebounds, 0.5 steals, 46% FG shooting, 29% 3-point FG shooting, 63% FT shooting

LSU Tigers Nike 2017 Coaches Sideline Shield Hybrid Half-Zip Jacket - Gray
from:
Fanatics
Never miss the latest news from TigerBait.com!
Join our free email list