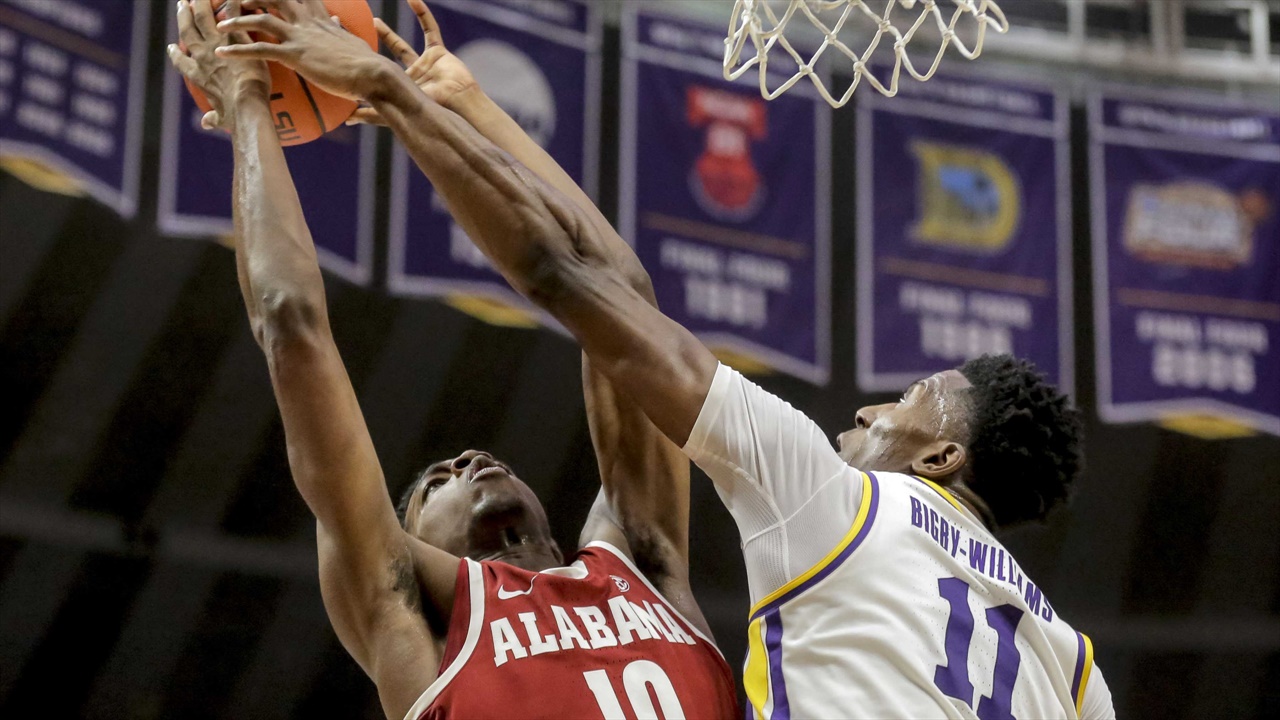 Photo by Derick E. Hingle-USA TODAY Sports
LSU Basketball
LSU beats Alabama 88-79 in SEC opener
---
Kavell Bigby-Williams recorded a double-double with 14 points and 13 rebounds and Tremont Waters scored a game-high 19 points as LSU defeated Alabama 88-79 in its Southeastern Conference at the PMAC on Tuesday night.
DECISIVE STRETCH OF THE GAME
Although the Tigers would hold off a Crimson Tide rally late in the game, they took control during the final four minutes of the first half. Holding a six-point advantage, LSU closed the half on a 14-5 run. Emmitt Williams started the outburst with his first 3-pointer of the season. Ja'vonte Smart knocked down two 3-pointers. Darius Days banked in a 3-point shot with one second remaining to put the Tigers on top 43-28.
LSU PLAYER OF THE GAME
Bigby-Williams was the best post player on the floor. Besides scoring 14 points and grabbing 13 rebounds, Bigby-Williams blocked five shots. The 14 points matched his season-high, while his 13 rebounds were a season-best. The double-double was Bigby-Williams' third of the season. . .Bigby-Williams was 5-of-7 from the field and 4-of-4 at the foul line. He had made just 58 percent of his free attempts prior to the game. Alabama center Donta Hall finished with seven points and six rebounds. He was averaging 11 points and eight rebounds on the year. Bigby-Williams scored 12 of his 14 points after halftime.
KEY TEAM STATISTICS
Field goal shooting: LSU 49% (28-of-57), Alabama 40% (25-of-62)
Three-point field goal shooting: LSU 67% (10-of-15), Alabama 29% (7-of-24)
Free throw shooting: Alabama 85% (22-of-26), LSU 82% (22-of-27)
Rebounds: Alabama 36, LSU 35
Blocked shots: LSU 8, Alabama 2
INDIVIDUAL LEADERS
LSU
Tremont Waters: 19 points, 7 assists
Ja'vonte Smart: 15 points, 5 assists
Kavell Bigby-Williams: 14 points, 13 rebounds, 5 blocked shots
Darius Days: 14 points
Marlon Taylor: 4 points, 5 rebounds
ALABAMA
Kira Lewis: 15 points
Alex Reese: 12 points
Herbert Jones: 10 points, 5 rebounds, 5 assists
John Petty: 9 points, 8 rebounds
Donta Hall: 7 points, 6 rebounds
NOTES
LSU's starting lineup consisted of Kavell Bigby-Williams and Reid in the post, Skylar Mays and Taylor on the wings and Waters at point guard. Reid played only 17 minutes before fouling out. Mays played a team-high 36 minutes. Daryl Edwards was once again not in uniform because of a leg injury. . .Waters was as instrumental in the Tigers victory as Bigby-Williams. He was 6-of-9 from the field, including 2-of-2 on 3-pointers. Waters made five of his seven foul shots. He committed three turnovers. . .Coming off the bench for the first time this season, Smart scored his most points in four games. Smart was just 4-of-11 from the field, but he did make a season-high three 3-pointers – all in the first half. Smart made just one turnover in 29 minutes. . .Taylor, who made his fourth straight start, was 2-of-6 from the field. He had a season-high three steals. . .Days scored a season-high 14 points in only 20 minutes off the bench. Days was 5-of-10 from the field. The five field goals equaled his season-high. . .Reid had seven points, one rebound and three blocked shots. Reid committed four of the Tigers' 16 turnovers. . .Mays finished with only eight points as he missed four of his six field goal attempts. . .Williams had seven points and two rebounds in 18 minutes. . .LSU made 67 percent of its 3-point shots (10-of-15). The Tigers were 8-of-10 from behind the 3-point line in the first half. . .LSU held a double-digit advantage until just under the eight-minute mark of the second half. Petty made three free throws to put Alabama behind 70-61. The Crimson Tide got as close as four points at 79-75 after Riley Norris made two foul shots with 1:46 to play. The Tigers scored on back-to-back possessions off offensive rebounds – one by Bigby-Williams and one by Taylor. Those two baskets gave LSU a 83-75 lead with 1:05 remaining. . .LSU ended a five-game losing streak against Alabama. . .The Tigers extended their homecourt winning streak to 16 games – which matches the fifth longest in PMAC history. LSU also won 16 straight home games during the 1991-92 and 1992-93 seasons. . .The Tigers won their first SEC opener in three seasons. LSU beat Vanderbilt 90-82 in 2016. . .The Tigers are 11-3 overall. Alabama is 10-4 overall, 1-1 in the SEC. . .The paid attendance was 9,718. The actual crowd was a little less than 7,000.
FROM THE LOCKERROOM
Coach Will Wade's comments: "We played extremely, extremely well in the first half. The defensive effort in the first half was about as good as we've had all year against a high-level opponent. The second half was a little more helter-skelter. Their zone changed the game. We got stagnant against the zone. Kavell was a huge difference maker in this game. He had five blocks, the rebounds, the double-double. It was the difference from last year to this year just having him. Our guard play was tremendous. Days came in and gave us some extra spark off the bench. It was a total team effort which is what it takes in SEC play."
UP NEXT
LSU will play Arkansas at Bud Walton Arena in Fayetteville on Saturday. Tipoff is scheduled for 5 p.m. Central. The Razorbacks (10-3, 1-0) will play host to Florida in Fayetteville on Wednesday night. The LSU-Arkansas game will be available on the SEC Network.
Never miss the latest news from TigerBait.com!
Join our free email list