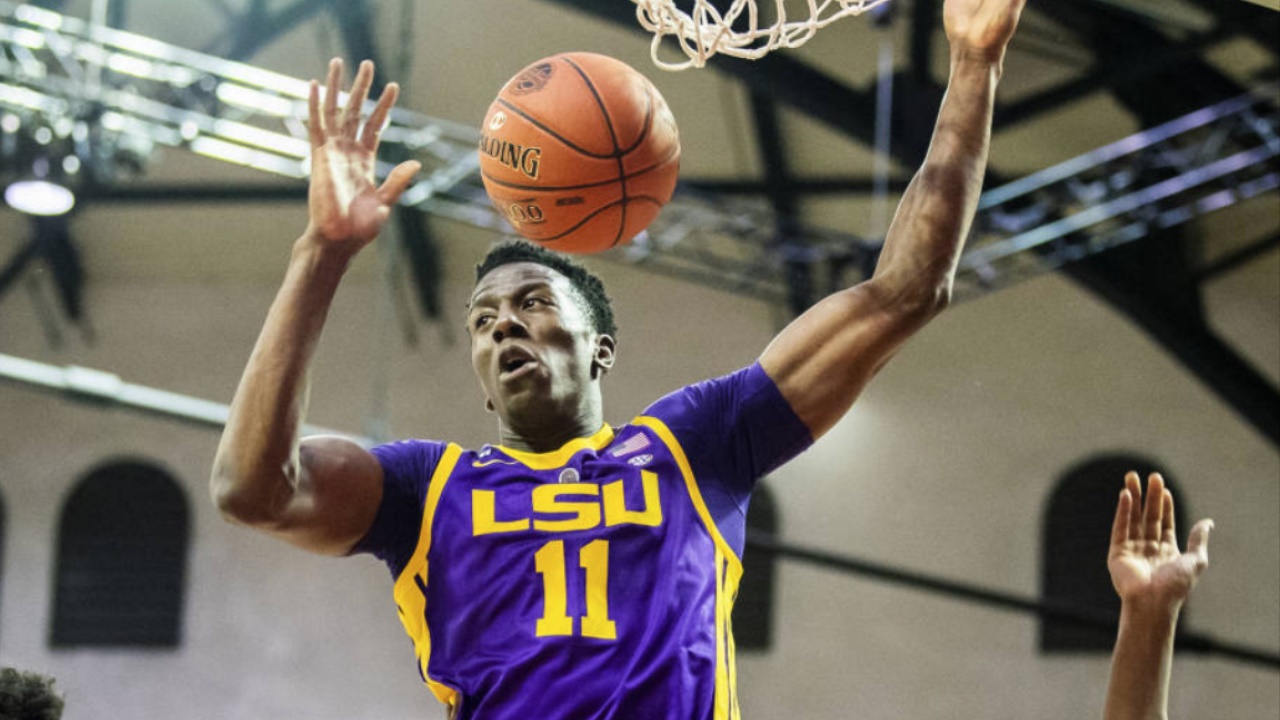 Photo by Gus Stark, LSU
LSU Basketball
LSU must now end a SEC streak
---
Earlier this week, LSU kept alive its homecourt winning streak by defeating Alabama in its Southeastern Conference opener.
The Tigers have now won seven straight games against SEC teams – part of a 16-game winning streak at the PMAC.
On Saturday, LSU will begin its SEC road schedule against Arkansas at Bud Walton Arena in Fayetteville (5 p.m. Central/SEC Network). The Tigers have not won a game on its opponent's home floor in slightly more than one year.
LSU whipped the Razorbacks 75-54 last Jan. 10 in Fayetteville. Since that night, the Tigers have dropped nine consecutive true road games – seven in SEC venues. If LSU is going to be a NCAA tournament team, it must be successful on the road in the conference.
"Of the road games we lost last year, maybe South Carolina was an even match," Tigers coach Will Wade said. "Auburn was light years better than us. So was Tennessee. It wasn't like we were dropping games to bad teams.
"Still, we lost road games to guys in our weight class – Georgia, South Carolina, Vanderbilt. We've got to shore things up and play with a much sharper edge on the road. The players must understand what it takes to overrun somebody in their own gym. I don't know if we're to that point yet."
Arkansas has split its first two SEC games. However, the Hogs won on the road – at Texas A&M – and lost at home – to Florida. The Razorbacks rarely drop back-to-back games at Bud Walton Arena. Moreover, Arkansas lost twice last season to LSU – including the 21-point beatdown at home.
"These are different teams from last year," Wade said. "Just two of their top nine played last year and just two of our top eight played last year. I have to get through to our guys how tough a game this will be in that environment. This is the first game on the road in SEC play with this group.
"We're going to have to be a lot more connected than our last away game at Houston. We kind of came unglued there. It will be a similar type of environment with a lot more people. We have to play with a lot more attention to detail with an understanding that everything matters when you play on the road."
One critical matchup Saturday will involve the two centers – Arkansas' Daniel Gafford and LSU's Kavell Bigby-Williams. It was Bigby-Williams, who enabled the Tigers to beat Alabama. Bigby-Williams had 14 points, 13 rebounds and five blocked shots. Donta Hall was limited to nine points and seven boards.
"Kavell was a huge difference-maker against Alabama," Wade said. "I said in the offseason that we would have won more games last year if we had Kavell. We don't win against Alabama without him."
Bigby-Williams has turned in his best games in his last two starts – against Furman and Alabama. In those two contests, Bigby-Williams totaled 24 points and 23 rebounds. He was 9-of-13 from the field. For the season, Bigby-Williams is averaging seven points and five rebounds in 17 minutes a game.
Gafford, who could be a first-round NBA draft pick in June, is averaging 16.4 points and 9.6 rebounds per game. Bigby-Williams will have a greater challenge with Gafford than he had with Hall.
"We'll see how prepared Kavell will be," Wade said. "He has to put together back-to-back good games. Kavell needs to continue to prepare well. He has to focus on the little things and do the extra preparation that he's been doing. We need him to play well in a tough matchup with Gafford."
Never miss the latest news from TigerBait.com!
Join our free email list