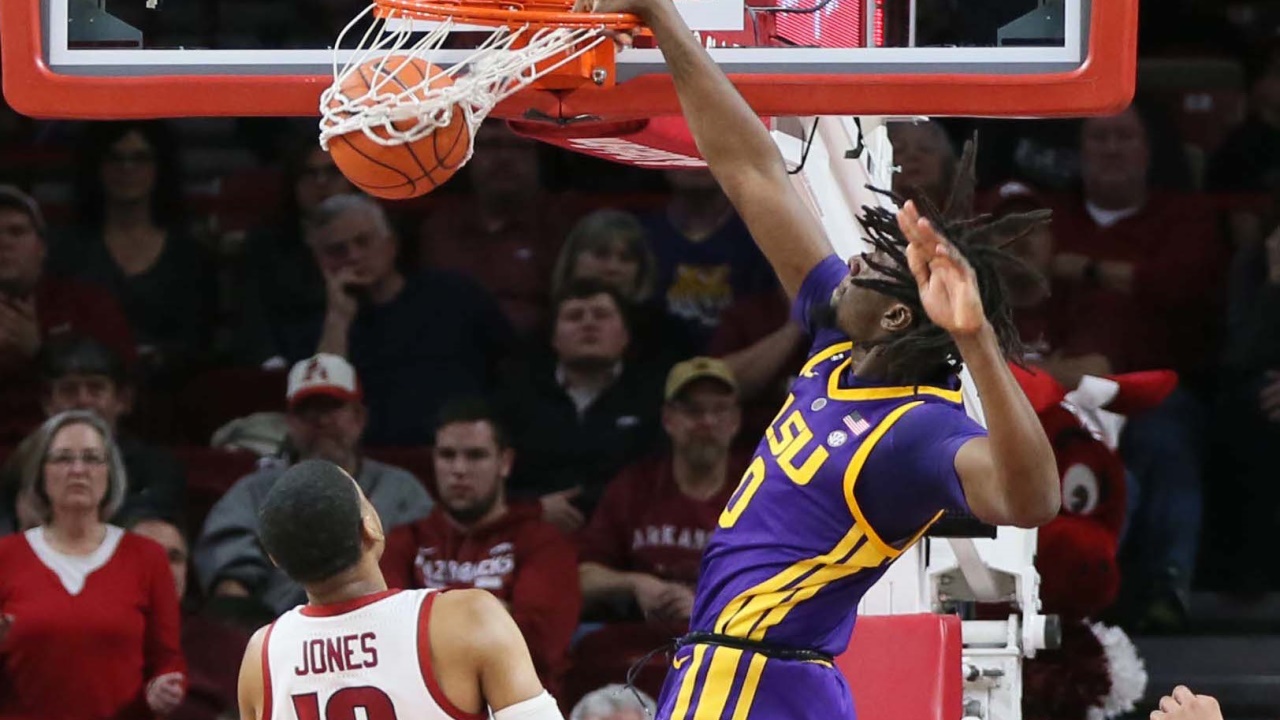 Photo by Nelson Chenault-USA TODAY Sports
LSU Basketball
LSU tops Arkansas 94-88 in overtime
---
Freshmen Ja'vonte Smart and Naz Reid made key 3-point shots in overtime as LSU defeated Arkansas 94-88 in a Southeastern Conference game at Bud Walton Arena in Fayetteville on Saturday night.
DECISIVE STRETCH OF THE GAME
The Tigers could not hold a double-digit second-half advantage and found themselves in overtime against the Razorbacks. After Arkansas took its first lead of the game on a basket by Daniel Gafford less than 20 seconds in overtime, LSU went ahead 87-83 on 3-pointers by Smart and Reid. The Hogs would make it a one-possession game twice, but the Tigers answered with points both times. Leading 87-85, LSU got a basket by Tremont Waters with 1:58 remaining in the extra period. With the Tigers on top 89-86, Skylar Mays converted a three-point play with 1:29 left in overtime. Mays' points sealed the victory for LSU.
LSU PLAYER OF THE GAME
Reid was outstanding as he scored 27 points in just 26 minutes. Reid was 10-of-12 from the field and he made all four of his 3-point shots. In addition, Reid grabbed seven rebounds. Reid was consistent throughout the game as he had 12 points in the first half, ten points in the second half and five points in the overtime period.
KEY TEAM STATISTICS
Field goal shooting: LSU 52% (33-of-64), Arkansas 52% (34-of-66)
Three-point field goal shooting: LSU 40% (10-of-25), Arkansas 19% (3-of-16)
Free throw shooting: LSU 82% (18-of-22), Arkansas 61% (17-of-28)
Rebounds: LSU 36, Arkansas 31
Assists: Arkansas 21, LSU 15
Points in the paint: Arkansas 53, LSU 44
Points off turnovers: LSU 23, Arkansas 17
INDIVIDUAL LEADERS
LSU
Naz Reid: 27 points, 7 rebounds
Marlon Taylor: 21 points, 7 rebounds
Tremont Waters: 17 points, 11 assists
Skylar Mays: 15 points
Emmitt Williams: 6 points, 10 rebounds
ARKANSAS
Daniel Gafford: 32 points, 7 rebounds
Mason Jones: 22 points, 6 rebounds
Reggie Chaney: 12 points, 5 rebounds
Jalen Harris: 7 points, 6 assists
Isaiah Joe: 5 points, 5 rebounds
Desi Sills: 0 points, 5 assists
NOTES
LSU's starting lineup consisted of Kavell Bigby-Williams and Reid in the post, Mays and Taylor on the wings and Waters at point guard. Bigby-Williams played only 18 minutes before fouling out. Both Waters (42) and Mays (41) were on the floor for more than 40 minutes. . .Taylor enjoyed his best night in a LSU uniform with his 21 points and seven rebounds. Taylor missed only one of his eight field goal attempts. He also sank all six of his foul shots. . .Waters was 6-of-15 from the field while scoring his 17 points. Waters missed five of his six 3-point shots. Waters had three steals to go along with his 11 assists. Waters committed seven of the Tigers' 19 turnovers. . .Mays also shot poorly as he was 5-of-13 from the field, including 2-of-6 on 3-pointers. . .Bigby-Williams was no factor as he got into foul trouble trying to defend Gafford. . .Williams was LSU's best bench player. He made all three of his field goal attempts. . .Smart had eight points in 23 minutes. Smart was 2-of-7 from the field and committed four turnovers. . .Darius Days was scoreless in 12 minutes. He missed all four of his shots from the field – three from 3-point range. . .LSU had no answer for Gafford, who was 14-of-19 from the field. . .The Tigers had two nine-points leads in the first half – 45-36 and 47-38. A 3-pointer by Taylor with two seconds remaining sent LSU into the locker room on top 50-42. . .The Tigers built a 13-point advantage at 61-48 on a basket by Taylor with 16:41 remaining in regulation. . .Trailing 73-61, the Razorbacks scored 12 points in a row to tie the score. A field goal by Chaney evened the score at 73-73 with five minutes to play. During that stretch, LSU missed four field goal attempts and two front ends of one-and-ones and committed two turnovers. . .The game was tied on three other occasions in the last five minutes. The Tigers had the last possession of regulation. Both Waters and Reid missed game-winning shots. . .LSU won back-to-back games in Fayetteville for the first time since Arkansas joined the SEC in 1992. . .The Tigers ended a nine-game losing streak in true road games. LSU's last victory on the opponent's home court came at Bud Walton Arena 75-54 over the Hogs last January. . .The Tigers are 12-3 overall, 2-0 in the SEC. LSU has won its first two conference games for the first time in three seasons. In 2016, the Tigers started the league schedule with victories at Vanderbilt and against Kentucky at the PMAC. . .LSU won its first overtime game on the road in the SEC in four seasons. The Tigers beat Vanderbilt in overtime in Nashville in 2015. . .Arkansas is 10-5 overall, 1-2 in the SEC. . .The paid attendance was 17,361. The actual crowd was 11,525.
UP NEXT
LSU will play Ole Miss at The Pavilion in Oxford on Tuesday. Tipoff is scheduled for 8 p.m. Central. The Rebels (13-2, 3-0) beat Mississippi State 81-77 in Starkville on Saturday afternoon. The LSU-Ole Miss game will be available on the SEC Network.
Never miss the latest news from TigerBait.com!
Join our free email list