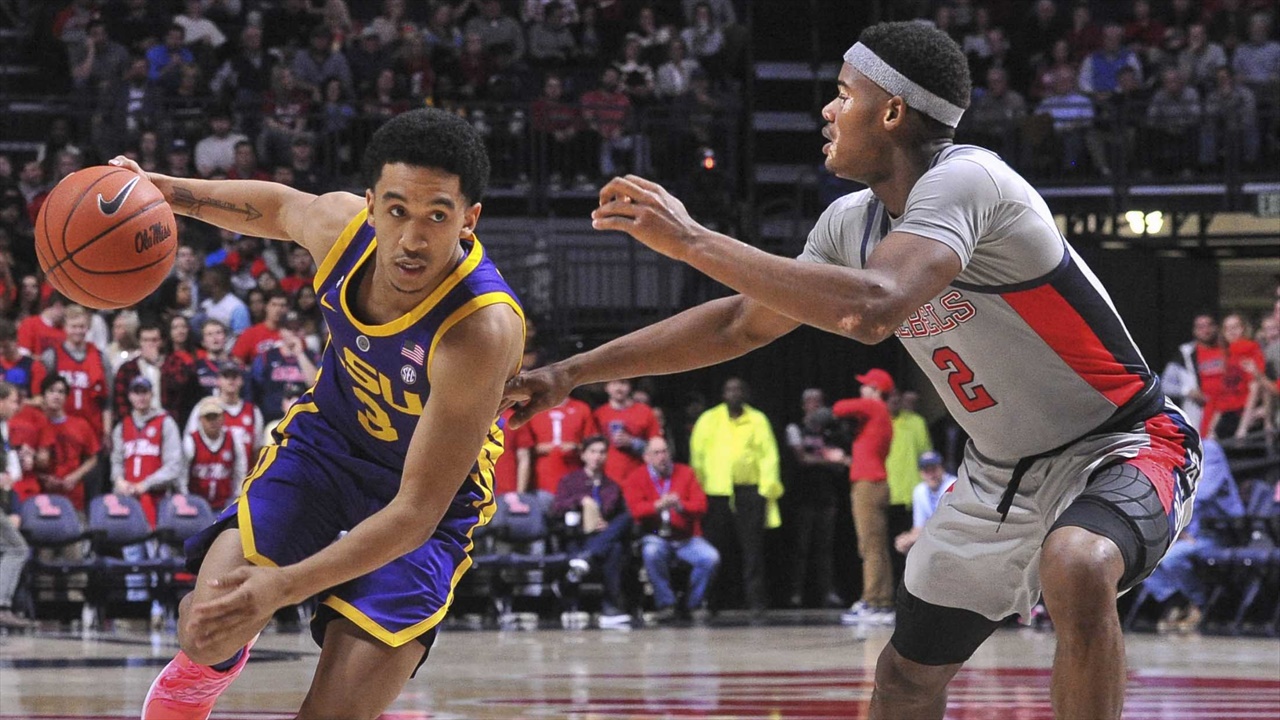 Photo by Justin Ford-USA TODAY Sports
LSU Basketball
LSU wins at Ole Miss 83-69 behind Waters and Bigby-Williams
---
If you aren't already a premium member of TigerBait, it's time to give us a try. Subscribe now and enjoy all of the benefits of a subscription. Click here to join
Tremont Waters scored 20 points and handed out nine assists and Kavell-Bigby Williams recorded a double-double as LSU defeated Ole Miss 83-69 in a Southeastern Conference game at The Pavilion in Oxford on Tuesday night.
DECISIVE STRETCH OF THE GAME
The Tigers took control of the game early in the second half when they scored eight straight points in less than two minutes. A basket by Terence Davis left the Rebels behind 40-39 with 16:07 remaining in the game. Bigby-Williams started the outburst with two foul shots. Then, LSU got two field goals by Naz Reid sandwiched around a field goal by Marlon Taylor. That 8-0 run gave the Tigers a 48-39 lead with 14:14 left in the game. Ole Miss had three consecutive turnovers during this stretch. LSU led by no fewer than six points the rest of the game.
LSU PLAYER OF THE GAME
Waters reached the 20-point mark for the third time this season. He had scored 21 points against North Carolina-Greensboro and 20 points against Furman. Waters was 6-of-11 from the field, including 2-of-4 on 3-pointers. He made a season-best six free throws out of eight attempts. Waters had at least nine assists for the third time in the last four games. He made three steals and committed four of the Tigers' 13 turnovers.
KEY TEAM STATISTICS
Field goal shooting: LSU 47% (27-of-57), Ole Miss 41% (26-of-64)
Three-point field goal shooting: LSU 47% (9-of-19), Ole Miss 29% (8-of-28)
Free throw shooting: LSU 67% (20-of-30), Ole Miss 53% (9-of-17)
Rebounds: Ole Miss 42, LSU 40
Blocked shots: LSU 7, Ole Miss 3
Points off turnovers: LSU 19, Ole Miss 9
Second-chance points: Ole Miss 21, LSU 14
INDIVIDUAL LEADERS
LSU
Tremont Waters: 20 points, 9 assists
Kavell Bigby-Williams: 14 points, 10 rebounds, 5 blocked shots
Skylar Mays: 14 points, 5 rebounds
Marlon Taylor: 12 points, 5 rebounds
OLE MISS
Terence Davis: 21 points, 10 rebounds
KJ Buffen: 13 points, 5 rebounds
Breein Tyree: 12 points
Dominik Olejniczak: 7 points, 5 rebounds
Devontae Shuler: 6 points, 6 assists
Bruce Stevens: 5 points, 6 rebounds
NOTES
LSU's starting lineup consisted of Bigby-Williams and Reid in the post, Mays and Taylor on the wings and Waters at point guard. Both Mays (34) and Taylor (31) were on the floor for more than 30 minutes. . .The double-double was the fourth of the season for Bigby-Williams. The 14 points matched his season-high. Bigby-Williams, who was 5-of-7 from the field, blocked five shots in a SEC game for the second time this season. He also had five blocks against Alabama. . .Mays chipped in with four assists to go along with the 14 points and five rebounds. Mays' three field goals all came from behind the 3-point line. He was 5-of-7 on free throws. . .Taylor put together back-to-back double-figure scoring games for the first time this season. He scored 21 points at Arkansas last Saturday. Taylor made five of his eight field goal attempts. . .Reid, who was in foul trouble, contributed nine points and four boards in 25 minutes. . .Ja'vonte Smart was 3-of-10 from the field, but he did make two of his three 3-point attempts. Smart finished with eight points in 26 minutes. . .Williams had six points and three rebounds in 14 minutes. He was 4-of-6 at the foul line. . .Darius Days was scoreless in 13 minutes. He did grab three rebounds. . .Davis scored 21 points, but he missed 12 of his 20 field goal attempts. . .Tyree's 12 points were 5.5 below his season average. . .LSU trailed for most of the first half. A foul shot by Bigby-Williams tied the score at 31-131 with 29 seconds before halftime. . .Both Waters and Smart were 4-of-4 at the foul line in the last two minutes. . .The victory extended the Tigers' winning streak to six games. LSU is 13-3 overall, 3-0 in the SEC. The Tigers have won their first three SEC games for the first time in 13 seasons. LSU began the 2006 SEC schedule with seven consecutive victories. . .The loss ended Ole Miss' ten-game winning streak. The Rebels are 13-3 overall, 3-1 in the SEC. . .The paid attendance was 9,500.
FROM THE LOCKER ROOM
Coach Will Wade's comments: "In the first half, we didn't attack. We played tentatively. In the second half, we moved the ball better and attacked them in the paint. Our defense was really, really good. We did a good job on their 3-point shooters."
UP NEXT
LSU will play host to South Carolina at the PMAC on Saturday. Tipoff is scheduled for 5 p.m. Central. The Gamecocks (8-7, 3-0) will play Vanderbilt in Nashville on Wednesday night. The LSU-South Carolina game will be available on the SEC Network.

LSU TigersBranded True Sport Basketball Pullover Hoodie – Purple
from:
Fanatics
Never miss the latest news from TigerBait.com!
Join our free email list