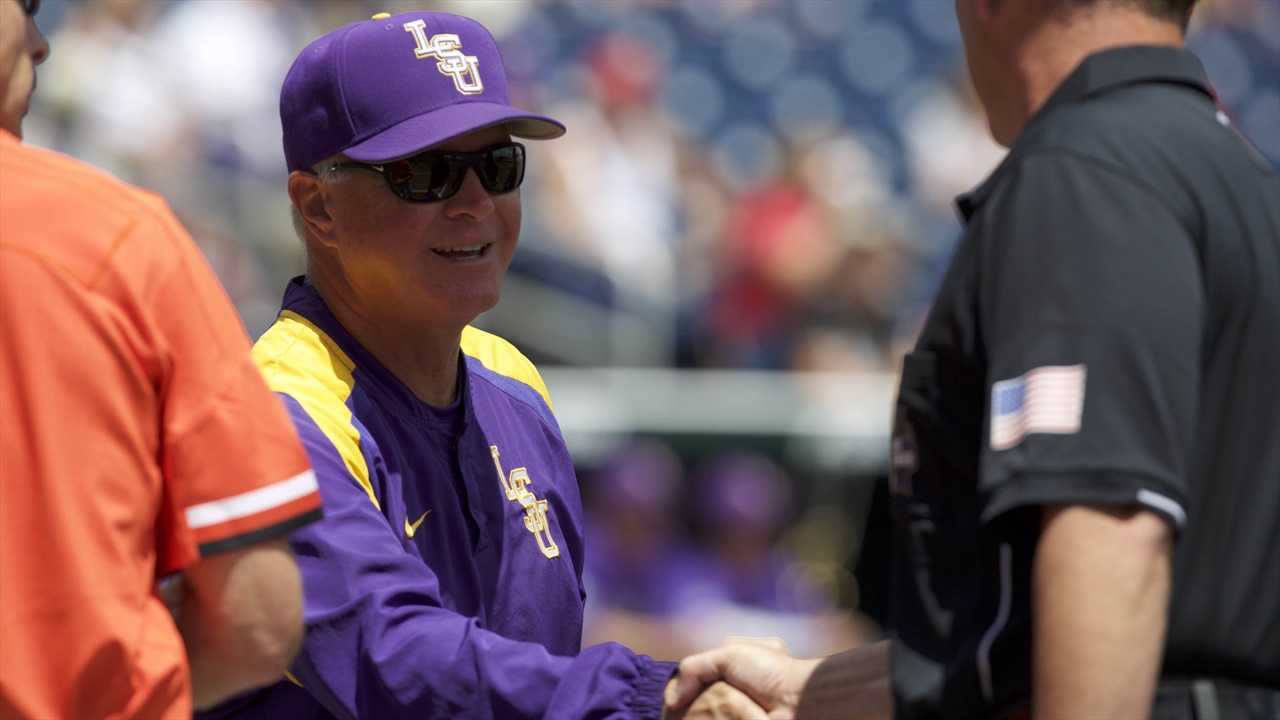 Photo by Bruce Thorson-USA TODAY Sports
LSU Baseball
LSU baseball to host "Fan Fest" at Alex Box Stadium
---
BATON ROUGE, La. – LSU Baseball will play host to the 2019 First Pitch Fan Fest beginning at 12 p.m. CT on Sunday in Alex Box Stadium, Skip Bertman Field.
The Fan Fest signifies the beginning of the college baseball season, and it will give fans an behind-the-scenes look at the Fighting Tiger program.
The event will provide fans with exclusive access to the baseball facilities and will include food, drinks, and the opportunity to meet the 2019 LSU Tigers, along with former players and coaches.
Tickets are only $30 for adults, $15 for children ages 6-12, and children under 6 will be admitted free. Tickets may be purchased now at tigerboosterevents.com/FirstPitchFanFest, and sponsorship information is available at tigerboosterevents.com/FirstPitchFanFestSponsor.
Fans will be allowed to watch the 2019 Tigers engage in an instra-squad scrimmage that starts at 1 p.m. Following the scrimmage, stadium tours will be conducted through 20 designated stations that showcase the success of the program and the operation of the best venue in college baseball.
The LSU SportShop will be open throughout the day, and the event will also feature silent auctions of LSU sports memorabilia and other valuable prizes.
As the new official supplier of LSU baseball equipment, Marucci will have its activation station operating on site, including inflatable hitting cages with instructors and a merchandise store featuring personalized wood bats.
Below is a schedule of events for the Fan Fest:
2019 LSU Baseball First Pitch Fan Fest at Alex Box Stadium - Sunday, January 27
12 p.m. Stadium gates open for Batting Practice; Silent Auction opens
1 – 2:30 p.m. LSU Baseball Intra-Squad Scrimmage
2:45 – 4 p.m. Behind-the-Scenes Stadium Tour
4 p.m. Silent Auction closes
4:15 p.m Raffle Ticket drawings
4:25 p.m. Remarks from selected LSU players
4:30 p.m. 2019 LSU Baseball Hype Video
4:35 p.m. Remarks from Coach Paul Mainieri
5 p.m. Fan Fest ends
Never miss the latest news from TigerBait.com!
Join our free email list