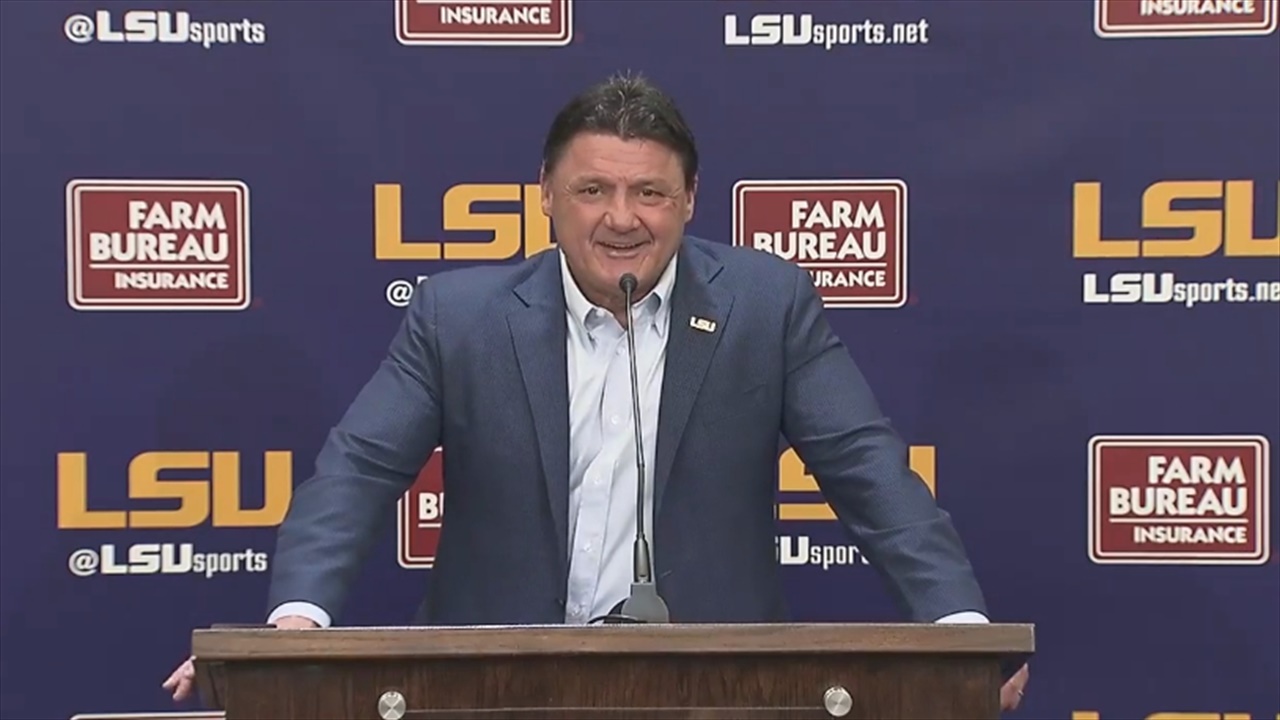 LSU Football Recruiting
Orgeron happy with Wednesday's results
---
LSU came very close to making it a clean sweep of Louisiana for its 2019 football recruiting class.
According to coach Ed Orgeron, the Tigers offered scholarships to 11 players from the home state. LSU was on the verge of going 11-for-11 until defensive lineman Ishmael Sopsher of Amite picked Alabama on Wednesday afternoon.
Still, the six players who signed with the Tigers on Wednesday pleased Orgeron, whose second full recruiting class ended the day as No. 5 in the country.
Two of LSU's six newcomers are from Louisiana – wide receiver Devonta Lee of Amite and tight end Ray Parker of Ruston. There was one junior college transfer – defensive end Soni Fonua.
There were three out-of-state high school signees – outside linebacker Desmond Little from Prichard (Ala.), cornerback Jay Ward from Moultrie (Ga.) and safety Maurice Hampton of Arlington (Tenn.). Both Little and Ward had been on hold depending upon the availability of scholarships.
"This was a strong finish to an outstanding class," Orgeron said. "We've been recruiting this class for two years. Some guys we had been recruiting for three or four years. Keeping the players in the state is a huge deal for LSU. We only lost one player in the state we went after."
Orgeron did not mention Sopsher by name, but his tone changed when talking about players who got away.
"I don't worry about the guys we don't get," Orgeron said. "We gave it all we can. We did the recruiting the right way as well as we could do it.
"As soon as recruiting is over, I am concerned with the guys who are here. I want to get all the players in Louisiana. I am glad we got the players we want, the guys who want to be here."
Parker and Hampton were committed to LSU before the December signing period, but neither signed at that time. There are some academic issues with Parker, while the Tigers will have to worry about major league baseball with Hampton.
"Parker had some grade work to do," Orgeron said. "His grades have gotten better. He will be academically eligible. Parker will start at tight end. Hampton is a great baseball player. If he gets drafted high and gets big money, God bless him. He can play cornerback, nickel and safety."
It appears that Lee and Fonua were the best players signed by LSU on Wednesday. Lee was a wide receiver on Amite's state championship team. Fonua, who played at Mesa (Az.) Community college, is expected to be an impact pass rusher next season.
"Lee was the best player on the field in the (Class 2A) state championship game," Orgeron said. "Fonua is an edge rusher. He understands leverage. He is ready to play. Fonua reminds me of Lewis Neal. He is someone that can play defensive end in a 3-4."
Little and Ward were in the Tigers' recruiting bullpen. Both players wanted to come to LSU, but there had to be available scholarships.
"We went after four defensive linemen who went to other places," Orgeron said. "Little is a diamond in the rough. He was a silent commitment to us a long time ago. He could be like Arden Key or (Barkevious) KeKe Mingo. We need a little better edge rushers.
"Ward came to us before the December signing date. He wasn't ready to sign then. Some defensive linemen didn't come. I told (Ward) last night that we had a scholarship."
Orgeron is not holding any scholarship for graduate transfers as he did a year ago. LSU came away with three graduate transfers in 2018 – quarterback Joe Burrow, defensive back Terrence Alexander and kicker Cole Tracy. Of those three, only Tracy made an early decision to join the Tigers.
"Last year, we needed certain positions like quarterback and kicker," Orgeron said. "This year, we wanted as many young kids as we could."
Coming away with the fifth best recruiting class in the country is quite impressive. However, three of the four schools ahead of LSU reside in the Southeastern Conference – Alabama at No. 1, Georgia at No. 2 and Texas A&M at No. 4.
"I feel we have an outstanding class," Orgeron said. "LSU should be in the College Football Playoffs, competing for the national championship and having the best recruiting class. Are we there yet? No. Are we getting close? Yes."
Never miss the latest news from TigerBait.com!
Join our free email list