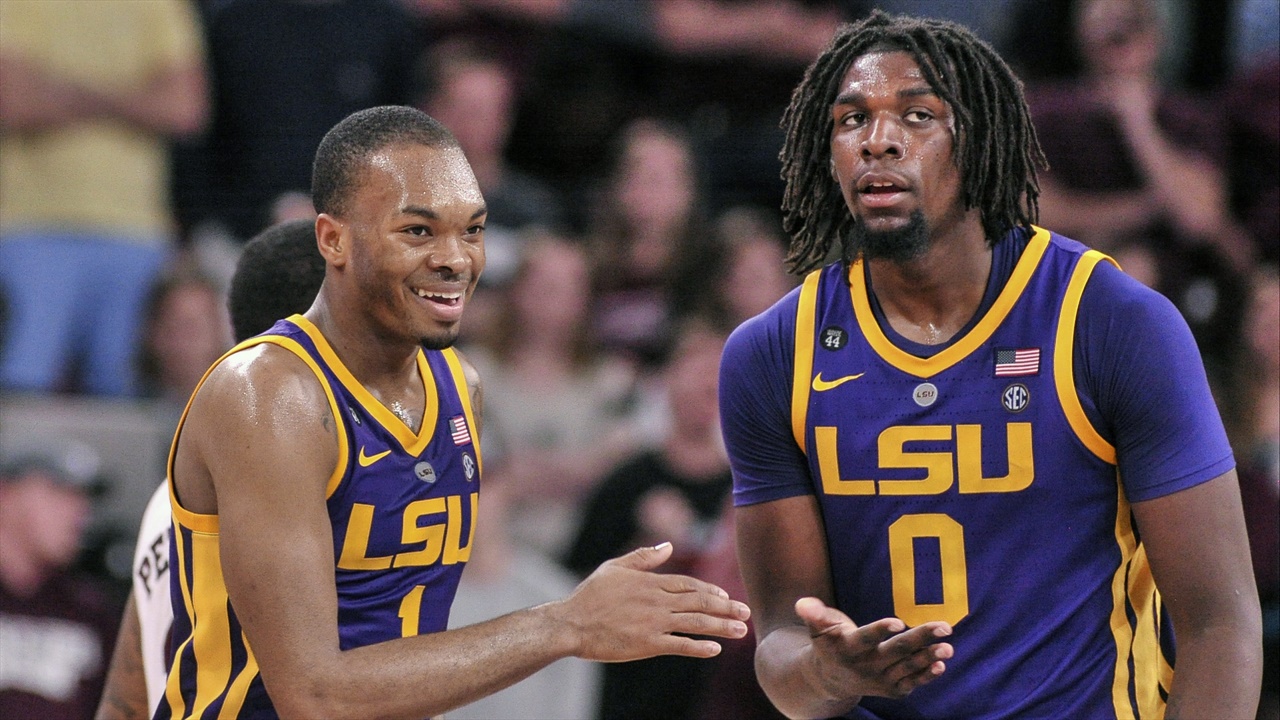 Photo by Justin Ford-USA TODAY Sports
LSU Basketball
Naz Reid leads LSU to 92-88 overtime win at Mississippi State
---
Naz Reid scored six points in the final minute of overtime to give LSU a 92-88 victory against Mississippi State in a Southeastern Conference game at the Humphrey Coliseum on Wednesday night.
DECISIVE STRETCH OF THE GAME
A field goal by Abdul Ado gave Mississippi State the lead in overtime at 85-83. LSU bounced back to go in front on one foul shot by Reid and a basket by Kavell Bigby-Williams. Following a Tremont Waters turnover, Nick Weatherspoon scored to put the Bulldogs on top 87-86 with 1:53 to play. Waters missed a shot on the Tigers' next possession, but Quinndary Weatherspoon committed a turnover. Reid converted a three-point play to give LSU an 89-87 lead with 59 seconds remaining. Reggie Perry made just one of two free throws on Mississippi State's next possession. Reid then made a 3-pointer with 15 seconds remaining to make it a two-possession game at 92-88.
LSU PLAYER OF THE GAME
Reid matched his season-high with the 29 points. He scored 29 points earlier this season against UNC-Greensboro. Reid scored 25 of the 29 points in the second half and overtime. Reid was 10-of-17 from the field, including 2-of-3 on 3-pointers. Reid sank seven of his eight foul shots.
KEY TEAM STATISTICS
Field goal shooting: LSU 55% (35-of-64), Mississippi State 54% (32-of-59)
Three-point field goal shooting: Mississippi State 35% (8-of-23), LSU 27% (3-of-11)
Free throw shooting: LSU 76% (19-of-25), Mississippi State 67% (16-of-24)
Rebounds: LSU 35, Mississippi State 30
Bench points: Mississippi State 32, LSU 15
Points in the paint: LSU 58, Mississippi State 46
Fast break points: Mississippi State 12, LSU 6
Blocked shots: Mississippi State 6, LSU 1
INDIVIDUAL LEADERS
LSU
Naz Reid: 29 points, 9 rebounds
Tremont Waters: 26 points, 5 assists
Kavell Bigby-Williams: 14 points, 13 rebounds
MISSISSIPPI STATE
Quinndary Weatherspoon: 27 points
Reggie Perry: 19 points, 10 rebounds
Tyson Carter: 12 points
Aric Holman: 12 points
Nick Weatherspoon: 8 points, 6 rebounds
Lamar Peters: 0 points, 6 assists
NOTES
LSU's starting lineup consisted of Bigby-Williams and Reid in the post, Skylar Mays and Marlon Taylor on the wings and Waters at point guard. Taylor played only 22 minutes. The other four starters were on the court for more than 30 minutes – Mays (40), Waters (38), Reid (35) and Bigby-Williams (31). Javonte Smart played 34 minutes off the bench. . .Waters scored at least 20 points for the fourth time in the past seven games. He was 11-of-18 from the field. Waters committed four of LSU's 17 turnovers. . .Bigby-Williams matched his season-high in both points (14) and rebounds (13). He was 6-of-6 from the field. . .Mays had another rough night shooting the basketball as he missed four of his six field goal attempts, including all three of his 3-point shots. He finished with seven points. . .Smart, who scored nine points, also missed all three of his 3-point shots. . .Taylor had one point and four rebounds. . .Emmitt Williams had six points and one rebound in 17 minutes. Darius Days had no points and one rebound in eight minutes. . .The Tigers jumped out to a 16-8 lead. Reid and Waters combined for 12 of the 16 points. . .Mississippi State then went on a 16-0 run to go on top 25-16. LSU committed six turnovers in that 3½ minute stretch. . .The Tigers came back to tie the score at 29-29 on a basket by Bigby-Williams with 3:44 before halftime. The Bulldogs had a 42-34 halftime lead on the strength of a 13-5 closing run. . .Mississippi State grabbed a ten-point lead at 53-43 less than five minutes into the second half. LSU still trailed by six points at 74-68 with 6:45 left in regulation. The Tigers finally took the lead at 80-78 on a field goal by Waters with 2:39 to go. Quinndary Weatherspoon's foul shot with 37 seconds remaining tied the score at 83-83. Both Reid and Waters missed shots on LSU's final possession. . .LSU has won three overtime games in a season for just the second time in school history. The Tigers won overtime games at Arkansas and at Missouri. Four seasons ago, LSU won three overtime games – against Texas Tech and Georgia at home and against Vanderbilt on the road. . .The Tigers are 18-4 overall, 8-1 in the SEC. LSU is tied with Kentucky for second place in the SEC standings – one game behind Kentucky. . .LSU has won eight of its first nine conference games for the first time in ten seasons. The Tigers began the 2009 season with a 13-1 SEC record. . .Mississippi State is 16-6 overall, 4-5 in the SEC. . .The paid attendance was 7,456.
UP NEXT
LSU will play host to Auburn at the PMAC on Saturday. Tipoff is scheduled for 1 p.m. Central. Auburn (16-6, 5-4) beat Florida 76-62 at Auburn on Tuesday night. The LSU-Auburn game will be available on ESPN2.
Never miss the latest news from TigerBait.com!
Join our free email list