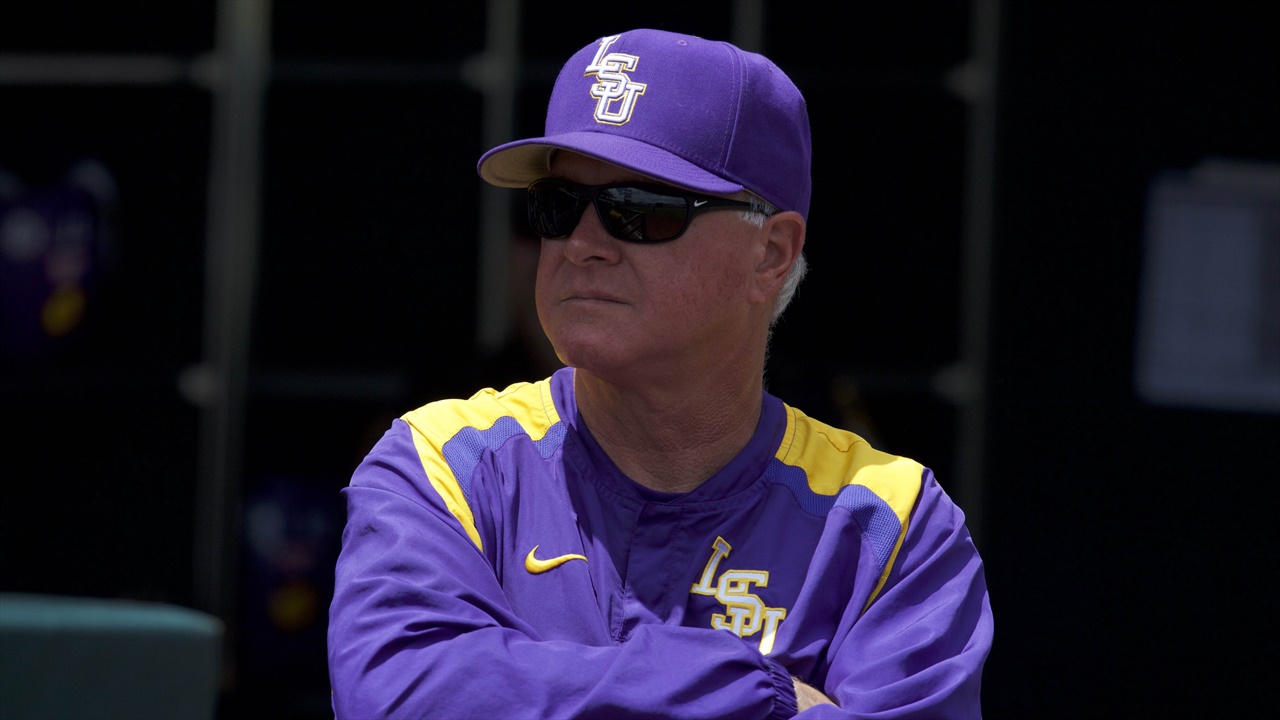 Photo by Bruce Thorson-USA TODAY Sports
LSU Baseball
Mainieri happy with strides made by Hess and Walker
---
One week ago, LSU coach Paul Mainieri was concerned about two-thirds of his weekend rotation.
Zack Hess was shut down due to a strained groin, while Eric Walker showed signs of tiring after about 20 pitches. However, the second week of preseason practice has brought good news as regards these two pitchers. Both Hess and Walker appear to be on their way to making starts on opening weekend.
"Zack threw a bullpen Tuesday without incident," Mainieri said. "He will throw Friday in the intrasquad scrimmage – probably 45 pitches or three innings. Assuming he feels fine, he will start against ULM. There is no way he will go more than five innings. I am not sure he will go that much.
"Eric threw two innings Monday and looked really good. He didn't pitch like he normally pitches. Eric threw fast balls. (Pitching coach) Alan (Dunn) wanted him to work on his fast ball command and build up arm strength. Eric will be the same as Hess when he starts against Air Force – not a real long outing."
Ma'Khail Hilliard, who is recovering from an arm injury, pitched Wednesday night. Mainieri said that Hilliard was "better, but not as good as he can pitch." Mainieri said that Hilliard "felt great." Freshman Landon Marceaux is in line to start the Saturday game against Army.
"Marceaux has been terrific," Mainieri said. "Every time I challenge him by telling him how good Cole Henry and Jaden Hill look, he goes out there and dominates. I am unbelievably happy with these three freshmen pitchers. They are on a different level from freshmen in the past."
Both Henry and Hill will make midweek starts following the first weekend. Mainieri will keep one of those two pitchers as a midweek starter and will move the other one to the bullpen.
Freshman Drew Bianco has the lead for the first base job – ahead of fellow freshmen Cade Beloso and C.J. Willis.
"Drew has had a couple of big days," Mainieri said. "He's starting to show something more than the other guys. He shows more maturity for the college game. That may be because he has been around it. I am not anointing him as the starting first baseman. We still have four more scrimmages."
The SEC coaches picked LSU to win the Western Division. However, Vanderbilt was the coaches' choice to be the overall conference champion. Outfielders Antoine Duplantis and Daniel Cabrera were named to the coaches' second-team preseason All-SEC squad.
As regards the 2020 season, football signee Maurice Hampton will play baseball for the Tigers. Hampton is projected as a centerfielder. He could also be a high draft choice in June and never come to LSU.
"Mo is an excellent baseball player," Mainieri said. "He wants to see how good he can be in baseball. You can see baseball is in his blood. Baseball means a lot to him. It is very difficult to play two sports with the academics and social life. If (LSU football coach) Ed (Orgeron) is willing, I'll make it work."
Never miss the latest news from TigerBait.com!
Join our free email list